Dalton Kasel Moves to No. 4 in Standings with Win at PBR SoCal Showdown in Los Angeles
By: Mandi McCary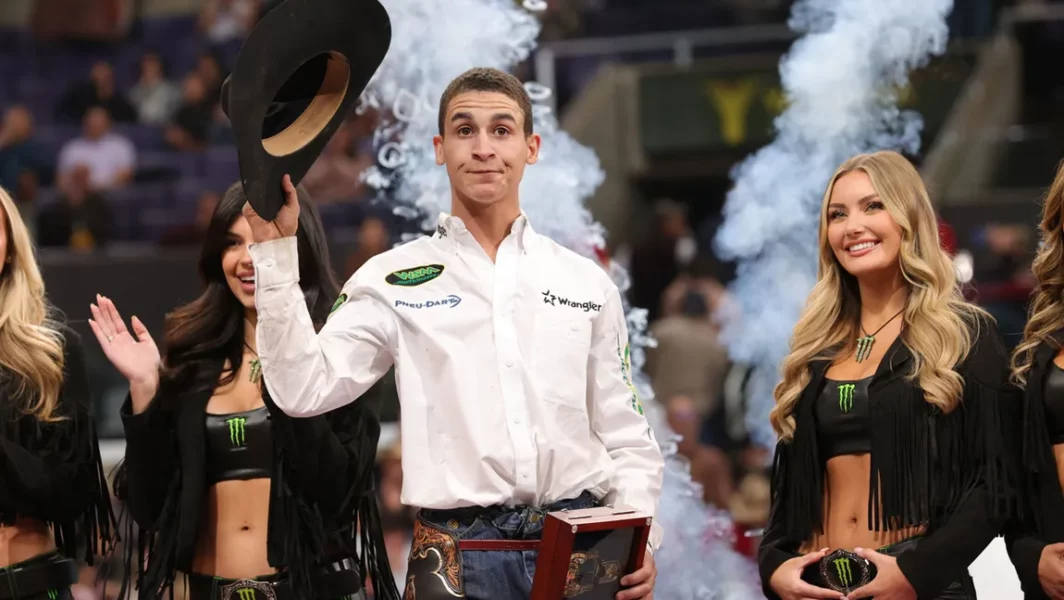 LOS ANGELES – As the dust settled inside of Crypto.com Arena on Sunday evening, a softspoken Dalton Kasel (Muleshoe, Texas) stood on the dirt with an ear-to-ear smile after capturing his first event win of the 2023 PBR (Professional Bull Riders) Unleash The Beast (UTB) season at the PBR SoCal Showdown.
One of the most talked-about trades in the recently concluded inaugural season of the PBR Team Series, the 2022 Austin Gambler started the weekend off at No. 7 in the UTB standings with his eye on earning the points needed to break into the Top 5 in the world.
Sitting in second place in Saturday's Round 1 courtesy of his monster 90-point ride aboard WSM's Time in a Bottle (WSM Auctioneers/ Clay Struve/ Dakota Rodeo/ Chad Berger), Kasel knew he had to continue the momentum for Sunday's Round 2.
Paired with Kid Knapper (Phillips/Cooper/ Scruggs Bucking Bulls) as Sunday afternoon began, the talented 24-year-old exploded from the chutes and made the 8. The solid 89.75-point ride won the long round and punched his ticket to the championship round.
Kasel then selected Cool Whip (Julian/ Staci Addison/ D&H/ Crooked W)) as his final bovine opponent on the weekend, but with none of his opponents sufficiently rising to the occasion in the championship round, he had already won the event before the matchup even began.
Cool Whip dispatched Kasel after a mere 2.83 seconds, but the Texan's two massive previous scores put him on the victor's podium, allowing him to collect 127 points and move to No. 4 in the UTB standings as well as earn a check for $44,126.
"We're at a great place here in LA, and I'm so thankful for everyone that allowed us to come here," said Kasel. "I'm just trying to keep it simple right now – the short round didn't go the way I wanted it to, but praise the Lord, I'm healthy, and the Lord has blessed me with an amazing talent, and I can't thank Him enough for that. I've gotten on a couple of good bulls this weekend, and this is the best I've felt in a long time."
Both world leader Jose Vitor Leme (Ribas do Rio, Brazil) and the man he is locked in world title slugfest with, No. 2 Andrew Alvidrez (Seminole, Texas), had an off weekend.
Leme was no match for Sock Monkey (D&H Cattle Co.) in Saturday's Round 1, hitting the ground just short of the buzzer at 7.33 seconds, and then again faltered in his matchup with his Round 2 opponent Sweet Train (D&H Cattle Co/ Gordon/ OK Corralis).
Alvidrez, who was victorious in his Saturday night matchup with I'm No Angel (Cooper/ Scruggs Bucking Bulls) for 86 points to finish seventh in the round, then had a disappointing Sunday, bucking off both his Round 2 and championship round bulls.
Despite being shut out this weekend, Leme still holds tight to the No. 1 spot, leading No. 2 Alvidrez by 102.5 points in the UTB standings.
Before Kasel hit the gas on day two, fellow Texan Boudreaux Campbell (Crockett, Texas) led the pack after night one.
Landing the Round 1 win courtesy of his 91.25-point ride on Shameless (D&H Cattle Co./ Futrell), Campbell was then paired with Wasted Days (Hart Cattle Co/Hale) in Round 2 but hit the ground after just 3.79 seconds.
After selecting July (Leffew Bucking Bulls) in the championship round, his 88-point score had the crowd roaring as he was the only man to ride in the final round.
For his 2-for-3 weekend and second-place overall finish, he earned 107 points.
Starting the weekend at No. 11, the 2022 Carolina Cowboy catapulted to the No. 8 spot in the UTB season standings.
2022 Nashville Stampede athlete Dener Barbosa (Paulo de Faria, Brazil) rounded out his weekend with a third-place finish.
After finishing within the Top 10 on Saturday night, the veteran Brazilian was paired with The Right Stuff (Diamond Willow/ Clay Struve/ Dakota Rodeo/ Chad Berger) in Sunday's Round 2, collecting 85.25 points to secure his spot in the championship round.
Barbosa selected Chateau Montelena's Montana Jacket (Vella/ Coleman/ Ogden/ Hart) as his matchup for the final round.
Despite being in control as the gate swung open, his ride ended after 3.39 seconds. The buckoff and impressive 45.25-point bull score earned the esteemed animal athlete the YETI "Built for the Wild" Bull of the Event title.
Collecting 64 points, Barbosa moved from No. 28 in the UTB standings to No. 19 as the battle for the next world title heats up.
Veteran rider Joao Ricardo Vieira (Itatinga, Brazil) finished fourth, courtesy of going 2-for-3 during the two days of competition.
In Saturday's opening round, the 38-year-old bested Mendell Madness (Gene Owen Bucking Bulls) for a solid 81 points.
Paired with Reba McEntire's The Hammer (Dakota Rodeo/ Chad Berger) in Round 2, the 2022 Texas Rattler launched from the chutes with dirt flying, but the bull's erratic out resulted in a low 65-point score.
Vieira kept the score, then selected I'm Legit Too (Hart Cattle Co/ Hale) for the championship round in hopes of catapulting himself up the leaderboard.
Despite his best efforts, he was no match for the talented animal and was thrown to the dirt in 6.31 seconds.
After collecting 31 UTB points, he moved from No. 26 to No. 22 in the standings.
Two-time PBR World Champion Jess Lockwood (Volborg, Montana) rounded out the Top 5 with a 1-for-3 weekend.
On Saturday night, Lockwood, who is returning to competition after being out due to injury for the greater part of a year, was dispatched by his Round 1 matchup, Border Crisis (Hart Cattle Co/ Hale), in a mere 2.54 seconds.
The 2022 Oklahoma Freedom athlete then paired with All Shook Up (Dakota Rodeo/ Chad Berger) in Sunday's long round, recording an 88.25-point score to finish second in Round 2 and sail into the championship round.
The 25-year-old selected Alakazam (D&H Cattle/ Buck Cattle/ Tommy Julian) but hit at just under five seconds.
Lockwood, who began the weekend at No. 31 in the standings, earned 35 points to move up to No. 27.
PBR RidePass on Pluto TV will offer re-airs and on-demand replays of every PBR UTB event and is available on desktops, laptops and mobile devices via www.pluto.tv.
The PBR Unleash The Beast next travels to Little Rock, Arkansas, for the PBR U.S. Border Patrol Invitational on Friday, March 3, at 7:45 p.m. CST and Saturday, March 4, at 6:45 p.m. CST.
Elsewhere in the PBR, the Pendleton Whisky Velocity Tour held sold-out events in both Worcester, Massachusetts, and Hampton, Virginia.
Brandon McDowell (Hopwood, Pennsylvania) reached a crucial career milestone at Worcester Rumble, earning his career-first PBR victory.
In the opening round of action, McDowell was tasked with Crazed Addiction (Cornwell Bucking Bulls). Remaining in perfect time with the animal athlete, McDowell reached the whistle for an event-best 84 points. Despite being upended in the championship round, tossed by Train Station (Cornwell Bucking Bulls) in 2.95 seconds, the 22-year-old's Round 1 score was enough to cement his victory.
McDowell left Massachusetts having earned 108 Velocity Global points as he chases his career-first berth to the Velocity Tour Finals this May in Corpus Christi, Texas.
Claudio Montanha Jr. (Ribeirao dos Indios, Brazil) and Michael Lane (Tazewell, Virginia) tied for the event win at the Hampton Classic inside Hampton Coliseum.
Montanha began his outing in Virginia with a bang, topping Round 1 with an 88-point effort atop Two Hands (Frenzel/King). Positioned atop the event leaderboard as the championship round began, Montanha was next tasked with Here I Am (Cash Money Bucking Bulls). Remaining perfect, the charismatic Brazilian reached the 8 for 86.5 points to clinch the co-event win.
Montanha's golden effort garnered him 110 Velocity Global points as he looks to earn his career-first PBR Pendleton Whisky Velocity Tour Championship this May in Corpus Christi, Texas.
Lane's 2-for-2 victory netted him 109.5 Velocity Global points.
After tying for third in Round 1, marked 86 points atop Krampus (Blue Ridge Bucking Bulls/M&B), Virginia's own Lane surged to the top of the standings when he recorded the high-marked ride of the tour stop in the championship round, outlasting Eager Snake (Triple C Bucking Bulls) for 88.5 points.
The PBR Pendleton Whisky Velocity Tour next travels to Knoxville, Tennessee, and Thompson-Boling Arena on Saturday, March 4. The PBR Knoxville Invitational gets underway at 7 p.m. EST.
PBR Unleash The Beast – PBR SoCal Showdown
Crypto.com Arena – Los Angeles, California
Event Leaders (Round 1-Round 2-Round 3-Event Aggregate-Event Points)
1. Dalton Kasel, 90-89.75-0-179.75-127 Points.
2. Boudreaux Campbell, 91.25-0-88-179.25-107 Points.
3. Dener Barbosa, 86.25-85.25-0-171.50-64 Points.
4. João Ricardo Vieira, 81-65-0-146.00-31 Points.
5. Jess Lockwood, 0-88.25-0-88.25-35 Points.
6. Marcelo Procopio Pereira, 87.25-0-0-87.25-25.5 Points.
(tie). Austin Richardson, 87.25-0-0-87.25-25.5 Points.
8. Silvano Alves, 0-87-0-87.00-22 Points.
9. Griffin Smeltzer, 86.5-0-0-86.50-19 Points.
10. Cooper Davis, 0-86.25-0-86.25-17 Points.
(tie). Keyshawn Whitehorse, 0-86.25-0-86.25-17 Points.
12. Andrew Alvidrez, 86-0-0-86.00-13 Points.
13. Daniel Keeping, 85-0-0-85.00-12 Points.
(tie). Sandro Batista, 0-85-0-85.00-12.5 Points.
(tie). Ezekiel Mitchell, 0-85-0-85.00-12.5 Points.
16. Ramon de Lima, 84.5-0-0-84.50-11 Points.
17. Chase Outlaw, 83.5-0-0-83.50-10 Points.
18. Aaron Williams, 0-83.25-0-83.25-11 Points.
19. Braidy Randolph, 82.75-0-0-82.75-9 Points.
20. Kaique Pacheco, 82.5-0-0-82.50-8 Points.
21. Luciano De Castro, 80.25-0-0-80.25-8 Points.
22. Casey Roberts, 69-0-0-69.00
Jose Vitor Leme, 0-0-0-0.00
Rafael Jose de Brito, 0-0-0-0.00
Jesse Petri, 0-0-0-0.00
Wingson Henrique da Silva, 0-0-0-0.00
Rafael Henrique dos Santos, 0-0-0-0.00
Tate Pollmeier, 0-0-0-0.00
Koltin Hevalow, 0-0-0-0.00
Manoelito de Souza Junior, 0-0-0-0.00
Kyler Oliver, 0-0-0-0.00
Wyatt Rogers, 0-0-0-0.00
Flavio Zivieri, 0-0-0-0.00
Mauricio Gulla Moreira, 0-0-0-0.00
Cody Jesus, 0-0-0-0.00
Clayton Sellars, 0-0-0-0.00
Mason Moody, 0-0-0-0.00
Elizmar Jeremias, 0-0-0-0.00
© 2023 PBR Inc. All rights reserved.