Dawson Hay Ties PRCA World Record with 95-Point Ride in Pollockville; Thurston, Thomson Share Title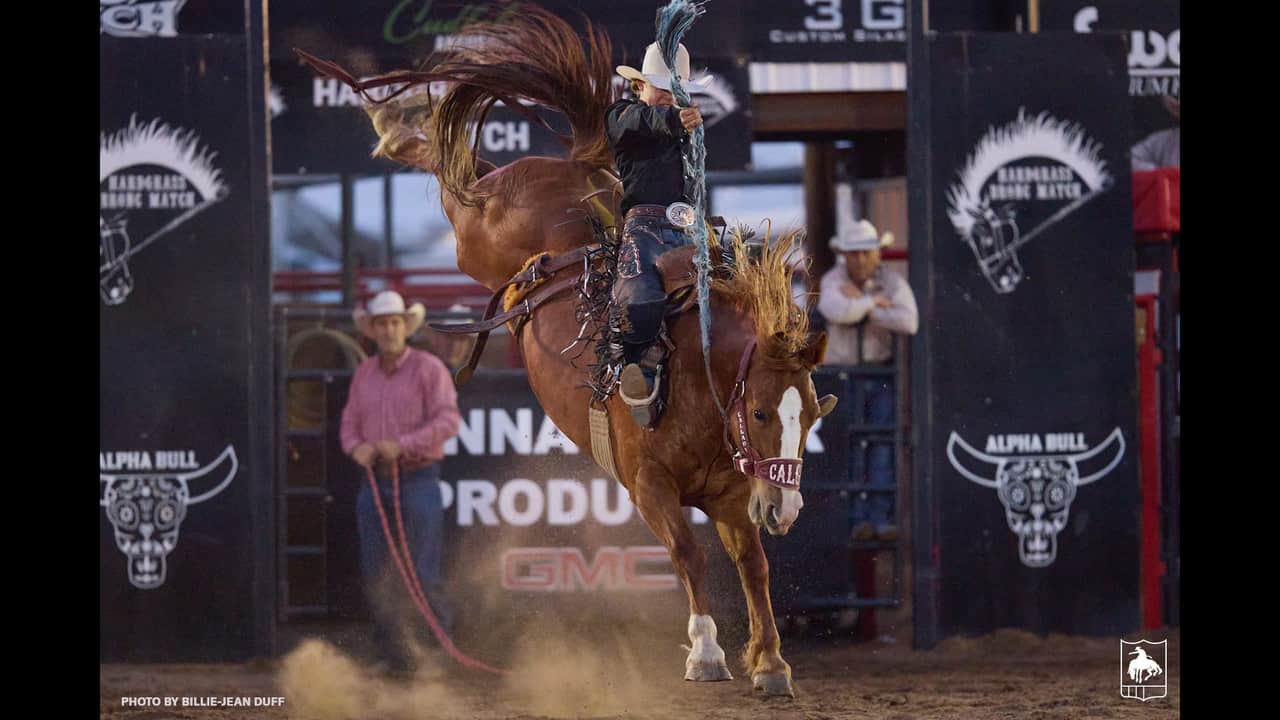 The Hardgrass Bronc Match in Pollockville, Alberta, is relatively new to the ProRodeo schedule but it has already provided some of the top performances of all time in the sport.
That was the case again on July 31.
Saddle bronc rider Dawson Hay didn't win the event but stole the spotlight with his world record-tying 95-point ride on Calgary Stampede's Wild Cherry in the short round.
"She's a really crazy good horse," said Hay, who was competing about five hours from his home in Wildwood, Alberta. "The hardest part of her is spurring her out. It hasn't really sunk in (tying the ProRodeo world record)."
Zeke Thurston and Kirk Thomson shared the rodeo title with 182 points each in the two-head average. Hay was third with 181.5 points.
Hay, who qualified for the 2019 National Finals Rodeo, was aboard Wild Cherry for the third time in his career, but he'd had no luck the first two trips.
"This was my first time to stay on," Hay said. "The first time, I missed her out and then she bucked me off. The second time, I got her spurred out but then she bucked me off. Once I got the spur out, I just had to bear down. She kicks really hard and just leaves it all out there."
Hay, 23, now shares the saddle bronc riding ProRodeo world record with Doug Vold, who had a 95-point ride on Franklin's Transport in Meadow Lake, Saskatchewan, in 1979, and ProRodeo Hall of Famer Glen O'Neill, who had a 95-point trip on Franklin's Airwolf in Innisfail, Alberta, in 1996.
After a solid 86.5-point ride brought him back to the short go, Hay selected Wild Cherry for the finals.
"With the pen of horses out tonight, you had to expect that something big could happen," Hay said.
The record happened in front of a capacity crowd.
"They have an amazing crowd," Hay said. "It's one of the best rodeos a guy gets to go to all year."
Hay, who entered Pollockville fourth in the PRCA | RAM World Standings, unofficially earned $8,514. He didn't have time to celebrate his performance, as he and his hauling buddies piled into the rig for the long drive back to Cheyenne (Wyo.) Frontier Days where Hay is competing in the finals Aug. 1.
The stop on the Xtreme Broncs Tour featured 30 riders in a long round of competition with the top eight advancing to the short go. Riders were allowed to draft from a pool of 12 horses for their final out as they fought for their share of the $40,000 added purse.
Thomson chose the horse that carried Thurston to the win in 2019 in Pollockville, Calgary Stampede's Special Delivery. Thomson had a 90.5-point ride.
"He gave me everything I could handle and more right out of there," Thomson said. "Then it was good. He felt even better than I thought he would. He was awesome."
Thurston countered with a 92-point ride on Calgary Stampede's Xplosive Skies to split the win.
The victory was critical for both cowboys as Thurston came into the event 12th in the world standings and Thomson 17th. Thurston unofficially earned $11,158 and Thomson $10,672.
"This is for sure going to help," Thomson said. "I haven't looked at the standings, the order doesn't matter for a while yet. I just need to make more money."
Courtesy of PRCA