Daylon Swearingen Flies Out of Tucson a Winner
By Scott Kaniewski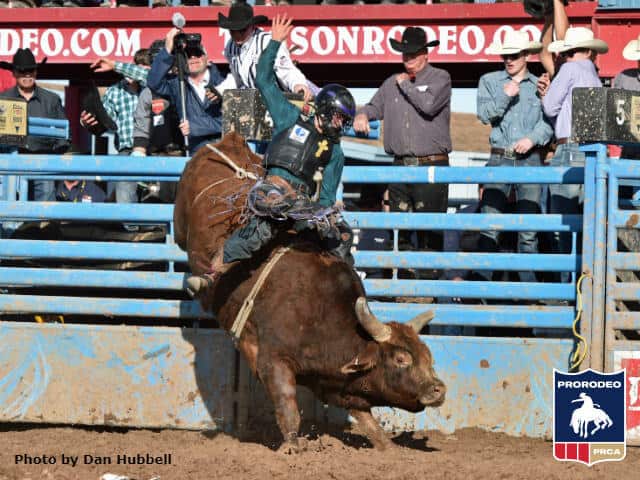 TUCSON, Ariz. – Daylon Swearingen didn't have time to stick around La Fiesta de los Vaqueros after his bull ride Sunday. He had a plane to catch back to Texas.
Then his phone died, so he couldn't get updates on results from Tucson, Ariz. It wasn't until he boarded the plane that he could charge his phone. And by then he didn't have cell service.
Once he powered it on upon landing, the 19-year-old noticed multiple text messages. All of them said essentially the same thing: Congrats on winning Tucson.
Swearingen rode Rocky Mountain Rodeo's Fat Pat for 87.5 points in the finals at Tucson to give him a two-head average of 174.5 points and the win at La Fiesta de los Vaqueros.
"I didn't stay for the whole thing, I had a flight to catch," Swearingen said. "I packed up my stuff. I watched most of them (the bull riders). I didn't want to miss the flight. I knew 100 percent that I had won just a couple minutes ago when I turned my phone on and saw my parents had texted me.
"It feels good. I was happy to draw two good bulls."
Swearingen, a rookie who also competes in bareback riding, won the first round with 87 points on Salt River Rodeo's Rocky Road. That, coupled with finishing second in the finals and winning the average, had Swearingen earning $7,758.
His earnings had him on the bubble at 16th in the PRCA | RAM World Standings with $16,598. Making the Top 15 and booking a trip to the Wrangler National Finals Rodeo in December is Swearingen's ultimate goal.
"Right now, I'm trying to find somebody to travel with and go with," said Swearingen, who entered Sunday eighth in the world standings in All-Around. "I want to try and make the NFR."
Swearingen is in his first year at Panola College in Carthage, Texas. He competes in bareback riding, bull riding and saddle bronc riding for the Ponies. And while he's committed to college rodeo, he's also committed to ProRodeo.
He will compete in The American Semifinals with the goal of qualifying for The American Finals. Last year he was at The American Semifinals in one event. This year, he's qualified in bareback riding and bull riding.
"It was pretty exciting to know that this could take me to AT&T Stadium where I could win a million dollars and The American," he said about 2018. "That's even better (that the money at The American counts toward the world standings this year). I love riding bulls and I get to go in both events. Being there in both events I do makes it a little more exciting too."
He's also headed to Kissimmee, Fla., for the RAM National Circuit Finals Rodeo (March 21-24) for the second consecutive season.
If he does well in Arlington and in Kissimmee, Swearingen could be headed to Vegas.
"Rookie of the Year is one of my goals," he said. "But if I make the NFR – and that's the main goal – then Rookie of the Year should fall the right way, and it will have meant I have done my job."
Other winners at the $316,320 rodeo were All-Around winner Rhen Richard ($7,909 in tie-down roping and team roping); bareback rider Ty Breuer (170.5 points on two head); steer wrestler Wade Steffen (11.6 seconds on two head); team ropers JoJo LeMond/Trey Yates (18.8 seconds on three head); saddle bronc rider Jesse Kruse (172.5 points on two head); tie-down roper Richard (32.6 seconds on three head); and barrel racer Lisa Anderson (35.97 seconds on two runs).
To read more about La Fiesta de los Vaqueros, check out the March 8 edition of ProRodeo Sports News.
Courtesy of PRCA