Dunn Earns Ultimate Bullfighters World Title and Finals Championship for 2021
By: Ted Stovin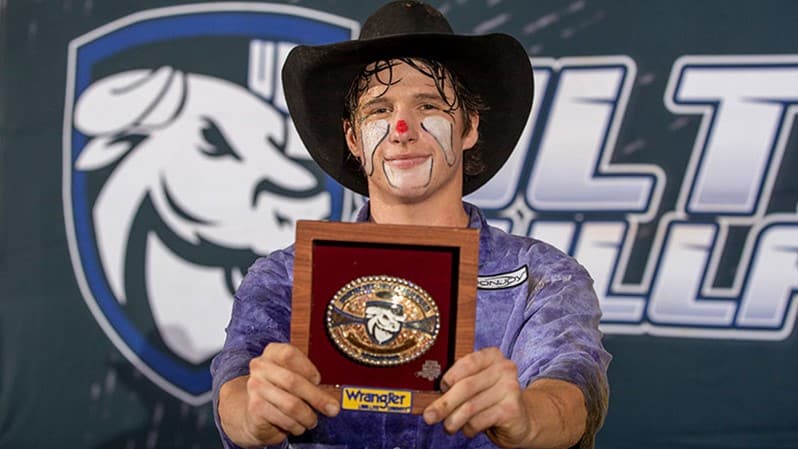 FORT WORTH, Texas – In an electric night of bullfights in front of a capacity crowd, Knox Dunn (Slaughter, Louisiana) claimed both the Ultimate Bullfighters (UBF) world title and Finals championship on Saturday night inside Cowtown Coliseum.
Coming into the sixth and final night of UBF competition, Dunn trailed then-world No. 1 Chance Moorman (Lytle, Texas) by $5,360. With the money on the line, Dunn had to place first or second on the night to leave the World Champion.
But before he earned a spot in the Championship Round's final four, he needed to get past competitor Preston Robinson (Minersville, Utah) in Round 3.
First out in the round, Dunn put up the fight of the night, matching the highest score of the week at 88.5 points. Setting the bar high, Robinson answered with an 85.5.
Having made his mark to ensure his spot in the Championship Round, Moorman would take on Colby Lindsey (Calvert City, Kentucky) in Round 4. In an unexpected turn of events, Lindsey would get lined out and knocked out at the end of the fight, sidelining him from making another appearance on Saturday.
A similar situation would take down Moorman after he got hooked in the back of the upper thigh. He would not finish his fight, leaving the door open for Dunn in the Championship Round.
There, Dunn would face Round 1 winner Sage Seay (Hackberry, Louisiana) and Round 2 winner Roper Rich (Eaton, Colorado) along with Robinson, who would make his way to the Championship Round after the injuries in Round 4.
In said Championship Round, first out was "Cajun Train" Sage Seay, setting the bar at 86.5 points. Next up would be Robinson at 76.5 after a tough bout.
Then came Dunn's turn. Trailing Moorman by $5,360, he needed first or second place to take home the title. Anything less, and he would go home empty-handed.
The score?
88.5 points to claim the 2021 UBF world title. The minimum $10,000 he would win was enough to overtake Moorman, but there was one fight to go for the event title and $25,000 first-place check.
"[I feel] like a million bucks! Pretty much tie a bow on the end of the long season that I had," Dunn told Wacey Anderson of the Cowboy Sh*t podcast and UBF Pre-show, presented by Wrangler. "Coming in, I was a few dollars behind the No. 1 man Chance Moorman, and coming here and winning just makes for more of a relief than anything to go all the way."
In the final out of the night, the $25,000 check would go to Dunn as well after Rich's fight ended in a result of 87 points for second.
"It was kind of switched up [when Chance Moorman was out], but once I stepped out into the arena, all my traveling partners said, 'Man, you have a chance to win $25,000,'" Dunn said. "So I kind of just turned a switch a different way, went out there, and just let it all hang loose."
The stock was a formidable foe throughout the week.
"The long round, I didn't know much about the bull," Dunn said. "But come the Championship Round, the stock contractor Chad Ellison, he came up to me and said that the bull had previously won an event, so I could get big points. I just had to do my job."
He did his job to the tune of more than $50,000 on the year in what was a $375,000 season for the Ultimate Bullfighters.
The UBF World Finals in Fort Worth at Cowtown Coliseum wraps up the 2021 season with information on the 2022 season coming soon. Stay tuned to PBR.com and UBFBullfights.com for replays, highlights and more.
Official results from Day 6 of the Ultimate Bullfighters World Finals from the Cowtown Coliseum inside the history Stockyards in Fort Worth, Texas, on Dec. 11, 2021. (Name – Score, Payout)
Round 1
Sage Seay – 85, Advances
Clay Moore – 75, $1,000
Round 2
Roper Rich – 86.5, Advances
Colton Orcutt – 84.5, $1,000
Round 3
Knox Dunn – 88.5, Advances
Preston Robinson – 85.5, Advances (Next highest score after Moorman and Lindsey injuries)
Round 4
Colby Lindsey – 76.5, $1,000
Chance Moorman – INJ, $1,000
Championship Round
Knox Dunn – 88.5, $25,000
Roper Rich – 87, $10,000
Sage Seay – 86.5, $6,000
Preston Robinson – 76.5, $2,500
Photo courtesy of Andre Silva
© 2021 PBR Inc. All rights reserved.