Eguchi Mentally and Physically Ready for Start of 2022 Season
By: Darci Miller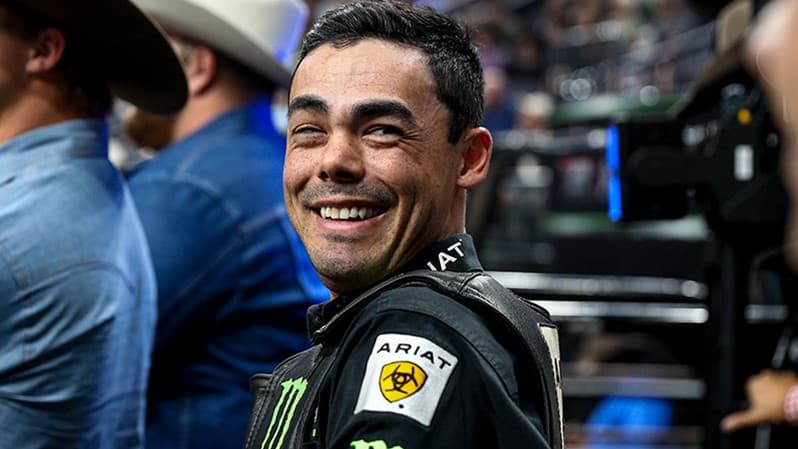 PUEBLO, Colo. – If there's one thing Marco Eguchi knows how to do, it's prepare for a bull riding.
The 2018 PBR World Finals event winner built a training room in his home in Decatur, Texas, and religiously sticks to his workout routine to stay in top shape during the season.
"I do a little bit of everything," Eguchi said. "When I (say) everything, it's weight, body weight, balance, agility, mobility, everything."
Eguchi's dedication to fitness came in handy when he broke his foot at the Wrangler Long Live Cowboys Classic in Sacramento, California, in August.
"I broke my foot and took five weeks off," Eguchi said. "But I didn't stop to work out, to do therapy every day, recover fast and good."
He recovered well but admitted that the broken foot was a clear demarcation in his season. Before the injury, he had five Top-5 finishes on the Unleash The Beast and a 15/15 Bucking Battle win. Afterward, he had just one Top-5 finish. Overall, he was 22-for-62 (35%) on the Unleash The Beast.
"My season was pretty good at the first half," Eguchi said at the 2021 PBR World Finals. "When I come back from my injury on my foot, I'm kind of a little slow to get timing. But after a few bulls, I feel good now."
Eguchi went 2-for-5 for a 14th-place finish at the World Finals, riding Barnett Right-Away for 88.25 points in Round 3 and Bread Basket for 91 points and a third-place finish in Round 4.

"It was a bull I knew would give me a good score if I ride him," Eguchi said of Bread Basket. "I thought he was going to come to the right, into my hand, but he come to the left. It was not a surprise for me because I know he can come to the left too. And everything worked good."
Things working out for Eguchi at the World Finals is not unexpected. In the last three years, some of his best performances have come at the season-culminating event, including his event title in 2018 and a third-place finish in 2020.
In 2018, he went 5-for-6 to edge eventual two-time World Champion Jose Vitor Leme for the event title, continuing even after sustaining a concussion after his 94-point ride on Spotted Demon in Round 2. In 2020, his performance propelled him to a career-best No. 4 season-ending ranking in the world standings.
"I try to give my best in every event, so I just come (to the World Finals) and try to be healthy and be prepared for every kind of bull," Eguchi said. "I know all the greatest bulls in the world are here this weekend."
Eguchi finished the season ranked No. 16 in the world standings. He will try to better that in 2022 when the premier series begins in Indianapolis on New Year's Day before shifting to New York City (Jan. 7-9) for the Monster Energy Buck Off at the Garden.
His career-best finish in New York came in 2017 when he finished second overall.
Eguchi also hopes to make the roster for Team Brazil for the upcoming 2022 PBR Global Cup USA on March 5 in Arlington, Texas. He was a member of the Brazilian squad that won the 2019 Global Cup, going 1-for-2.
The 2022 PBR Global Cup USA kicks off The American legendary western weekend on March 5-6 at AT&T Stadium. Following the Global Cup, the top rodeo athletes in the world will compete at The American, the richest single-day event in Western sports with an event purse of $3 million, on March 6. GRAMMY Award-winning musicians Tim McGraw and Faith Hill will perform a live concert during The American.
In the meantime, while he waits for the season to start, Eguchi will stick to his usual schedule.
"I wake up every morning, and I feed my bulls," he said. "I do everything outside on my ranch, and by 9, I come back (inside). I have a gym, training room in my home. I have two bucking bulls. Sometimes I practice on them. Sometimes I work out at the gym in the mornings and do stretches and balance stuff at noon."

The only time you won't find him working out? During the World Finals.
"When I'm competing, I don't mess around," Eguchi said. "You're not going to get in shape at the World Finals, you know? So everything you could do, you have to do before. You're trying to keep calm, concentrated, and ride bulls."
That's something that Eguchi, a mainstay on the premier series since 2012, has become adept at throughout his career.
Don't expect him to show up anywhere – be it New York City, the World Finals or anywhere in between – with any nerves.
"It's not pressure for me," Eguchi said. "I've been doing this for several years, so I know how to do it."
Photo courtesy of Todd Brewer/Bull Stock Media
© 2021 PBR Inc. All rights reserved.