Eguchi Prepared to Square off Against World No. 1 Bull Woopaa in Omaha 15/15 Bucking Battle
By: Justin Felisko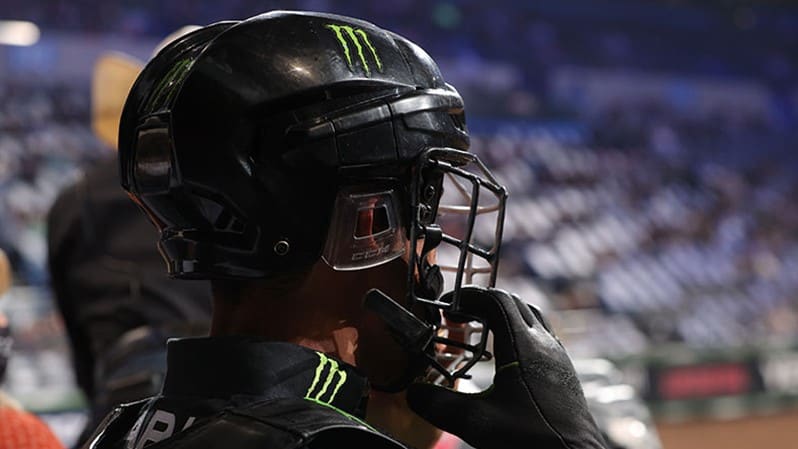 PUEBLO, Colo. – Take a glance at the top of the PBR world standings and it is hard not to miss past World Champions Kaique Pacheco, Jose Vitor Leme and Cooper Davis sitting pretty inside the Top 5.
Drop a few spots further, and there is 2018 World Finals event winner Marco Eguchi sitting in the seventh hole.
Eguchi could very well push himself further into the World Champion conversation between today and the 2021 PBR World Finals on Nov. 3-7. The 31-year-old has one of the marquee matchups at this weekend's 15/15 Bucking Battle in Omaha, Nebraska, when he takes on current No. 1 YETI World Champion Bull contender Woopaa.
15/15 Bucking Battle Omaha Matchups (Sunday | CBS National TV | 2 p.m. ET; check local listings)
Alex Cerqueira vs. Ridin Solo (14-4, UTB)*
Boudreaux Campbell vs. Mr. Winston (5-4, UTB)
Eduardo Aparecido vs. Diddy Wa Diddy (1-2, UTB)
Junior Patrik Souza vs. Boogie Bomb (8-6, premier series)
Keyshawn Whitehorse vs. High Brow Cat (1-2, UTB)*
Mauricio Moreira vs. The Right Stuff (30-2, premier series)
Silvano Alves vs. Marquis Metal Works Coriolis Effect (13-1, UTB)
Derek Kolbaba vs. I'm Busted (18-2, UTB)
Marco Eguchi vs. Woopaa (4-3, UTB)
Colten Fritzlan vs. WSM's Jive Turkey (16-3, UTB)
Dener Barbosa vs. Marquis Metal Works Red Clark (14-0, UTB)*
Cooper Davis vs. King Brute (1-2, UTB)
Joao Ricardo Vieira vs. Homegrown (11-5, UTB)$
Jose Vitor Leme vs. The Sauce (10-0, UTB)
Kaique Pacheco vs. I'm Legit Too (24-10, UTB)*
*Bull previously bucked off the rider
$Rider previously has ridden the bull for a qualified ride
"I am ready to have a big score," Eguchi told PBR.com this week. "I haven't talked with nobody yet, but he looks more like (SweetPro's) Bruiser than a strong (eliminator) bull."
Woopaa – the 2020 ABBI Classic champion – is averaging 46.56 points per out. The 5-year-old bull is 5-0 against right-handed bull riders at all levels and 1-3 against lefties. Most recently, Woopaa bucked off the right-handed Keyshawn Whitehorse in 2.14 seconds for a career-high 47.25 points.
In fact, Woopaa has faced a high-quality opponent in all four of his outs in 2021. He first bucked off 2020 Wrangler National Finals Rodeo bull riding event winner Colten Fritzlan before 2020 World Champion Jose Vitor Leme rode him for 94.75 points. 2020 PBR World Finals event winner Boudreaux Campbell then followed that up with a 95.5-point ride.
Eguchi will be Woopaa's next test, and the eight-time PBR World Finals qualifier already conquered two-time World Champion Smooth Operator for 94 points earlier this season.

Eguchi has been showing a high battle level this season, overcoming an ankle injury that has given him some fits recently, as well as an aggravated injury to his riding elbow during his ride on Smooth Operator.
"You can't think about the pain," Eguchi said. "Sometimes you are hurt, and you can't do nothing about it. Pain is something you can forget during the ride, but before and after it can be something."
Eguchi, who also demonstrated some grit last year at the Monster Energy Team Challenge, blocked out any pain in his ankle in Oklahoma City to ride King Brute for 91 points, capping off a second-place finish at the PBR Express Ranches Invitational.
"That was a pretty strong bull coming into my hand," Eguchi said. "I got a little loose, and I tried to be inside of him."
The ride was Eguchi's second 90-point effort in 2021. He has posted two or more 90s on the premier series in only three of the previous 10 seasons.
"I got so much respect for Marco Eguchi," two-time World Champion and CBS Sports Network analyst Justin McBride told Craig Hummer during the OKC broadcast. "You watch the way this bull snaps him – he just absorbs all of that, and he is in the driver's seat the rest of the way. That is another outstanding ride in what has been a great career for Marco Eguchi. This guy has been making these kinds of rides for a long time."
Eguchi did have to miss the Del Rio, Texas, event after he aggravated his elbow, an injury he has dealt with throughout his career, aboard Smooth Operator, but he feels much better and has ridden five of his last 11 bulls.
Half of Eguchi's 10 rides this season have come in the past three events as he looks to finish the first half on a strong note.
"After the Smooth Operator ride, I felt pretty bad in my elbow," Eguchi admitted. "Since that, it never got good. I stayed off one week. It is not every bull, but when I really lean back, it hurts. About two weeks ago, it started feeling a lot better."
Eguchi has finished in the Top 10 of the world standings in three consecutive seasons, including a fourth-place finish last year and a fifth-place ranking in 2018. A proven performer at the PBR World Finals, he believes that experience will help him as he competes against riders with gold buckles around their waists ahead of him in the current world standings.
"You know what you have to do and what you are getting ready for," Eguchi said. "That is how I feel. I feel this again, and that I will work hard for this. The rest is in God's hands. If it will be mine, it will be mine. If not, it is okay."
Follow Justin Felisko on Twitter @jfelisko
Photo courtesy of Andy Watson/Bull Stock Media
© 2021 PBR Inc. All rights reserved.