First-Round Matchups for 2022 PBR Team Series Championship Finalized
By: Justin Felisko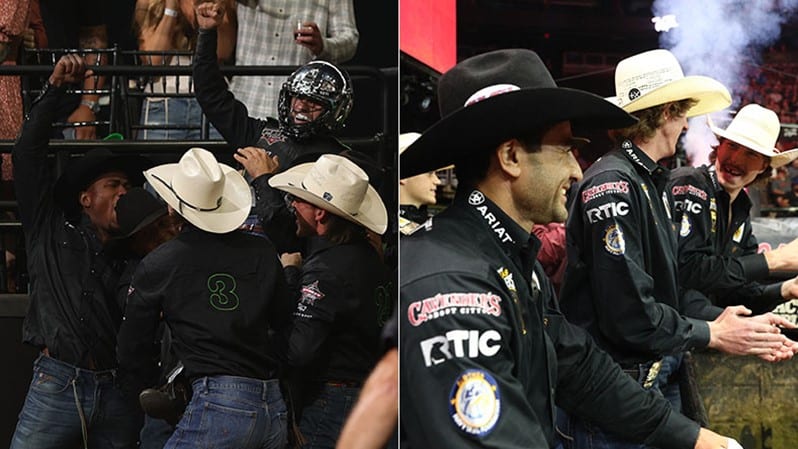 GLENDALE, Ariz. – It took all 28 games of the regular season, but the matchups for the first round of the 2022 PBR Team Series Championship in Las Vegas have finally been decided.
The Austin Gamblers (16-12, 59.5 Bonus Round Points) and Texas Rattlers (16-12, 48 Bonus Round Points) have earned the No. 1 and No. 2 seeds for the postseason, respectively, following the conclusion of the regular season at Ridge Rider Days in Glendale, Arizona.
All eight teams in the league qualify for the PBR Team Series Championship in Las Vegas. The top two teams in the regular-season standings earn first-round byes.
Therefore, Austin and Texas will now wait to see who they play in Las Vegas at T-Mobile Arena on Nov. 5, following the conclusion of the first round of competition in Vegas on Nov. 4.
The playoffs are the same five-on-five, head-to-head format fans saw during the regular season. Two teams will be eliminated from the PBR Team Series Championship each day. The first two rounds of competition will feature a "Last Chance" playoff game for teams who lost their first game earlier in the night.
Texas's season-long Bonus Round performance was the tiebreaker in the Rattlers earning the No. 2 seed over the Oklahoma Freedom, who also had a 16-12 record.
Joao Ricardo Vieira's 91.25-point ride on I'm Legit Too clinched Texas the No. 2 seed after Oklahoma's Eli Vastbinder had taken Night Hawk to the 7.99-second mark in Sunday's Bonus Round.

Fans can watch all of the PBR Team Series Championship from Las Vegas on CBS Sports Network.
Let's take a look at the first-round matchups.
No. 3 Oklahoma Freedom (16-12) vs. No. 8 Nashville Stampede (7-20-1)
The Freedom earned themselves the No. 3 seed partly because of Derek Kolbaba's 89-point ride on Red River, which helped Oklahoma defeat the Kansas City Outlaws on Sunday afternoon. Kolbaba had his left leg stepped on following the ride, but he told PBR.com afterward that it was just a bruise and he will be good to go for the PBR Team Series Championship.

Nashville had a chance at its first event win of the season after winning its first two games in Glendale this weekend. The Stampede, though, came up short against Carolina on Sunday (262.25-176).
Nashville may have the worst record in the league, but they actually have more qualified rides in head-to-head game competition (47) than Oklahoma (44).
No. 4 Carolina Cowboys (15-13) vs. No. 7 Kansas City Outlaws (12-16)
Carolina ended its five-game losing streak with its 262.25-176 victory over Nashville, but the Cowboys' late-season collapse cost them a first-round bye. Carolina lost six of its final eight games to stumble from atop the PBR Team Series standings at 13-7 to finishing fourth at 15-13.

Kansas City entered Glendale on a four-game winning streak but now heads to Vegas off three nail-biting losses at Ridge Rider Days. Kansas City lost all three of its games this weekend by less than one qualified ride and a combined 19.75 points.
No. 5 Arizona Ridge Riders (14-13-1) vs. No. 6 Missouri Thunder (13-15)
Arizona got a huge win on Friday night over Oklahoma, 86-84.5, to put itself in control of its destiny at earning the No. 1 seed. However, the Ridge Riders then lost to Texas, 258.25-254, on Saturday, which ultimately prevented them from even earning the No. 2 seed Sunday if they had defeated Austin. Arizona has put up only one qualified ride in three of its past five games (2-3) but still leads the league in qualified rides in game competition (57).

Missouri is 4-7 since first-round draft pick Colten Fritzlan sustained a concussion on Sept. 16, but the Thunder hope to get the 2020 Wrangler National Finals Rodeo bull riding champion back for the postseason. Fritzlan should be a big addition for the gritty Thunder squad. The Thunder did have an impressive 262.5-87.25 win over Carolina on Saturday night in Glendale.
Last Chance Game
What is the Last Chance Game?
The Last Chance Game takes place on Friday night in Vegas and features the three losers from the above games. The team with the best aggregate score in the Last Chance Game on five rides advances to the second round, along with three winners of the head-to-head games.
PBR Team Series Second-Round Matchups (Nov. 5)
No. 1 Austin (16-12) vs. lowest remaining seed
No. 2 Texas (16-12) vs. second-lowest remaining seed
No. 3 highest remaining seed vs. No. 4 highest remaining seed
Last Chance: three-way last chance game (three teams who lost in the above games compete; best team score on five rides advances to semifinals)
Semifinals / Championship Game (Nov. 6)
Top remaining seed vs. lowest remaining seed (winner advances to championship game)
Second top remaining seed vs. third top remaining seed (winner advances to championship game)
Third-Place Game: Loser of Game 1 above vs. Loser of Game 2 above
Championship Game: Winner of Game 1 vs. Winner of Game 2
Follow Justin Felisko on Twitter @jfelisko
Photos courtesy of Bull Stock Media
© 2022 PBR Inc. All rights reserved.