For the Record at Corpus Christi
By Matt Naber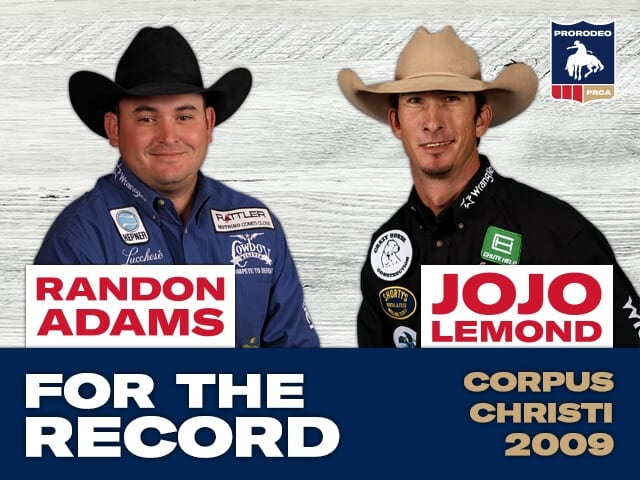 The ProRodeo Tour continues near the shores of Corpus Christi Bay, Texas, at Rodeo Corpus Christi, where the air may be salty, but the rodeo action is sweeter than the local tea.
Although the Buc Days festival's roots date back to 1938, ProRodeo action was added to the mix in 1992. Since, the arena has played host to some of the best in the sport.
In 2009, team ropers JoJo LeMond and Randon Adams made Corpus Christi history twice: first with their 3.5-second run and then finishing the rodeo with 8.2 seconds on two head.
When the duo made their Corpus Christi records, LeMond was getting started on his roll of four Wrangler National Finals Rodeo qualifications (2008-10, 2015). LeMond has won more than $1 million in ProRodeo competition since joining the PRCA in 2002.
He has often fared well at Corpus Christi, having won the rodeo in 2008-09 and 2015-16.
Although 2009 was Adams' only win at Corpus Christi, the Nevada cowboy has made his mark in ProRodeo. He is a four-time Wrangler NFR qualifier (2002, 2006, 2008-09) and won the world title in 2008. He was also named the team roping heeling rookie of the year in 2002, and his horse, Bailey's Cooper Doc (Diesel), was named PRCA | AQHA Team Roping Heeling Horse of the Year in 2006-09.
Cowboys will have a chance to beat LeMond and Adams' records and take home prize money in addition to valuable ProRodeo Tour points April 25-28.
The 2017 rodeo was the first time Corpus Christi's scores included a three-run average.
---
Rodeo records
• Total payout: $263,860, 2018
• All-around: $7,256, Landon McClaugherty, 2018, tie-down roping, team roping and steer roping
• Bareback riding: 91 points, Kaycee Feild, 2010
• Steer wrestling: 3.3 seconds, Shawn Greenfield, 2004; Zack Cobb, 2010 (6.9 seconds on two head, Jim Bob Clayman, 2003; 15.0/3, Cody Devers, 2018)
• Team roping: 3.5 seconds, JoJo LeMond/Randon Adams, 2009 (8.2/2, LeMond/Adams, 2009; 17.0/3, Bubba Buckaloo/Clint Summers, 2018)
• Saddle bronc riding: 92 points, Jacobs Crawley, 2018
• Tie-down roping: 6.8 seconds, Josh Crow, 2000 (17.0/2, Tommy Guy, 2003; Bubba Paschal, 2009; Landon McClaugherty, 2012; 28.3/3 Timber Moore, 2017)
• Barrel racing: 13.01 seconds, Tana Poppino, 2011 (29.72/2, Taci Bettis, 2017)
• Steer roping: 9.0 seconds, Trevor Brazile, 2013; J.P. Wickett, 2017 (45.2/4, John Bland, 2017)
• Bull riding: 93 points, Cooper Kangiesser, 2011
Courtesy of PRCA