For the Record: Corpus Christi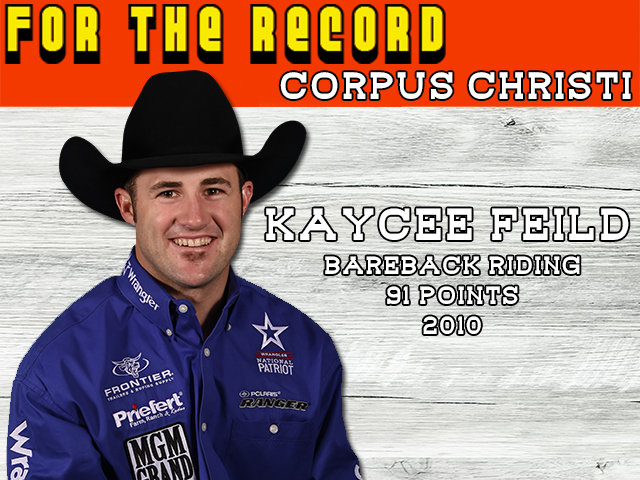 Although the festival's roots date back to 1938, ProRodeo action was added to the mix in 1992. Since, the arena has played host to some of the best in the sport.
But only the best make the rodeo's record book. Competitors will have a chance to make Corpus Christi history and win their share of the prize money from April 26-29.
The 2017 rodeo was the first time Corpus Christi's scores included a three-run average.
Corpus Christi's biggest total payout was in 2016 with $206,602.
Trevor Brazile holds the rodeo record for most money won in all-around with $6,561 in 2013.
Bareback rider Kaycee Feild set the rodeo record of 91 points in 2010.
Two steer wrestlers share the rodeo record of 3.3 seconds. Shawn Greenfield set the record in 2004 and Zack Cobb made the same time in 2010. The two-head average record of 6.9 seconds was set by Jim Bob Clayman in 2003. In 2017, Cole Edge clocked in at 15.3 seconds on three head.
Team ropers Jojo LeMond and Randon Adams set the record of 3.5 seconds in 2009 en route to setting the two-head average record of 8.2 seconds. In 2017, Trevor Brazile and Patrick Smith clocked in at 19.0 seconds on three.
Two saddle bronc riders share the record of 91 points. Bradley Harter set the score in 2009 and Rusty Wright matched him in 2016.
Tie-down roper Josh Crow has held the record since 2000 with his 6.8-second run. Three cowboys share the two-head average record of 17.0 seconds – Tommy Guy (2003), Bubba Paschal (2009) and Landon McClaugherty (2012). In 2017, Timber Moore clocked in at 28.3 seconds on three.
Barrel racer Tana Poppino set the record of 13.01 seconds in 2011.
Two steer ropers share the record of 9.0 seconds – Trevor Brazile (2013) and J.P. Wickett (2017). Although three-head averages were new for other timed events in 2017, steer roping has included a four-head average record since 2014. In 2017, John Bland set the four-head average record of 45.2 seconds.
Bull rider Cooper Kangiesser set the record with his 93-point ride in 2011.
Check back with prorodeo.com after Rodeo Corpus Christi concludes to find out who won and if any arena records were broken.
Courtesy of PRCA