For the Record: Wrangler NFR Round 4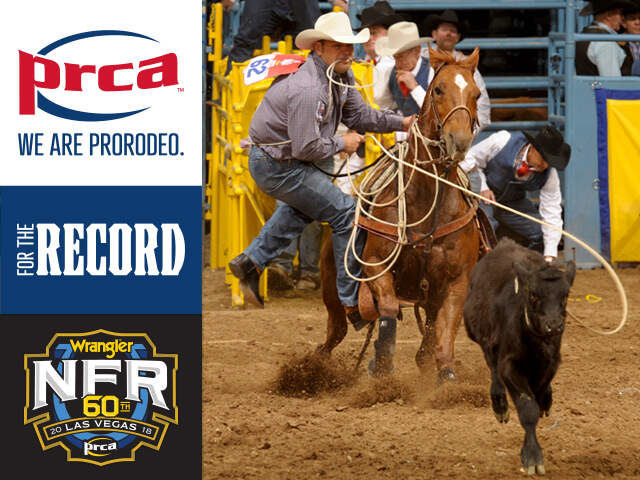 It's full steam ahead by Round 4 of the Wrangler National Finals Rodeo. While the Top 15 in each event qualify to compete, only the best of the best leave their mark by setting a record in one of the 10 rounds.
Tie-down roper Cody Ohl set the Round 4 record in 2009 when he clocked in at 6.6 seconds. Ohl's Round 4 record is 0.2 seconds faster than the fastest tie-down roping time for the entire 2018 season (6.8 seconds by Marty Yates in Denver).
By that point in his career, Ohl had amassed six world titles (All-Around in 2001 and tie-down roping in 1997-1998, 2001, '03 and '06).
After setting the Round 4 record, Ohl shared first place in Rounds 5 and 7 and finished the 2009 season 11th in the world standings. He went on to qualify for every Wrangler NFR through 2014 for a total of 20 qualifications (1994-2001, 2003-14).
Ohl's records, and the rest listed below, will be up for grabs Sunday, Dec. 9.
Bareback riding: 90.5 points, Will Lowe, 2004; Ty Breuer, 2017
Steer wrestling: 3.1 seconds, Dean Gorsuch, 2013
Team roping: 3.5 seconds, Brady Tryan/Jake Long, 2010
Saddle bronc riding: 90 points, Jesse Kruse, 2009; Jesse Wright, 2012
Tie-down roping: 6.6 seconds, Cody Ohl, 2009
Barrel racing: 13.49 seconds, Taylor Jacob, 2013
Bull riding: 92 points, Jesse Bail, 2001; Paolo Crimber, 2004
These records, and those from the other nine rounds, could be broken Dec. 6-15. Fans can watch the action on ProRodeoTV.com on demand and can check with ProRodeo.com for updates throughout the competition.
Courtesy of PRCA