From the Vault: Legendary Bovines Chiseled and Spotted Demon Put Up Huge Scores at the World Finals
By: Darci Miller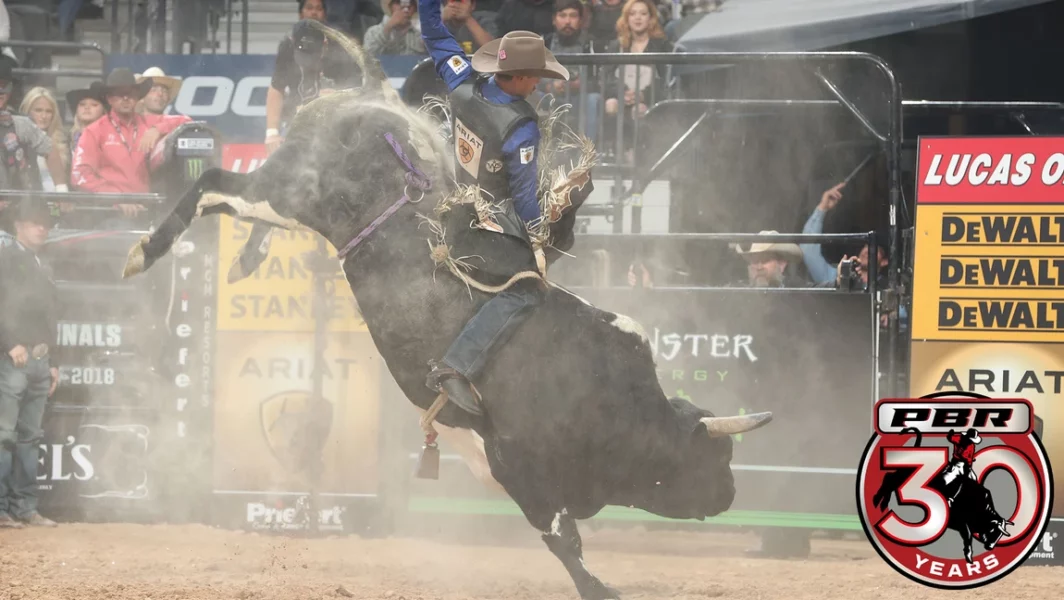 PUEBLO, Colo. – It's the PBR's 30th anniversary season, and all year long, PBR.com has been celebrating the league's history and the legends of the sport.
But a milestone year like this one wouldn't be complete without a definitive ranking.
Who are the best bulls in PBR history?
It's a question PBR Top 30, presented by Pendleton Whisky, will officially answer. Each week this summer, head over to the PBR's Facebook and YouTube pages to watch the latest episode and reminisce about the top riders and bulls the world has ever seen.
Last week, the rider countdown kicked things off, while this week, the bulls take center stage.

Among Nos. 30-23 are two names that should be familiar to the current generation of PBR fans: Chiseled and Spotted Demon.
While Chiseled is still a mainstay on the Unleash The Beast and the PBR Team Series, which kicks off in Cheyenne, Wyoming, on July 24-25, his heyday was in 2020-21, when he finished No. 2 in the YETI World Championship Bull race in consecutive seasons.
Spotted Demon, who retired in 2020, reached a career-high ranking of No. 6 twice in his career, in 2018 and his retirement season of 2020.
Both bulls are known for their rank outs, two of which came on the biggest stage in bull riding – the PBR World Finals – carrying riders to round wins and career-high scores.
Today, PBR.com's From the Vault series looks back on those iconic outs at the 2018 and 2019 World Finals.
Eguchi pays the price during Round 2 victory (2018)

LAS VEGAS – Marco Eguchi struggled to speak as the swelling around his mouth continued to grow.
Eguchi had just been released from the PBR Sports Medicine room following his concussion test, and the 29-year-old leaned his head back and raised the bag of ice with his left hand onto his face.
The cold, wet bag was a welcoming relief and remedy for taking a shot to the face from Spotted Demon's horn during Round 2 of the 2018 PBR World Finals on Thursday night.
The big prize, though, was a massive $35,000 payday and 300 world points.
Eguchi rode the World Champion Bull contender for a career-high 94 points before getting drilled by Spotted Demon's left horn and knocked out inside the arena.
"My bull came into my hand and I did everything I can to ride," Eguchi said before sighing and letting out a chuckle.
Rounding out the Top 5 in Round 2 was Jose Vitor Leme (91 points on Bad Beagle), J.B. Mauney (90.5 points on M.A.G.A), Paulo Lima (89.5 points on Southern Style) and Kaique Pacheco (88.75 points on Smooth Wreck).
"Marco made an outstanding great bull ride," two-time World Champion Justin McBride said on CBS Sports Network. "The bullfighters did an amazing job because let me tell you, this Spotted Demon is mean too. He is a big, mean, old-school bull right here. This is such a great ride. Marco is in it. He is not giving up. He knows this is coming."
Barbosa puts up historic 95.75-point ride at World Finals (2019)

LAS VEGAS – Rubens Barbosa knew Round 4 of the 2019 PBR World Finals was going to be good to him.
However, not even he could've guessed just how good.
When he returned to the locker room after riding Medicine Man for 89.5 points in Round 3, he was approached by Claudio Montanha Jr.
"Hey," Montanha said, "you've got the bull Eduardo (Aparecido) won the round on."
"You're lying," Barbosa replied. "The draft hasn't been done yet."
Montanha confirmed that it had, and that Barbosa would indeed match up against Chiseled, the talented 4-year-old bull that helped Aparecido to 91.25 points and the Round 1 win Wednesday night.
"Well, then I think I'm going to win a round, because they ain't going to score me less than Eduardo," Barbosa replied.
Barbosa turned out to be entirely prescient. His ride was all but flawless, and as he waited for his score, he expected to see a 92 or 93.
Nobody was more gobsmacked than he was when the results came in.
95.75.
It's the fourth-highest score in PBR World Finals history, and the highest since Chris Shivers rode Dillinger for 96.5 points in 2001. Only 10 rides in PBR history have ever been scored higher, and none have even matched it since Mike White and Renato Nunes did so on Troubadour and Chicken on a Chain, respectively, in 2008.
Photo courtesy of Andy Watson/Bull Stock Media
© 2023 PBR Inc. All rights reserved.