From the Vault: Looking Back at Three-Time YETI World Champion Bushwacker's Career
By: Justin Felisko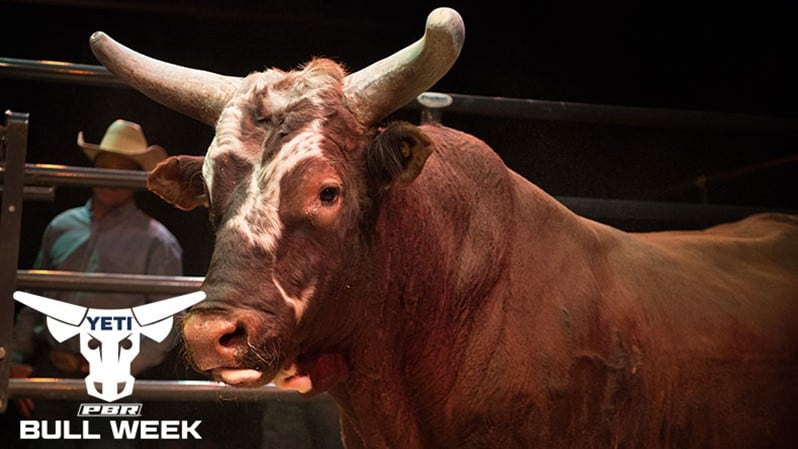 PUEBLO, Colo. – When it comes to bucking bulls, there has been no greater star in PBR history than three-time World Champion Bull Bushwacker.
The rank buckoff artist became a fan favorite during his illustrious six-year career, especially as he racked up a PBR record 42 consecutive buckoffs on the premier series and 56 overall. Combine that with a rivalry against two-time World Champion J.B. Mauney, who famously ended Bushwacker's streak with a 95.25-point ride in Tulsa, Oklahoma, on August 17, 2013, and Bushwacker's stardom became that much greater.

CBS Sports Network sideline reporter Kate Harrison caught up with Bushwacker's owner Julio Moreno this past weekend during the Wrangler Long Live Cowboys Classic in Sacramento, California. Moreno said the legendary bovine is enjoying his life in retirement at home in Oklahoma.
"He is doing good," Moreno said of the now-15-year-old bull. "I moved him to Oklahoma, and that's where he is at right now."
Moreno retired Bushwacker following the 2014 season. The legendary bovine ended his career with 64 buckoffs in 66 outs on the premier series. Overall, he defeated 84 of his 87 opponents since his first out in 2009.
"He was so good in the chutes," Moreno said. "He never wiggled or what. He waited for the rider to hurry up and go, and I think that was a lot of it too."
Moreno also tipped his hat to current No. 1 bull in the YETI World Champion Bull standings, Woopaa.
Woopaa was most recently marked 48 points during his historic performance with Jose Vitor Leme when the top two athletes in the PBR combined for a PBR record 97.75-point ride in Tulsa, Oklahoma, on Aug. 7.
The last bull to be marked 48 points or higher was Bushwacker, who posted three 48-plus scores in his career. Bushwacker's last 48-plus bull score came on April 14, 2013, when he bucked off Ben Jones for a 48.25-point score in Louisville, Kentucky.

"Man, I am just glad seeing some bulls like that with high scores," Moreno said. "I knew after Bushwacker someone was going to come around and beat them (scores)."
Before Bushwacker, White Magic was the last bull to be scored 48 points on the premier series when he bucked off two-time World Champion Justin McBride on June 28, 2007, in Nampa, Idaho.
Today, PBR.com's From the Vault series looks back at Bushwacker's legendary career after Moreno retired the champion following the 2014 season.
Looking back at three-time YETI World Champion Bushwacker's career
If there were ever to be a Mount Rushmore for animal athletes, it would be hard to not consider three-time World Champion Bull Bushwacker as a leading candidate for a spot among some of history's greatest.
During his six-year Built Ford Tough Series career, Bushwacker brought the sport of professional bull riding to new levels and became a world-renowned athlete. He is right up there with other famous animal athletes Secretariat and Seabiscuit, says PBR co-founder and Director of Livestock Cody Lambert.
However, Lambert took Bushwacker's impact on the PBR one step further when asked about what the champion bovine has meant to the PBR. Without hesitating, Lambert placed Bushwacker in an elite class of PBR legends.
He rambled off names like the PBR's first World Champion and three-time champ Adriano Moraes. He then brought up two-time World Champions Chris Shivers and Justin McBride when trying to put into context just how important Bushwacker has been to the organization.
"He is as important to the sport as any of the riders we have ever had and more famous than most of them and more well known," Lambert said. "We will have all of the great bulls from now on, and all of the great bull riders from now on, and we will never replace Bushwacker or Chris Shivers or Justin McBride or Adriano."
Follow Justin Felisko on Twitter @jfelisko
Photo courtesy of Andy Watson/Bull Stock Media
© 2021 PBR Inc. All rights reserved.