Gary Richard Jr. Aspires to Follow in his Father's Footsteps and Make a Push at the PBR World Finals
By: Justin Felisko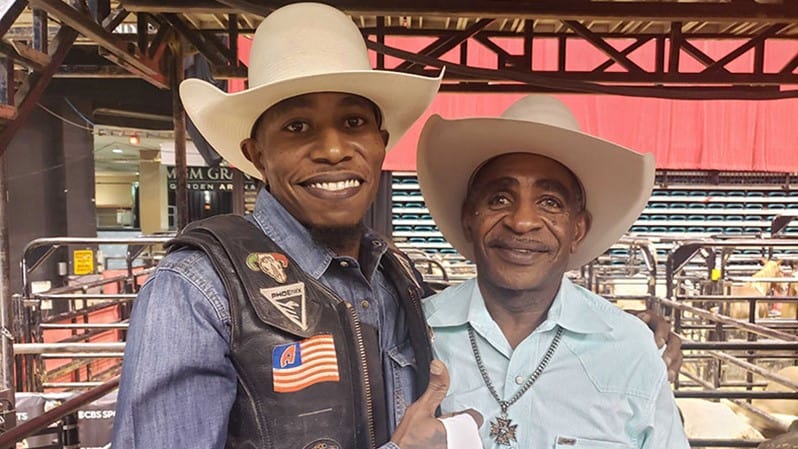 LAS VEGAS – Gary Richard Jr. loved playing basketball with his friends growing up in Houston.
It always seemed hard for him to find anything else that could create the joy that comes with the crisp swoosh when he would sink a jump shot.
Richard would spend endless hours playing pickup ball with his friends. He could not get enough of it.
He even had dreams of playing in the NBA.
However, that focus began to change once his father – Gary Richard – decided to make a late decision in life and join the PBR at 38 years old in 2000.
Gary Jr. would turn on the television and see his father climbing on animals 10 times his size, and his pops would fearlessly conquer these beasts in front of sold-out crowds all over the United States.
It was enticing and enthralling for the adolescent.
Less than two years later, he watched on television as his father made PBR history as the oldest bull rider to win a premier series event when he won the 2002 St. Louis Invitational at 39 years old.
The 13-year-old was hooked.
"Man, I remember watching him and rooting for him," Richard Jr. recalled Sunday before the Bill Pickett Invitational Rodeo in Las Vegas. "That was a big moment for our family because my dad, I don't think he ever saw that much money in his life. That just motivated me even more. That made me want to become a bull rider. My dad motivated me so much, man, just coming up. First, I wanted to be a basketball player, and I don't know what overcame me to say, 'Hey, you're going to ride bulls.'"
The teenager eventually entered a steer riding competition, and he took home a check for $32.
He quickly fell in love with the sport that much more.
"I won third place," he remembered. "No practice, nothing. I was like, 'I'm making a little money? You have to keep doing this! I'm not getting this playing basketball!'
"So I just took off with the rodeo from there."
Gary Jr. continued to practice, attempting to perfect the bull riding craft his father had mastered. Once he graduated from high school a few years later, he packed up his gear and headed south to Mexico, where he rode professionally for six years.
"I just decided to go my own route," Gary Jr. said. "I just wanted to do something different, get away from the country. That was another cool thing. Me graduating high school, fresh out of high school, getting the opportunity to go to another country to compete, doing what I love to do. I just went that route."
The now-33-year-old eventually moved back to Texas and would compete locally in the Houston area. He would go to bull ridings and compete at jackpots alongside current Unleash The Beast riders Ezekiel Mitchell, J.T. Moore and 2016 PBR World Champion Cooper Davis.
All three would say, "Why don't you enter some PBR events?"
So far, Gary Jr. has only competed at three PBR events, but he is likely going to change that next year. He believes he is now closer than ever to following in his father's footsteps and potentially making a run at the 2022 PBR World Finals.
"You'll see me in the PBR, where I should be, with my buddies," he said. "They're calling me, so I'm coming. If I'm going to do it, I've got to do it all the way (and make the Finals).
"My dad always tells me, 'If you're going to rodeo, make sure you do it with all you have, because riding bulls is nothing to play with. You have to be serious about it. You have to have a passion for it. If you want to do it, you're going to do it. If not, don't half-step anything because if you're going to half-step it, you're going to get hurt. So, if you're going to do it, put your all into it.'"
Richard did not have the success he wanted Sunday during a historic day in Las Vegas at the Bill Pickett Invitational Rodeo as he bucked off his bull. But it remained a special day for him with his father on the back of the bucking chutes pulling his bull rope and cheering him on.
"I'm glad to be a part of something historical," Gary Jr. said. "For Bill Pickett, for them to have their first event on TV, man, this is big, and I'm glad to be part of it."
CBS will also air a one-hour special featuring highlights and event storylines Saturday, June 19 at 1 p.m. ET. The Juneteenth television special will be the first time an all-Black rodeo has been broadcast on network television. Juneteenth is the date honoring the end of slavery in the United States and a celebration of the oldest African American holiday.
Gary Richard Sr. won the Bill Pickett Invitational Rodeo bull riding championship three times in the 1980s.
"I'm very excited for this because I was part of the Bill Pickett in the late '80s. I won the very first trailer they gave away and all of that," Gary Sr. said. "It's always good to see my son compete, because it'll take me back to where I came from, and how far he came to riding bulls. It's like a big flashback to me. And since I was a part of the Bill Pickett and the PBR, I thought it would be awesome to come out here and be part of it and celebrate the history. Because there's history. We're making history.
"We haven't had this opportunity to go national on network TV. It's very awesome."
Who knows, the broadcast may even lead to a new kid falling in love with the sport in the same way Gary Jr. did by watching his father ride in the PBR.
And as Gary Sr. always says, "It's never too late to try and fulfill your dreams. Whatever you want in life, you can do it."
Follow Justin Felisko on Twitter @jfelisko
© 2021 PBR Inc. All rights reserved.