Get Hitched at the 2023 Reno Rodeo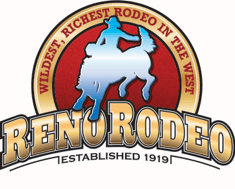 RENO, Nev. — Ten lucky couples will have the unique opportunity to say "I do" during a group wedding ceremony at the 104th Reno Rodeo. Greg "Lightning" Williams, the 2023 Reno Rodeo Association President, and his trusty canine sidekick "Blue" will officiate this one-of-a-kind ceremony on Saturday, June 24 at 1 p.m. in the iconic outdoor arena at the Livestock Event Center.
For the first time, 10 couples can kick their boots up and ditch the stress of wedding planning for a down-home western celebration at the 2023 Reno Rodeo. From flowers to photography, the "Wildest, Richest Rodeo in the West" has lovebirds covered. After registering and paying the $4,500 fee, couples will have access to a completely pre-planned event, featuring all the wedding essentials with a Reno Rodeo flair.
Brides will be provided with a beautiful bouquet before walking down the dusty aisle, and grooms will be adorned with a classic boutonniere. A professional photographer will be onsite to capture every magical moment, and couples will receive a thumb drive of the photos. Additionally, couples will receive personalized wedding programs and a commemorative 8×10 frame and special gifts.
After the ceremony, couples can unwind at a catered reception in the Branding Room, which includes live music, dancing, floral centerpieces and drinks for each couple and eight of their closest friends and family members. Individual cakes will also be provided for each couple and their guests.
It wouldn't be the Reno Rodeo without bulls, barrels and everything in between. Couples can catch all the rodeo action with two tickets to the sold-out finals performance that night to complete their buckin' good time.
The first couple to register will also receive professional hair and makeup for the bride. Couples are encouraged to showcase their distinct country style, and a prize will be awarded to the most authentic western-dressed duo.
Contact Mallory at the Reno Rodeo Office at (775) 329-3877 ext. 102 to reserve a spot. All proceeds directly benefit the Reno Rodeo Crisis Fund. Couples must provide their own wedding license prior to the event.