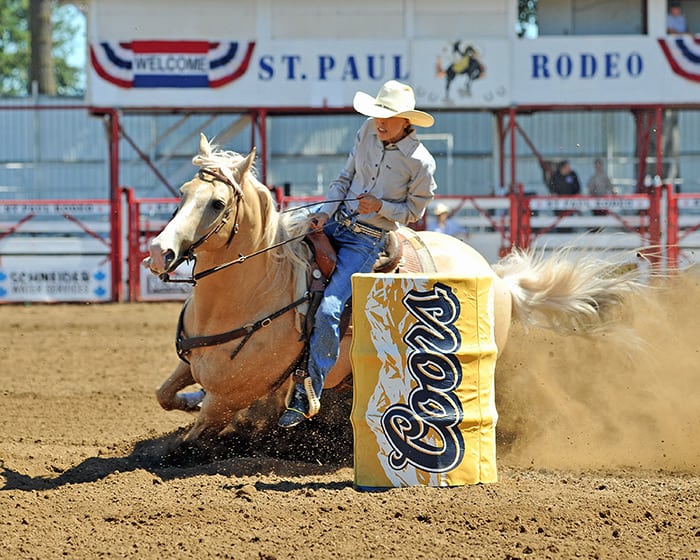 Successful business owner and professional barrel racer Jill Welsh passed away February 23, 2021 after battling the lasting effects of a 2007 lupus and rheumatoid arthritis diagnosis and kidney cancer in 2011. Jill had no idea this time a severe lupus flare from stress would lead to no recovery, ultimately leaving her in renal failure of her last remaining kidney, pancreatitis, and congestive heart failure.
During her far too brief time on this earth, Jill truly was an inspiration to those around her. She personified desire and courage despite her debilitating illnesses to compete at the highest level of professional barrel racing.
Born in Prescott, Arizona, Jill's western family life set the foundation for the future for Jill to become an all-around rodeo athlete and brother Kyle to excel in his roping aspirations. The small family of three—with the Lord on their side—never lost sight of their loyalty toward each other, competitive nature, love of horses with Jill's positive attitude leading the way.
Jill progressed through local, state and national youth and college rodeo wins of many buckles and saddles, riding "CJ", raised by Melanie Higgins of Carlsbad, New Mexico. "CJ" gave her confidence by placing at the highly competitive Martha Josey Junior World Championships and sizable wins in open competitions.
Jill captured attention with her black horse "Dolly", rightly registered as FaithHopeAndCharity. Jill was a top All-Around competitor that was exciting to watch win numerous seven second goat tying titles, breakaway and team ropings. Raised and super trained as a calf roping mare by Richard Stowers of Madill, Oklahoma, "Dolly" lived a cherished life with Jill until passing due to age at 38.
Jill's barn included "Rendi," raised by Wrangler National Finals Rodeo barrel racer and trainer Rachel Myllymaki of Arlee, Montana. Nicole Romo owned the sorrel mare and she gave Jill a chance to step up to another level by allowing her to purchase "Rendi" to fill her WPRA professional permit.
Jill graduated Yavapai College with career sights on dentistry and was attending Northern Arizona University when her life was abruptly changed forever. In 2007, at just 23 years old, Jill was diagnosed with Lupus and severe Rheumatoid Arthritis that doctors expected would confine her to a wheelchair within six months without aggressive treatment. Both degenerative diseases have no cure and attack the body by destroying healthy cells, joints, and organs. Jill refused to let the diagnosis define and limit her ambitions. A shift in career led her to become a business owner, partnering with her brother Kyle who had recently graduated from ASU Business School. They moved to Parker, Arizona.
In 2011, Jill's health issues progressed to life-threatening. Jill was emergency airlifted to a hospital in Phoenix. While in route she suffered two heart attacks and upon arrival was informed she had to undergo aggressive cancer treatments which included an ablation (removal) of her first kidney and an ovarian tumor. These immediate actions were followed by chemotherapy and radiation treatments. She was only given a three year life expectancy. Fighting to recover and desperate to return to the saddle, Jill was in and out of a wheelchair. Gastrointestinal complications robbed her body of the ability to absorb nutrients, leaving her in weakened state.
During Jill's time in the hospital,"Rendi" unfortunately coliced and passed away after not receiving proper care and attention at a boarding facility in Tucson. Jill contacted Rachel, looking for another horse from the Montana cowgirl. Myllymaki had a super talented palomino gelding registered as Frenchman's First Watch she named "Custer." When Jill and her family went to try "Custer", the resilient and relentless cowgirl was still relegated to a wheelchair. She was too weak from the chemotherapy and radiation to even make a practice run. In fact, she had to be lifted into the saddle and Myllymaki ponied her aboard "Custer" about 800 feet. Jill knew that "Custer" had already proven his talent and abilities in the arena but he won her heart by gently caring for her that day. That was more than enough for Jill to instantly fall in love with "Custer."
Barrel racers often lovingly call their equine partners God's unicorns, but with "Custer", there really was something more about the pairing with Jill. They truly seemed to share more than a heartbeat, and "Custer", whom she quietly called "Jas", pulled her out of her wheelchair. Despite Jill's many health challenges and lack of muscle strength, she and "Custer" became a great team together. At the rodeos, the pair gained an intuitive sense for each other by taking things one step at a time. Jill called what the gelding did for her outside the rodeo arena priceless. From the first moment she was lifted into his saddle, too weak to even hold the saddle horn, "Custer" seemed to understand how to help Jill in any situation.
In 2015, Jill and "Custer's" hard work and perseverance set the stage for an amazing year. Beginning with a title at the Livermore Rodeo, the duo went on to become the highest money winners in PRCA during the Cowboy Christmas Season. Jill and "Custer" won the silver spurs at the Reno Rodeo and continued with two of the largest Fourth of July rodeos, Greeley Independence Stampede and Cody Stampede as well as big checks at Prescott and St. Paul.
The pair suddenly had the national spotlight and the world watching their inspirational story unfold. Jill's refusal to give up her dreams in the face of adversity gained her a huge following from all walks of life. She drew strength from the cheer and roar of the crowds relating to their own personal tragedies and illnesses.
The incredible success for Jill and "Custer" continued at Salinas and an exciting Champions Challenge Title in Cody. Large paydays at Caldwell, Santa Barbara and Coeur d'Alene set the stage for a possible NFR qualification.
Then came an unfortunate late season stumble for Jill and "Custer" at Pueblo, Colorado and the new primary concern was now "Custer's" well-being and health. Jill left the rodeo trail immediately and took him to Dr Herthel's Alamo Pintado Vet Clinic in California, where she personally made sure that his bruise was fully recovered before ever leaving. Their bond to take care of each other was remarkable and "Custer" knew he could count on Jill just as she counted on him.
The over cautiousness kept Jill from the NFR that year as she fell from seventh in the world to finishing 16th in the WPRA World standings. Her fellow barrel racers voted 'Custer" — the exceptional horse who barely ran at the minimum of 35 rodeos and won so many prestigious titles — the 2015 AQHA/PRCA Horse of the Year. The following year continued to give Jill experiences that only a few would ever know including placing at Houston Livestock Show and Rodeo, San Antonio Livestock Show and Rodeo with "Custer" and Jill proving themselves at both indoor small patterns and outside big patterns.
Jill was so concerned for "Custer's" longevity on the rough rodeo trail that she campaigned to purchase "Prince", registered Imanonstopfame, raised and trained by another NFR competitor Jackie Jatzlau and owned by Shelly Weaver. "Prince" was a proven champion as he won the Old Fort Days Futurity in Ft. Smith, Arkansas as well as numerous pro rodeos in Texas. Jatzlau and Weaver decided to try to help Jill achieve her goals by allowing her to purchase "Prince" knowing that Jill would take great care of their precious masterpiece. "Prince" brought comedy to Jill's life as the youngster seemed to watch "Custer's" every move, listening intently, and learning how to care for their special jockey.
Jill competed at the top level as her health issues continued to overwhelm her body, twisting hands that held reins, little to no fluid in her spinal joints, hips and legs that held her in the saddle with more bad days than good. Jill found new ways to ride with her crippling body. When she was well enough to go to rodeos she placed at huge rodeos like San Angelo Stock Show and Rodeo, Austin Rodeo, Salinas Rodeo and Cheyenne Frontier Days. Jill also won titles at Cave Creek, Arizona and Springville, California on "Prince."
"Custer" also came thru again for her at the 2019 Reno Rodeo, clocking the fastest time of the entire rodeo in the short go, giving them the Reserve Championship in a come from behind win. The duo was able to clock a 16 second time at Reno Rodeo five years apart. Jill always said she felt free of her issues when she was running and if you asked her how she was she would comment "just glad to be here."
Despite her challenges, Jill was grateful to all those who helped her live her life, experiencing rodeo at its best and doing what she loved. She appreciated the rodeo committee's hard work to put on such treasured rodeos. Jill held her friends in high regard and appreciated those special horses that enriched her life as seen by her infectious smile.
Community issues had taken a toll on Jill's health, so she searched for a home in Texas to be closer to many of the competitions and the western life. In December 2020, she made a week trip to her newly purchased home in Weatherford and seemed to be embracing the upcoming move.
Jill's shortened life gave her family ten more years instead of the three predicted by doctors, but it will never seem enough of having someone as genuinely special as Jill around. Crushed and devastated, Jill leaves behind her devoted mother Sandra and protective brother Kyle, as well as "Prince" and "Custer," who no doubt continue to carry her spirit and heartwarming reflections of Jill herself who will bless her family with their company in Jill's absence.
She also leaves behind a legacy to her many friends and fans as a brilliant shining example of a cowgirl. Her family believes she is free of tears of pain in Heaven and reunited with her beloved Jack Russell "Tuffy" and "Dolly." Jill will be celebrated by her family by finishing her aspirations to build an indoor arena and barn with a peaceful environment in Texas. In lieu of flowers, please share memories and thoughts, keeping her alive in our hearts at dollyb2007@hotmail.com
Courtesy of WPRA