Healthy Hunter Herrin Having Success Again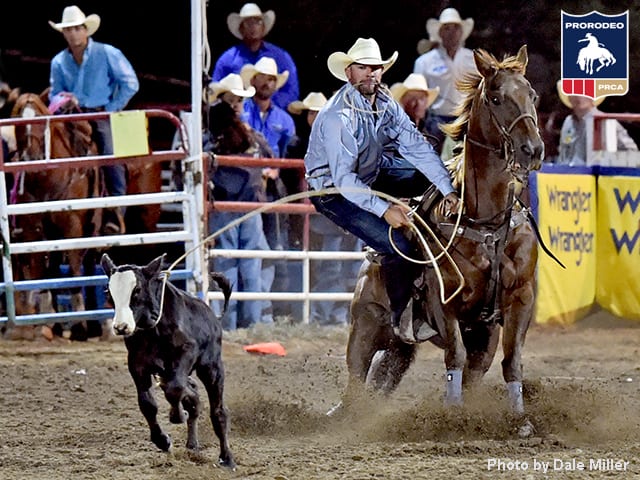 Injuries can ruin a cowboy's season plans in an instant.
That was the case for tie-down roper Hunter Herrin in 2018 and 2019.
The nine-time qualifier for the Wrangler National Finals Rodeo – (2006-09, 2011-12, 2014-16) had right hip surgery in October 2017 and May 2019.
"I think I went to five rodeos in the winter (of the 2019) season and then I had that hip surgery and didn't start roping again until November," said Herrin, 35. "The hip is not 100%, but it's good."
Finally healthy, Herrin also regained some old horsepower.
"I got a horse (Rambo) back I sold in January of 2016 to Travis Dobbs," Herrin said. "He's let me ride him this year."
Rambo was the 2014 AQHA | PRCA Tie-Down Roping Horse of the Year. Herrin rode Rambo at the 2014 and 2015 National Finals Rodeos.
In 2014, Herrin placed in seven of 10 rounds at the NFR and finished eighth in the world standings with $119,231. The next year in Las Vegas, he won Round 9 and split the Round 2 win to finish seventh in the world standings with $181,024. Herrin's best finish came in 2008 when he was second.
"We have a pretty good rapport," Herrin said. "The first rodeo I rode Rambo at this season was Grand Island (Neb.) in the middle of March right before COVID-19 hit. Then when rodeos started coming back, Rambo and I started putting things together."
Herrin earned $10,438 over the Cowboy Christmas run, highlighted by winning the World's Oldest Rodeo in Prescott, Ariz., July 5 to earn $6,282. He followed that by claiming the Parker County Sheriff's Posse Frontier Days and PRCA Rodeo title in Weatherford, Texas, July 11 and earning $2,822.
That hot streak pushed Herrin to 19th in the PRCA | RAM World Standings with $21,374.
"It feels good to just be rodeoing in general," Herrin said. "Of course, the goal is to make the NFR. It's not going to be easy to win gold buckles here on out with the competition that's out there."
Herrin's going to be busy in the coming days. He's up in Nephi, Utah, July 18 and then scheduled to compete in Deadwood, S.D., Burwell, Neb., and Spanish Fork, Utah.
Courtesy of PRCA