Herrmann Wins Hometown Rodeo in Corpus Christi
by Jolee Lautaret-Jordan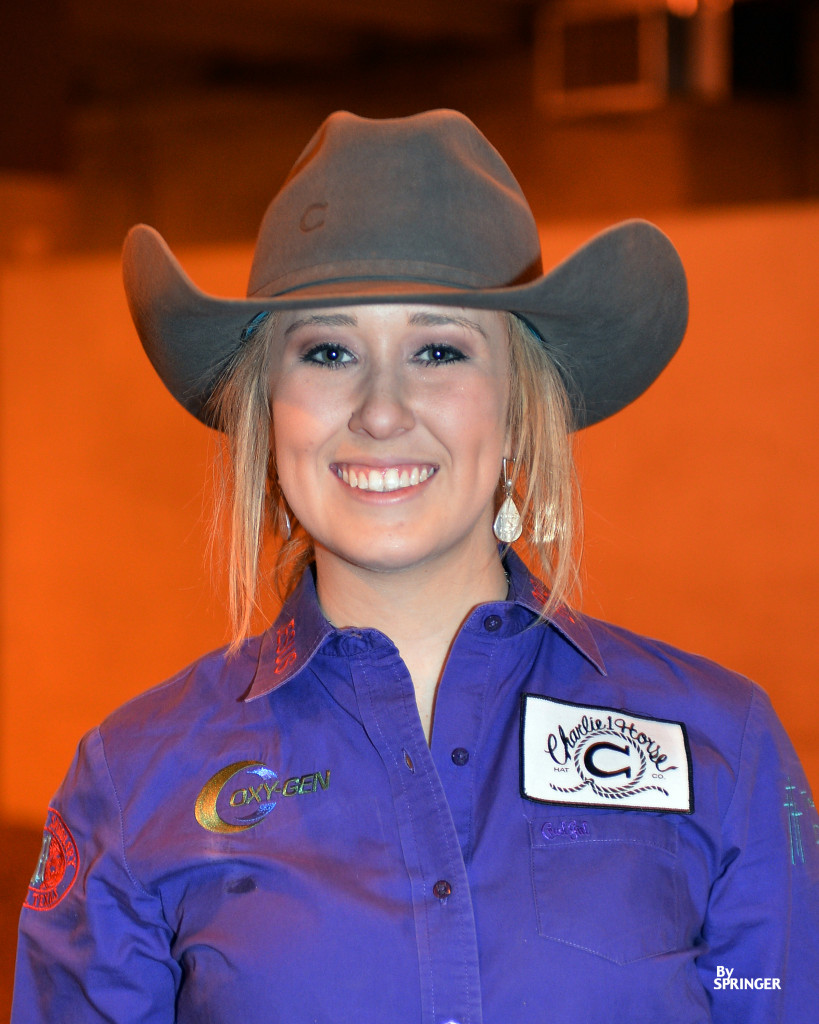 Corpus Christi, Texas—Just a few years ago, Shelby Herrmann rode at American Bank Center arena, home of the Buc Days Pro Rodeo, carrying flags as a queen representing the Texas Junior High School Rodeo Association. It was an experience that the cowgirl from just down the road in Orange Grove remembers fondly.
"Carrying a flag was pretty fun," she laughs, "we tore around that arena and they'd turn all the lights off so it was completely dark."
Clearly the speed is the thing with the now 19 year old who has traded her queen's crown for barrel racer spurs.
Competing at Buc Days for just the second time as a member of the Women's Pro Rodeo Association (WPRA), Herrmann lit up the hometown crowd on the final day of the rodeo, Sunday, April 26.
Riding her 13 year old partner, TS Doc San Lena, Herrmann scampered through the tiny pattern in Corpus Christi in 13.56 seconds, stealing victory from another second year WPRA member, Callie DuPerier, by nine one-hundredths of a second.
"I've watched [the rodeo] every year since I was a little kid so it's kind of cool to win there."
As one of just about a dozen WPRA-approved rodeos with at least $10,000 added committee purse and just one round of competition, Corpus is always a lucrative stop for cowgirls hoping to add a big check as the spring run begins to roll into summer.
Herrmann won $4,797, pushing her 2015 season total to $20,864. She is now ranked 17th in the WPRA World standings.
The win was special for Herrmann in several ways. For one, her great horse Doc had been less than 100-percent in recent weeks, battling illness.
"He's been sick for two and a half weeks," she notes. "He has a little sore throat and is really still recovering."
Herrmann had been trepidatious of her trip to Corpus Christi, despite picking up a check a year ago in her rookie trip to the rodeo, because of Doc's previous performance on the weekend. Herrmann is in her first year at Tarleton State University and had her final National Intercollegiate Rodeo Association (NIRA) rodeo in the days before her trip to Corpus Christi as well as a scheduled stop at the pro rodeo in Lufkin, Texas.
"We ran at Lufkin and he really didn't clock there," she says, adding that pro rodeos have taken a back seat to college rodeos since winter. "He gives his whole heart the whole time but he just wasn't clocking."
"I didn't expect his hardest run [at Corpus] because we hadn't been going."
With the huge win over a field jam-packed with Wrangler National Finals Rodeo (NFR) competitors, Herrmann felt her horse had proven he was finally back. Along with the big win, she got some other good news to close the weekend.
"We found out that I had made it to the College Finals," said Herrmann who is sponsored by Oxy-Gen, Brandenburg Equine, Tres Cruces, HP Propane, Storm Services, Charlie 1 Horse, Fossil Creek Equine Center and Lonestar Country Store. She punched her ticket by finishing second in the Southwest Region. "We didn't know when we pulled out [of the final college rodeo]."
Winning your hometown rodeo is always special too and Herrmann noted that most of her family and friends were able to come watch her speed to victory.
"Orange Grove is about thirty minutes from Corpus but it's practically the same," she says. "I don't get to see my friends much—maybe for an hour–because I'm not home for very long at a time."
"Denver was probably my best [finish]," Herrmann continues (she won second), "and I won a round in Guymon last year. But this was probably the most memorable because everyone was there and got to watch."
Herrmann comes from a rodeo family on her father's side. Lee Herrmann is a team roper and his father and sisters all rodeoed as well. Herrmann's younger sister, Mollee, is a sophomore in high school rodeo. Mom, Lori is the family's biggest supporter.
Doc has been Herrmann's partner for four years, carrying her to a third place finish at the National High School Rodeo Association Finals. He was named the AQHA Horse of the Year for the Texas High School Rodeo Finals the same year.
Herrmann says she rodeoed hard as a rookie in 2014, finishing eighth in a very competitive rookie race, before returning to Texas to begin college.
"We went to a lot of rodeos so we got to experience a lot as far as what works for us and what doesn't," she says. "This year we will go to some different ones."
With her great winter start, Herrmann is hoping to land at the Wrangler NFR, another pen that would likely suit Doc.
"He likes really small pens, so Corpus was perfect," she laughs.
"The arena in Casper [for the College National Finals Rodeo] is super small, kind of like Corpus, so I'll definitely make sure I'm there," she adds when talking of her busy summer schedule.
For now, Herrmann is finishing her first year at Tarleton in Stephenville, a community hit badly with thunderstorms, hail and even a tornado or two on Sunday.
"I had class at 10 AM Monday, so I had to come right back," Herrmann says. "But luckily by the time we got here, it had all passed by."
For more information on the Buc Days Pro Rodeo and accompanying events, visit them on-line at www.bucdays.com.
Courtesy of WPRA