Home Field Advantage and New Mindset Help Piva to The Whistle in Billings
By: Darci Miller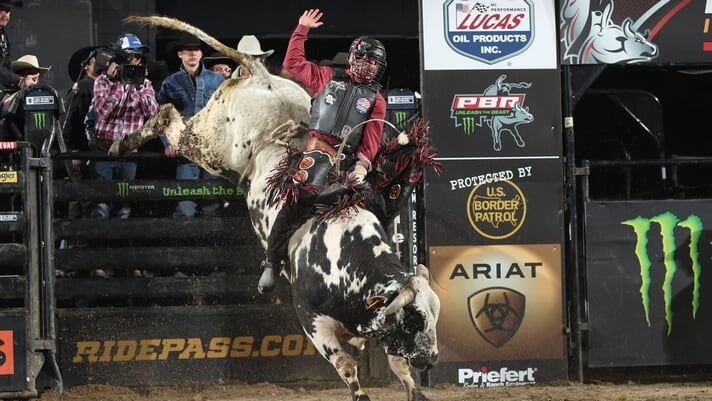 BILLINGS, Mont. – For the last several weeks, Ruger Piva has spent time and energy learning how to not care.
Or, rather, how to not give a f*ck.
The 23-year-old has struggled on the Unleash The Beast this season and found that the mental aspect of the sport is what kept tripping him up.
"I'm traveling here and I'm pretty excited, and then I get here and it's almost like I freeze up," Piva said. "And I've learned to just, I don't know, not think about it, not care."
How?
Piva listens to self-help books. On the three-hour drive from his home in Dillon, Montana, to Billings for the Billings Invitational, presented by Cooper Tires, he listened to The Subtle Art of Not Giving a F*ck by Mark Manson.
"It's awesome," he said. "I was just laughing. I was like, 'All this is true!'"
His three-hour tutorial on not caring led to an 85.75-point ride aboard Solid Iron's Hammer Down, good for seventh place in Round 1.
"It really just felt good," Piva said. "Reaction time, and the way he was bucking, he just fit me and matched up well with me. Every other time I've seen him he's just been to and around to the right, and this is the first time he went left. It kind of caught me by surprise. But I kind of felt that he was going to change directions there and be around to the right, and that kind of helped too."
For the finish, Piva earned five world points and is ranked No. 39.
Lest anyone think Piva's audiobook materials are just for laughs, he also credits Psycho-Cybernetics by Maxwell Maltz with helping his mentality. The book has proven effectiveness in the bull riding world, as it's what Ring of Honor inductee Gary Leffew attributes to his own mental turnaround and legendary career.
Piva may not have Leffew's resume, but he appreciates the book's tips on how to relax and focus.
"One of the guys that helped me start riding bulls, his name was Brock Mortensen, he told me, 'Relax, but cock your hammer,'" he said. "And that's always what I thought when I was younger, and now I'm just kind of trying to train for that here. Relax."
Thus far in his career, Piva's best premier series result is a seventh-place showing in Tacoma, Washington, where he went 2-for-3, riding Golden for 86 points and Dead Calm for 84.75 points.
With two, potentially three, rounds remaining in Billings, he's not getting ahead of himself – he hasn't even looked at his draw for the remainder of the weekend. (If he were to check, he'd see he's drawn El Chapo for Round 2.)
That's not to say he doesn't have high hopes. Though a native of Idaho, and is even announced as such at PBR events, he considers Montana to be his home. He attended the University of Montana Western in Dillon, which is where his girlfriend still lives and where he currently stays.
Rimrock Auto Arena, the home of the Billings Invitational, also happens to be his favorite arena in which to compete.
"This is my favorite arena. I love it. I don't know why, but it's my favorite arena," Piva said. "I'm at home right now, basically."
He made the 8 seconds without his family in the crowd – telling them "you can come Saturday and Sunday if I'm doing good" – but still felt the home-field advantage.
"I definitely feel it," Piva said. "I don't know if it makes any difference. I'm almost more nervous, but I definitely feel at home here."
His family will be in attendance on Saturday, and faced with the idea of winning his first Unleash The Beast event in his home state and at his favorite arena, no amount of self-help books in the world could keep him from caring.
"It would probably be about perfect, I think," he said with a grin.
© 2019 PBR Inc. All rights reserved.