Hunter Cure Claims Steer Wrestling Crown in Jackson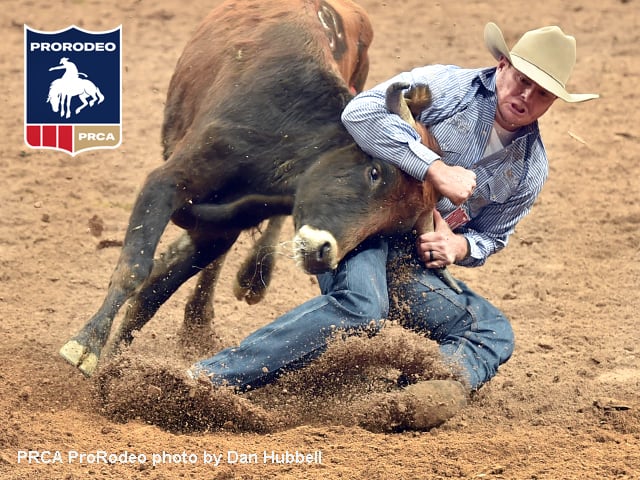 JACKSON, Miss. – The Dixie National Rodeo has seemingly always treated steer wrestler Hunter Cure well.
The 2020 Dixie National Rodeo was better than ever for the Holliday, Texas, cowboy after winning the rodeo for the first time in his career.
Cure, the 2013 and 2015 PRCA world champion, captured the title with a 7.6-second time in the two-head average at the Mississippi Coliseum.
"Historically I have done well in Jackson," said Cure, who joined the PRCA in 2006. "I usually win $1,500 to $2,000 fairly regularly every time I come here, and it's great to add this win."
Cure earned $5,185, which should help him move up in the PRCA | RAM World Standings. He was 26th in the Feb. 10 standings with $4,460.
"Everybody likes to get a head start in the winter," Cure said. "After making some mistakes at the end of last week in the Fort Worth (Texas) short round (Feb. 8), I bounced back with this win, which sure is nice."
The horse Cure is riding is Maverick, owned by Olin Hannum and Jake Stocking.
"I rode him in Las Vegas (at the 2019 Wrangler National Finals Rodeo), and I made a deal with them to keep him until Kissimmee (Fla.) where Olin will ride him at the (RAM National Circuit Finals Rodeo, April 2-4)," Cure said. "If the horse spends his winter in Texas it is a little better than Idaho and the horse can stay in shape and be ready to go when Olin's ready.
"Maverick is an extremely nice horse, good in the box and reads cattle extremely well. There are a lot of good qualities about this horse."
At the 2019 Wrangler NFR, Cure rode Maverick all 10 rounds and earned $60,346. He placed in three rounds, highlighted by his Round 3 win in 3.8 seconds.
Cure made his first run in Jackson in slack Feb. 5 and won the first round with a 3.8-second run. He followed that with another 3.8-second time in the second round Feb. 10, and that 7.6-second, two-head time held on for the victory.
"The first run, I had a good steer and got a decent start and was able to get him to hit clean and won the round," Cure said. "The second steer I had they were no time and 5.5 on him. I was lucky enough to get out and caught the steer off-guard and was (3.8) on him."
On Thursday, Cure will make his first run at the San Antonio (Texas) Stock Show & Rodeo.
"The winter just makes it easier to make the NFR," said Cure, a five-time Wrangler NFR qualifier (2009, 2013, 2015, 2018-19).
Other winners at the $179,293 rodeo were all-around cowboy Bart Brunson ($1,074, tie-down roping and team roping); bareback rider Wyatt Bloom (86.5 points on Stace Smith Pro Rodeos' Walker); team ropers Levi Simpson/Shay Dixon Carroll (3.9 seconds);
saddle bronc rider Logan Cook (85.5 points on Stace Smith Pro Rodeos' Fantana); tie-down roper Ty Harris (16.0 seconds on two head); barrel racer Jimmie Smith (14.40 seconds) and bull rider Brody Yeary (92 points on Stace Smith Pro Rodeos' Bet On Black).
For more coverage of the Dixie National Rodeo, check out the Feb. 21 edition of ProRodeo Sports News.
Courtesy of PRCA