Hunter Herrin Stays Hot, Leads Reno Rodeo
by Bob Stephens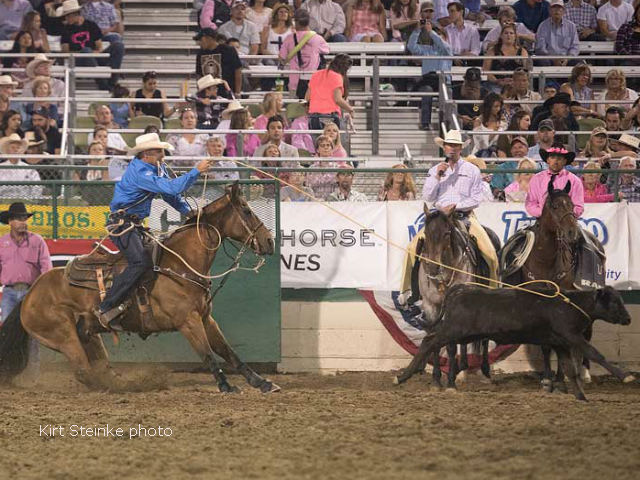 RENO, Nev. – Hunter Herrin is the top-ranked tie-down roper in the world but said he has other priorities back at home in Apache, Okla. This weekend, though, his focus is on achieving a goal he's never reached – winning the coveted Reno Rodeo silver spurs.
Herrin took a big step toward earning the tie-down roping championship of the Reno Rodeo Friday night when he had the fastest time of the eighth performance. His 7.7-second run helped put him in the lead entering Saturday's 12-man final round with a time of 16.1 seconds on two head.
The rodeo's champions will be determined by the fastest times and best scores over three rounds – except the bull riding, which has two rounds. Friday's performance was the second straight sellout, and Saturday's finale is also a sellout.
"I've never won Reno," Herrin said. "I've been here a lot, I've won rounds and I've placed. But I've only made the short round one time (2010) in 12 years before this and I missed my calf that time. It feels good to make it again."
Herrin's traveling partner Marty Yates is in second place at 16.7 seconds and Riley Pruitt is next at 17.4. Herrin hopes to close the deal with a solid run Saturday.
Seth Hall edged Herrin to win the tie-down roping's second round by one-tenth of a second.
Herrin has won $6,496 so far in Reno. He tied for third in the first round and earned a check for $2,675. He won $3,821 by taking second in round two.
Shortly after his terrific run Friday, Herrin – while still behind the timed-event chutes – called his wife, Ashley, who was two time zones earlier with midnight not too far off.
They have a 9-year-old son, Houston, and coaching his teams has become a priority for Herrin.
"We've been playing baseball, and I'm coaching his Little League team," Herrin said. "Come August 1, I'll be coaching football."
He hopes to win lots of money by the end of July.
"I'll go hard through July 31," Herrin said. "Then I'll go to my circuit rodeos after that and the (Wrangler) Champions Challenges. If you do well at the Champions Challenges, you can make some good money. As long as I'm in good shape to make the Finals, that's how I'll approach it."
The 31-year-old Herrin has qualified for the Wrangler National Finals Rodeo eight times (2006-09, '11-12, '14-15) and has earned nearly $1.4 million in his 12-year ProRodeo career.
"This is the first year that my main priority is coaching my son," he said. "As much as the Finals pays now, what's important is to get there and then capitalize when you're out there.
"I'd love to go in (to the WNFR) winning the world but being home with my family means more than that. I love the guys I rodeo with (Yates and Ryan Jarrett) but I want to spend time with my family."
Herrin is first in the WEATHER GUARD® PRCA World Standings with $48,429 – that's $1,360 ahead of second-place Jarrett, who lives 60 miles away from Herrin in Commanche, Okla. Jarrett, who won the 2005 all-around world championship, leads the all-around standings.
"Me and Ryan have been 1-2 in the world (tie-down standings) since (Rodeo) Austin (in March)," said Herrin, who jump-started his great season by winning the big-money San Antonio (Texas) Stock Show & Rodeo in February. "I just try to get a good rhythm and keep my routine. I preach that to my son; I think it's important to have a routine and try to keep a good rhythm no matter what sport it is."
The Reno Rodeo concludes Saturday. Qualifiers for the third and final round are:
Bareback riding: Clayton Biglow (164 points on two head), Tyler Nelson (162), Kyle Charley (161.5), Ty Breuer (161.5), Tyler Scales (161), Ty Fast Taypotat (161), George Gillespie IV (159.5), Wyatt Denny (159), Richmond Champion (157), Winn Ratliff (156), Blaine Kaufman (155.5) and Caleb Bennett (153.5).
Steer wrestling: Olin Hannum (8.0 seconds on two head), Ty Erickson (8.4), Josh Peek (8.4), Trevor Knowles (8.6), Nick Guy (8.7), Jule Hazen (8.8), Tooter Silver (8.8), Jack Vanderlans (9.0), Josh Clark (9.1), Gary Gilbert (9.3), Aaron Vosler (9.5) and Curtis Cassidy (9.6).
Team roping: Aaron Tsinigine/Kinney Harrell (11.2 on two head), Kaleb Driggers/Junior Nogueira (11.3), Garrett Tonozzi/Wyatt Cox (11.5), Hayes Smith/Bruce Reidhead (11.6), Nathan McWhorter/Dustin Davis (11.7), Clay Smith/Paul Eaves (11.9), Rhen Richard/Cole Davison (12.1), Jaguar Terrill/Jason Warner (12.5), Chris Francis/Cade Passig (13.0), Caleb Mitchell/Matt Kasner (13.2), Barak Freeman/Asher Freeman (13.5) and Coleman Proctor/Billie Jack Saebens (14.9).
Saddle bronc riding: Taos Muncy (164.5 on two head), Heith DeMoss (164), Ryan Mackenzie (162), Dustin Flundra (161.5), Joe Lufkin (159.5), Ryder Wright (159.5), Allen Boore (159.5), Charlie Kogianes (156), Jake Wright (156), Sterling Crawley (155.5), Zeke Thurston (154.5) and Clay Elliott (154).
Tie-down roping: Hunter Herrin (16.1 seconds on two head), Marty Yates (16.7), Riley Pruitt (17.4), Tyson Durfey (17.8), Cole Robinson (17.9), Matt Shiozawa (18.2), Clint Kindred (18.4), Tyler Prcin (18.6), Dane Kissack (18.7), Marshall Leonard (18.8), Caleb Smidt (18.9) and Jerrad Hofstetter (18.9).
Barrel racing: Christine Laughlin (34.39 on two head), Jane Melby (34.54), Kimmie Wall (34.70), Kris Gadbois (34.74), Stevi Hillman (34.76), Amber Leigh Moore (34.79), Taylor Jacob (34.80), Sammi Bessert (34.85), Katelyn McLeod (34.96), Pamela Capper (34.96), Kelly Tovar (34.99) and Morgan Breaux (34.99).
Bull riding: Ty Wallace (85 points on one head), Jeston Mead (83.5), Shawn Proctor (83), Sage Kimzey (81.5), Tyler Stoltz (81.5), Bryce Barrios (81.5), Zeb Lanham (81), Nate Perry (81), Trevor Reiste (80), Brody Yeary (79.5), Roscoe Jarboe (79) and Markus Mariluch (78.5).
Read more about the Reno Rodeo champions in the July 15 ProRodeo Sports News.
Courtesy of PRCA