Jeff Askey Injures Shoulder; Lefty Holman Out for Season
By Tracy Renck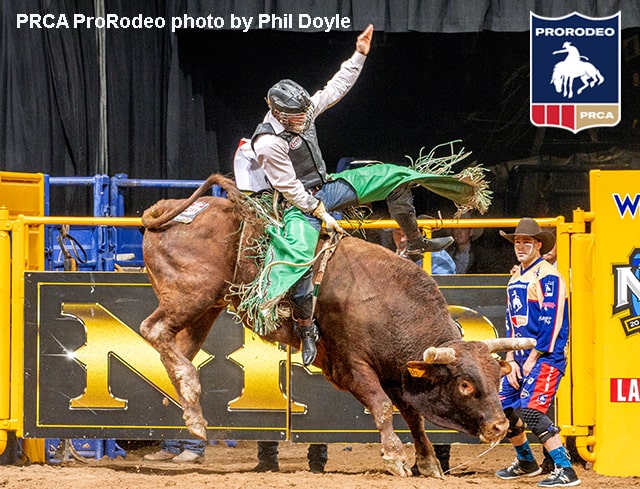 COLORADO SPRINGS, Colo. – Bull rider Jeff Askey, a two-time qualifier for the Wrangler National Finals Rodeo, is expected to miss a couple of weeks after dislocating his right shoulder.
Askey, who made the Finals in 2016 and 2018 and was 10th in the Aug. 12 PRCA | RAM World Standings with $89,790, suffered the injury when he was bucked off D&H Cattle Company's Margin Call on Aug. 9 at the Lawton (Okla.) Rangers Rodeo.
"I'm just going to take two weeks off and get some physical therapy and get my shoulder back to where it needs to be," said Askey, 31. "When I got bucked off, all my weight came down on my (right) elbow and it jammed my shoulder and dislocated it. I'm going to physical therapy. It helps that this is my riding arm and there will not be a lot of motion. My (right arm) stays on my side and doesn't move a lot. This time of the year and where I am in the standings, I need to come back as soon as possible."
Askey, who hasn't had shoulder problems in the past, is hoping to return to riding at the Ellensburg (Wash.) Rodeo, Aug. 30-Sept. 2.
"I had never been on that bull (Margin Call) before," said Askey, who lives in Athens, Texas. "I was about midway through the ride and he got me to the outside and threw me off."
A year ago, Askey finished a career-best fifth in the world standings with $225,624. He had a solid Wrangler NFR, placing in all five rounds that he made the whistle. He finished third in the average and earned $118,237 at the Finals.
While Askey plans to return, saddle bronc rider Lefty Holman is done for the season with a left knee injury. Holman was 24th in the Aug. 12 world standings with $52,039.
"My knee started bothering me at Cheyenne (Wyo.) in the short round (July 28), and it just got worse," Holman said. "The doctors told me I have a tendon that's torn and some other stuff, and I can't compete anymore this season. The doctors are going to look at my knee one more time and then schedule me for surgery."
Holman said when he was bucked off Stace Smith Pro Rodeos Junior Bonner in Cheyenne he took two steps and his left knee popped.
"I knew something was wrong, but I didn't think it was that serious until it got worse," Holman said.
Holman's last ride this season came at the Sikeston (Mo.) Jaycee Bootheel Rodeo on Cervi Championship Rodeo's Family Tradition when he had a 79.5-point ride Aug. 7.
"I could ride through the pain, but because of the torn tendon in my knee I had no power and I couldn't ride up to my capabilities," said Holman, who won the Reno (Nev.) Rodeo in June. "I was right there to have a chance to make my first NFR, and I'm just going to come back stronger than ever next year."
Courtesy of PRCA