Jeff Askey Overcomes Shoulder Injury to Make Wrangler NFR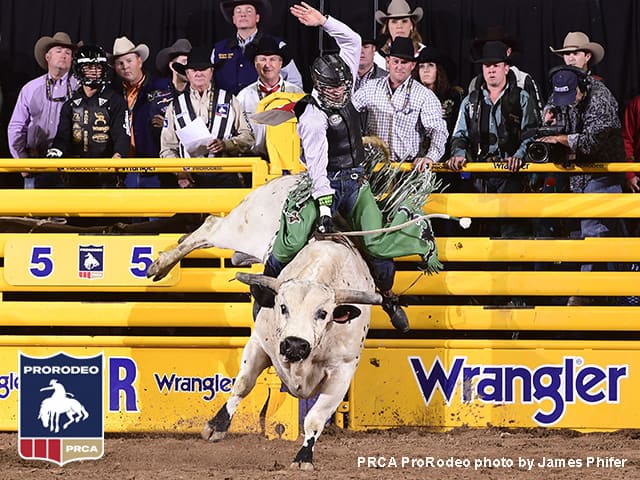 COLORADO SPRINGS, Colo. – Battling through injuries is part of the job description for PRCA bull riders.
Jeff Askey survived a late-season dislocated right shoulder to qualify for his third Wrangler National Finals Rodeo.
Askey, who also qualified for the 2016 and 2018 Wrangler NFRs, finished the regular season in 13th in the PRCA | RAM World Standings with $113,709.
"It's definitely nice to get back to the NFR because it's your chance to make money," said Askey, 31. "You try not to (sweat the injury), but you can't help it a little bit."
Askey suffered the injury when he was bucked off D&H Cattle Company's Margin Call at the Lawton (Okla.) Rangers Rodeo, Aug. 9. At that point, he was 10th in the Aug. 12 world standings with $89,790.
"I went home for a couple of weeks and came back and wore a brace and went back to rodeoing," Askey said. "It was one of those things where I thought if you are going to make it, you will make it and if you don't, life will go on."
The first time Askey competed at the Thomas & Mack Center in Las Vegas, he rode one bull and earned $25,654. He finished 11th in the world standings.
A year ago, Askey finished a career-best fifth in the world standings with $225,624. He had a solid Wrangler NFR, placing in all five rounds that he made the whistle. He finished third in the average and earned $118,237 at the Wrangler NFR.
"The first time I was there I had a really bad Finals, and last year I had a really good Finals, so I have seen both ends of the spectrum and know where I need to be on things," Askey said. "I feel like you have to remind yourself that it is basically just another rodeo. Everybody hypes it up that it is the NFR and big money and it is, but you have to tell yourself that you have to go do your job like any other time and treat it the same."
Askey, who is living in Eustace, Texas, about an hour east of Dallas, stays active outside the rodeo arena by going hunting for hogs and coyotes. He and his wife, Tianti, were married Nov. 2 in Weatherford, Texas.
"She's a good one," Askey said.
Courtesy of PRCA