Johns to Restart Pursuit of Becoming Oldest PBR World Finals Qualifier at Stockyards Showcase
By: Justin Felisko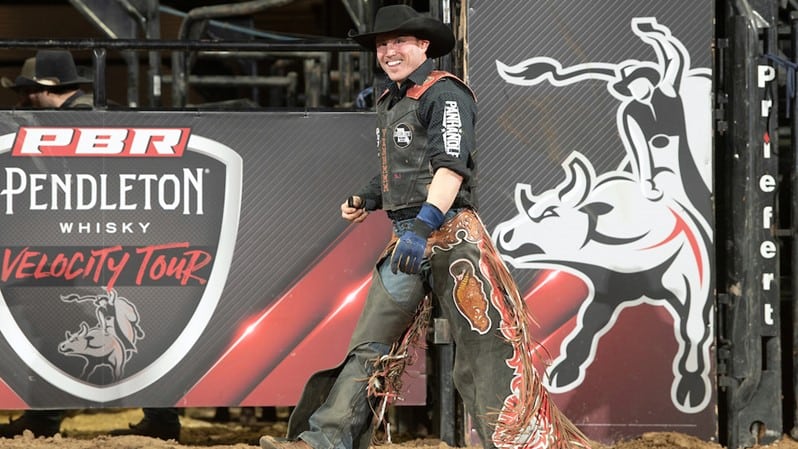 PUEBLO, Colo. – Venn Johns knows he is not going to be winning a PBR World Championship at 46 years old.
Johns, who in fact turns 47 on Saturday, does believe he can further put his name into the PBR record books in a different way despite what Father Time may believe.
The Bixby, Oklahoma, native became the oldest rider (45 years old) to compete on the premier series last year when he went 0-for-2 at the PBR Las Vegas Invitational, presented by Union Home Mortgage, in Guthrie, Oklahoma, on April 25-26.
Johns may have fallen short of his goal of becoming the oldest rider to qualify for the PBR World Finals, but he is ready to give history another run beginning on June 4 at the PBR Stockyards Showcase in Fort Worth, Texas.
"I will be coming back and will start going to Velocities and Touring Pros again, and make another run at the Finals and change the board from 45 to 47," Johns said, referencing his regular-season record, while at the PBR Sport Performance Center Keep Ridin' Camp earlier this month in Pueblo, Colorado.

"They are some lofty goals, but I think coming around and being around the camp like this, and just surrounding yourself around the people you want to be, is key. I haven't been able to do a lot of that really. I have been staying low and doing my own thing and getting my mind right. I don't foresee quitting anytime soon. As long as I am relative as far as not donating money and still competitive and not a joke. Not that guy of, 'Who is that old guy and why is he entered? He should be buying a ticket.'
"As long as that is still not the case, then I don't have anything else more than I love doing other than to ride."
Johns finished 91st in the world standings last year and was 3-for-24 at 17 events at all levels of competition.
He knows he will need to improve tremendously this season if he does hope to qualify for the World Finals and break Wallace de Oliveira's record of being the oldest World Finals qualifier. Oliveira was 41 last season when he qualified for the Finals via the Pendleton Whisky Velocity Tour Finals.
Oliveira will be riding at the Stockyard Showcase as well. Other riders tentatively scheduled to compete include world No. 5 Dener Barbosa, three-time World Champion Silvano Alves, No. 27 Ezekiel Mitchell and No. 38 Luciano de Castro.
The Velocity Tour Finals (Oct. 30-31) in Las Vegas could be a pathway for Johns to reach the World Finals (Nov. 3-7) if he is unable to crack the Top 30 before the PBR returns to T-Mobile Arena.
"I want to get back on tour," Johns said. "I have life lined up a little bit and I am ready to make a push. My goals last year was make the World Finals, but first make the Velocity Finals. So I made Velocity Finals, and my other goal was to win an event. But before that, it was win a round. I made some of my goals and I met them, and that is the same plan this year."
Johns has actually been training with eight-time PBR World Finals qualifier Austin Meier, who recently announced a return to competition following a six-year hiatus, to help prepare for his 2021 season debut prior to attending the SPC clinic almost two weeks ago.
"I have been doing some hunter jumper training with horses," Johns said. "Austin Meier called me about month and a half ago and he wants me to train him and get him back into shape. He said, 'If you are so dang old and still in shape riding bulls, then I need to get in shape like you.' We kind of made a deal where I am helping him work out and he is helping me on these hunter jumpers. I have heard almost half of my career how I should be riding jumping horses. I finally got a chance, and after 5 or 6 weeks of doing it at least once a week I have noticed my balance and timing really made a huge difference."
Johns has a tremendous athletic background. Johns – who is nicknamed the Bull Riding Ninja – has competed on American Ninja Warrior three times, and he possibly could have qualified for the 1996 Olympics in Atlanta as member of the U.S. Men's Artistic National Gymnastics Team before walking away from the sport a few months before the Olympic Trials.
"It is really odd because of all the things I have done in my life athletically; I have never done anything for anyone else," Johns said. "It just seems like that is what my life is supposed to be. Everywhere I was, is just kind of where I was supposed to be. Everything kind of is tied into the next thing. I realize that a lot of people don't make it to the other levels of sports that I have. A lot of guys are like, 'You have lived three or four lives in one life because a lot of people don't participate in different sports at that level.'
"I just never think about that. I just get to eating up the sport I am in and I am covered in it. Now the goal is the World Finals. Whatever it takes to get there, I am planning on getting there."
Follow Justin Felisko on Twitter @jfelisko
Photo by Josh Homer/Bull Stock Media
© 2021 PBR Inc. All rights reserved.