Jones and Hall Share Cowboy Values with Summer Campers Before Bangor Classic
By: Justin Felisko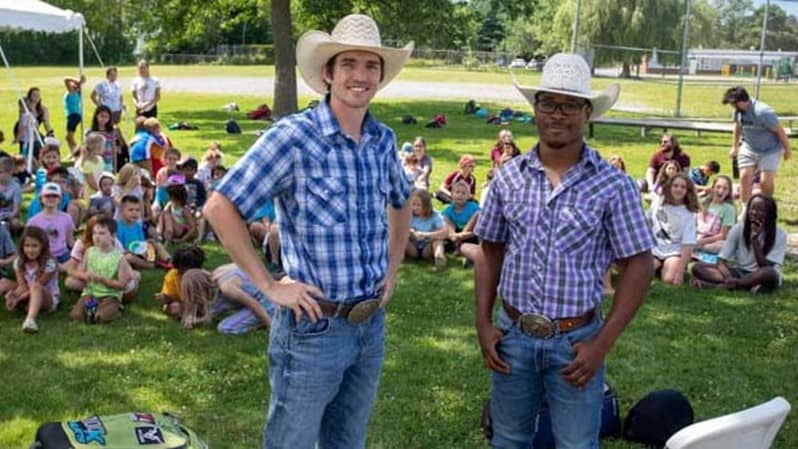 PUEBLO, Colo. – The PBR's Pendleton Whisky Velocity Tour often attempts to bring the sport of professional bull riding to nontraditional markets to provide groups of people an opportunity to see just how exciting the competition of man vs. beast truly is.
The PBR had never bucked bulls in Bangor, Maine, until five years ago, and the extremely northeastern city 3,330 miles from the Canadian border has become a hot bed of passionate PBR fans.
That support has not gone unnoticed by many of the PBR's riders and in honor of National Day of the Cowboy, Pendleton Whisky Velocity Tour competitors Kyle Jones and Keith Hall decided to share with a group of summer campers at Fairmount School what Be Cowboy means to them on Friday before Round 1 of the Bangor Classic.
Each year on the fourth Saturday of July, the National Day of the Cowboy is celebrated to honor the contributions of America's cowboy culture and pioneer heritage.
Recognized in at least 15 states and many municipalities across the country, the National Day of the Cowboy is significant to all PBR riders, as they live the cowboy values every day.
Jones and Hall took part in a Q/A session with a group of elementary school kids, ranging from kindergarten to fifth grade, while also reading the book "Cowboys and Cowgirls Yippee-Yay" by Gail Gibbons.
"We get to go to a lot of different venues and being able to interact with the community is something that we always look forward to," Jones said. "It's crazy to think that there are so many who have never been introduced to the sport."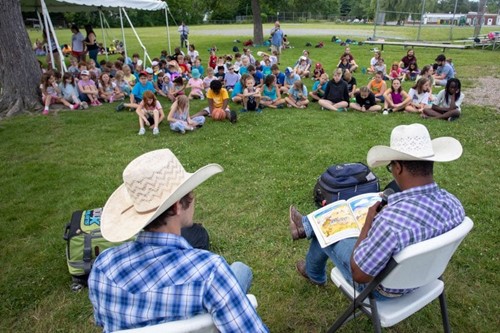 Jones went on to win Round 1 of the Bangor Classic Friday evening with 79 points on Free Loader.
Fans can watch the conclusion of the Bangor Classic LIVE for free on RidePass on Pluto TV Sunday at 2 p.m. ET.
RELATED: PBR Shop has discounts available for National Day of the Cowboy
The Bangor Classic is one of the most-crucial Velocity Tour events on the calendar. One rider can earn a maximum of 58 points toward the Velocity and world standings.
Pneu-Dart's Coal Miner bucked Hall off in 6.79 seconds in Round 1.
The Blakely, Georgia, bull rider appreciated the chance to speak to the summer campers earlier in the day onFriday.
"It was a great experience because we were able to go out into the community and let people know how thankful we are to come to their city and ride," Hall said. "Going out to meet with kids is also a great opportunity to introduce others to the sport of bull riding, and by doing that you can see the sport grow."
Hall said taking time to give back to the local community is just one example of what being a cowboy is all about.
"I would define cowboy/cowboy values as what we did today," Hall said. "Going out to meet others and telling them what we do. And while we were there, we showed kindness, and we listened to every kid's question and showed patience."
Jones said it is important that regardless of whether a person is a stereotypical cowboy or not that they realize you still can live by some of the characteristics that encompass being a cowboy.
"The cowboy lifestyle at its most genuine (core) is about having a willingness to work hard," Jones said. "Being a cowboy is having the willingness to put in an honest day's work. It is easy to get caught up in what's going to happen in a few weeks, days or years from now, but the cowboy lifestyle has always been about handling what's in front of you, what you can control. No excuses, just what has to be done.
"Being able to share out story of working hard and accomplishing our dreams with these kids is very important to us. You never know who might be inspired along the way."
Follow Justin Felisko on Twitter @jfelisko
Photo courtesy of Andre Silva/Bull Stock Media
© 2021 PBR Inc. All rights reserved.