Justin Shaffer Looking for Fresh Start at Heart O' Texas Rodeo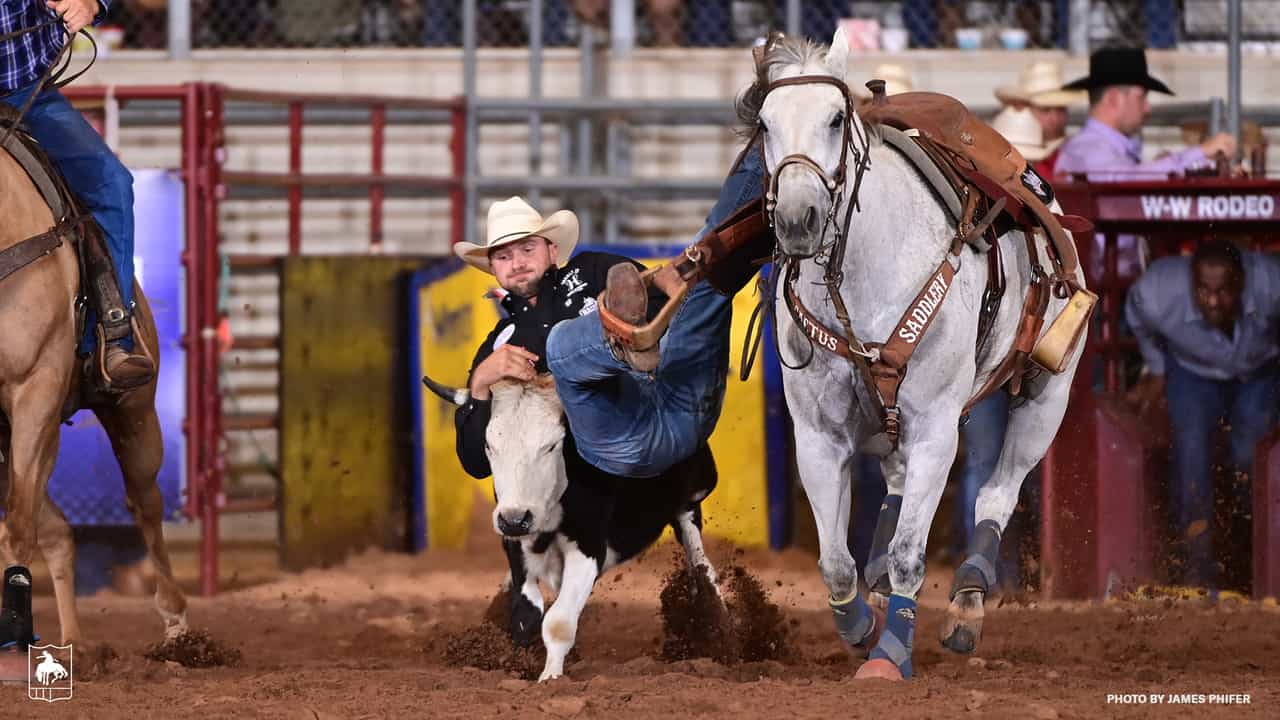 October means the start of a new rodeo season. It's a fresh start for cowboys like steer wrestler Justin Shaffer, who is looking to turn a new leaf.
Finishing 41st in the 2021 PRCA | RAM World Standings left Shaffer hungry for more in 2022.
"I didn't have the results I wanted last year and didn't want to come home and get too relaxed, I wanted to get right back at it," Shaffer said. "I knew where my mistakes were and think we got them corrected, so I was excited to get the new year kicked off."
He's starting off strong at the Heart O' Texas Rodeo, in Waco, Texas, where he leads after the first round with a 4.1-second run.
"This time of year, we know the cattle pretty good," Shaffer said.
"We were at the bottom of that perf so I got to watch the start and get it nailed down. And he was a dang sure good steer, so we capitalized on that and did our job."
Going into his 11th season, Shaffer said the goal is to be qualified for his first Wrangler National Finals Rodeo by this time next year.
The new season is giving him time to work on the small adjustments necessary to put him in contention for that Top 15 spot. For Shaffer specifically, that means "slowing down to speed up."
"For me personally, the change I'm going to make is not pressing so hard," Shaffer said. "I've always waited for the summer run and then felt like I was pressing and behind. We're realizing the money's out there if you just do your job.
"Just put your head down and do your job, not try to make things happen that aren't there."
In an event like steer wrestling, where tenths of a second can be the difference between first and fifth place, those small adjustments can mean bigger payouts. This season, that's Shaffer's focus.
While October is often down time for many rodeo athletes, Shaffer feels like there's no time to lose. So, he's competing in his home state and getting in extra practice between rodeos.
"For me it feels like (a fresh start). It's so close to home for me, I'm right here in Texas and so Texas rodeos for me, I get to be at home," he said. "Drive back and forth and things. I was looking forward to the new year."
Courtesy of PRCA