Kansas City Outlaws Demonstrate Battle Toughness, Expect Reinforcements in Nashville
By: Justin Felisko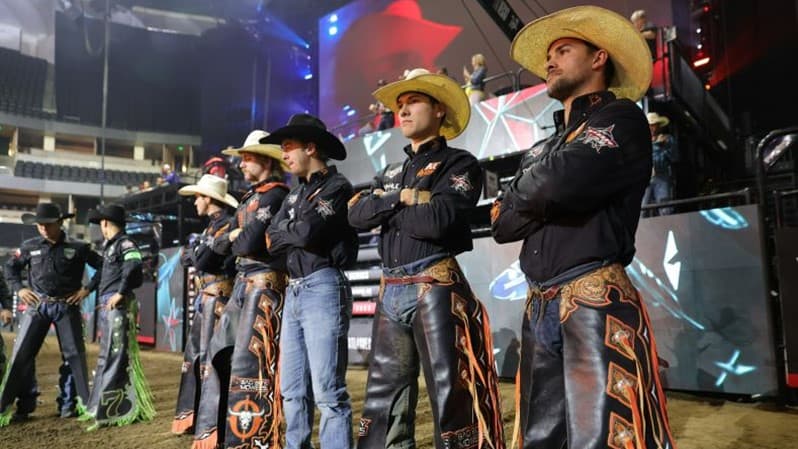 PUEBLO, Colo. – The Kansas City Outlaws had already clinched a victory over the Carolina Cowboys on Friday night in Anaheim, California, but that did not stop coach J.W. Hart from intensely telling 19-year-old Koltin Hevalow to "button up the victory" with another ride.
The Outlaws have been one of the more banged-up units in the PBR Team Series, but that has not stopped Hart from holding his team to a high standard, and he has continuously demanded his team to rise to the occasion through the first three weeks of the season.
Once Hevalow took care of business aboard Long Haul (82.75 points), Hart didn't even flinch. The 47-year-old coach nodded his head in agreement and slapped Hevalow on the top of the helmet before finally letting a smile crack his stern face.
Hart has done a great job of balancing tough love and a caring approach to the Outlaws as the youngest team in the PBR Team Series has weathered the storm of missing its top two riders (Dalton Kasel and Kyler Oliver) for the last two weeks.
The call to arms from Hart to his younger riders has started to resound within the team, and Kansas City's 1-1 performance in Anaheim was the latest example that the Outlaws are going to be a pesky squad built on toughness all year long, despite how their slow start to the season may appear to the naked eye.
Kansas City nearly went undefeated in Anaheim but fell to Austin by a mere 0.25 points – 171.5-171.25. Kansas City will head into Stampede Days this weekend in the basement of the PBR Team Series standings, but the Outlaws (2-5) are still only four games back of No. 1 Missouri (6-1) and have posted only three fewer qualified rides as an overall unit.
Hart knew his team would endure some growing pains in the first quarter of the season, and his wife (LeAnn) has made sure to remind him of that during some tough losses.
"We drafted this way for a reason," Hart said. "We knew it, but even through the training camp and coming through those training camps – you can have that glimmer of what they're going to be, but you don't know what they're going to do when they get in this building. To see it crumble at times (with losses), it's heartbreaking, it makes you mad, a roller coaster of emotions, but when you go home and your wife tells you, 'remember what you talked about before the draft, through the draft, after the draft, is playing out how you said it was going to play, so don't get mad at it playing out how you said it would.'
"So, I had to have patience, but I'm not going to back off the gas pedal on them. You have to push them and they're responding well to it and I'm happy. I wish we rode three more bulls, but that would be the day."
The Outlaws now get their leader back in 2019 Rookie of the Year Dalton Kasel for the team's Friday night matchup against the Oklahoma Freedom (3-4).
Fans can watch Stampede Days Friday night on RidePass on Pluto TV (8:45 p.m. ET).
"We won a game in Anaheim because we rode more bulls, we scored better," Hart said. "We won because we made the whistle, and that's big. It might take us a little bit, and we got Dalton coming back this week."
Kasel has missed the last two weeks (five games) because of a broken jaw, ribs and bruised lung, and he has been forced to adopt the role of mentor and coach from afar.
"I'm extremely proud of them," Kasel said. "It doesn't matter if I am there or not, we still try to get the job done no matter what is thrown our way. We are going to be coming gunsmith blazing each and every weekend."
The Outlaws are the only team in the PBR so far to sign a player off another team's practice squad.
That is how Hevalow wound up on the Outlaws on July 20, after he originally had signed with the Arizona Ridge Riders as a free agent in May. The addition has been a positive for Kansas City.
Hevalow is third on the Outlaws in aggregate score and is 2-for-6 in five games and one Bonus Round attempt.
Hart gave credit to his front office, Ken Berryman in particular, for broaching the idea of making a move for the three-time Missouri High School Rodeo Association bull riding champion when Hevalow was still with the Ridge Riders practice squad.
"He wasn't on my radar, but he was on Ken's radar, my analytics guy, and I kept pushing him off and pushing him off," Hart admitted. "I hate to say a city slicker from California made the right call, but I'm going to give him credit.
"Koltin is my kind of guy. He's fun, never doesn't have a smile on his face, and he keeps his hand shut. They could bash his facemask in and he ain't letting go, and that's my style."
The path to victory always includes some bumps along the road and this rough patch is going to only improve for the Outlaws with the addition of Kasel and continued growth of its young core.
Kyler Oliver is also extremely close to returning to the lineup from a broken neck.
"Them young guys fighting in those bottom holes, we're going to start painting a different picture soon," Hart concluded.
Follow Justin Felisko on Twitter @jfelisko
Photo courtesy of Andy Watson/Bull Stock Media
© 2022 PBR Inc. All rights reserved.