Kansas City Outlaws Draft World Top 10 Rider Dalton Kasel and Missouri's Own Bob Mitchell in First-Ever PBR Team Series Draft
By: Kacie Albert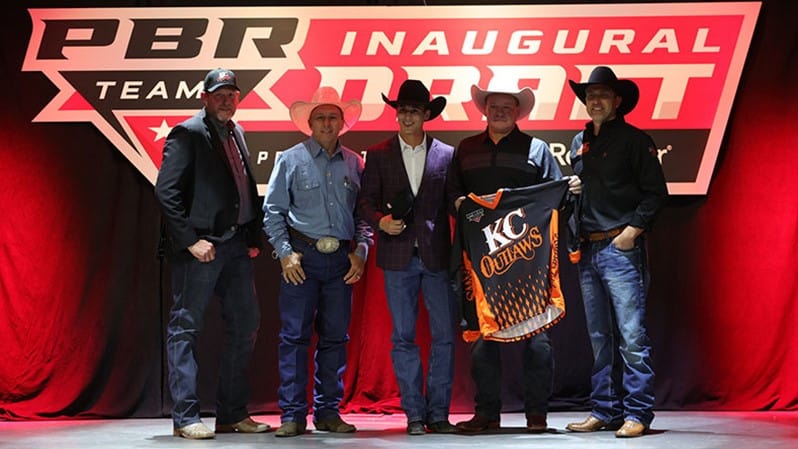 ARLINGTON, Texas – The Kansas City Outlaws selected world Top 10 rider Dalton Kasel (Muleshoe, Texas) as their first pick in the inaugural PBR (Professional Bull Riders) Team Series Draft, presented by ZipRecruiter, held in Fort Worth, Texas on May 23.
Among eight teams, the Kansas City Outlaws had the fourth pick in the first round of the draft for the new bull riding league that begins competition in late July.
In the fourth round, the team also drafted a Missouri-native to the squad, welcoming newly crowned 2022 PBR Rookie of the Year Bob Mitchell (Steelville, Missouri) to the roster.
"I think the Outlaws had a great night. J.W. got just about every rider he wanted," said the Kansas City Outlaws General Manager Jim Smith. "We feel like we're going to compete from the get-go and all the way through the Championship. We're going to get stronger as the year goes on, get a couple of guys back, we've got a couple of other picks to make, and we're really excited about where we are."
"I am excited to be part of it. I like the way it came together. I don't know if anyone noticed, but as soon as we were up, we handed them a card." said Head Coach of the Kansas City Outlaws J.W. Hart. "There was no thinking about it. We had our list put together and when the guy went before us, we knew who we were picking immediately. No trading, no nothing, we got who we wanted."
"It is an absolute honor to be picked fourth overall by the Kansas City Outlaws," said Kansas City Outlaws first pick rider Kasel. "I can't wait to work with J.W. Hart and the whole Kansas City Outlaws crew, and I am excited to see what our future is."
2019 PBR Rookie of the Year Kasel's selection came after he recorded three 90-point rides during the 2022 PBR World Finals.
Throughout the 2022 PBR Unleash The Beast campaign, Kasel logged seven 90-point rides during the regular season, the most of any rider. He also won a historic three consecutive 15/15 Bucking Battles, en route to a career-best end of season world No. 6 rank.
The Kansas City Outlaws also selected:
• ROUND 2 (5th of the Round, 13th overall) – Kyler Oliver (Roy, Utah)
• ROUND 3 (4th of the Round, 20th overall) – Rafael H dos Santos (Sebastianopolis, Brazil)
• ROUND 4 (5th of the Round, 29th overall) – Bob Mitchell (Steelville, Missouri)
• ROUND 5 (4th of the Round, 36th overall) – Tate Pollmeier (Fort Scott, Kansas)
While Pollmeier may not be a household name to PBR fans, Hart believes he'll make a big impact on the team.
"This is a kid who I've had my eye on the past few months," said Hart. "He's going to be a player and make a real impact"
2022 PBR Team Series Draft, presented by ZipRecruiter, was held at Texas Live! in Arlington, Texas, a day after the 2022 PBR World Finals: Unleash The Beast concluded at Dickies Arena in nearby Fort Worth, Texas, crowning Daylon Swearingen (Piffard, New York) as 2022 PBR World Champion.
The eight founding teams of the inaugural PBR Team Series – Austin Gamblers, Arizona Ridge Riders, Carolina Cowboys, Kansas City Outlaws, Missouri Thunder, Nashville Stampede, Oklahoma Freedom, and Texas Rattlers – participated in an initial 5-round draft, beginning the process of selecting which riders will be competing on their respective teams when the season begins on July 25-26 at Cheyenne Frontier Days in Cheyenne, Wyoming.
All PBR riders in good standing with the league were eligible for the 2022 PBR Team Series Draft as long as they declared by May 6, 2022. Riders who declared for fewer than 10 events are eligible for a two-round supplemental draft on June 2.
In tonight's initial draft, teams were eligible to select up to five riders, unless they traded a draft pick. The June 2 supplemental draft, comprised of riders declaring availability for fewer than 10 regular season events (but no fewer than 5 regular season events), will help teams fill seven protected roster positions.
When they begin their 10-event regular season, culminating in a Teams Championship in Las Vegas November 4-6, teams will have ten riders in total, including 7 "Protected Roster" riders and 3 "Practice Squad" developmental riders.
The bull riding games that make up the 11-event season will feature five-on-five, head-to-head competition between two teams. Each regular-season event day will feature all teams in a game.
The inaugural draft order was determined by a lottery held on Jan. 7 in New York City when the Kansas City Outlaws were awarded the fourth pick.
Prior to the lottery draw, the PBR issued Draft guidelines that specified the two PBR-owned teams (Carolina Cowboys and Oklahoma Freedom) would select in the last two positions in the draft order, and, further, that the draft would be conducted in a "snake" format in which the first team to select in Round 1 would receive the last pick in Round 2 (i.e., Pick 16), the first pick in Round 3 (i.e., Pick 17), and so forth.
The Kansas City Outlaws will host its inaugural homestand on Aug. 5-7 at T-Mobile Center.
The bull riding action for the 2022 PBR Team Series' Outlaws Days at T-Mobile Center begins at 7:45 p.m. CT on Friday, August 5, 6:45 p.m. CT on Saturday, August 6, and 11:00 a.m. CT on Sunday, August 7, times subject to change.
Tickets for the three-day event are on sale now and start at $20, taxes and fees not included. Tickets can be purchased online at AXS.com, T-MobileCenter.com and PBR.com, or by calling PBR customer service at 1-800-732-1727.
Fans can connect with the Kansas City Outlaws on social media at @KCOutlawsPBR on Facebook, @KCOutlawsPBR on Twitter, @KCOutlawsPBR on Instagram, and @KCOutlawsPBR on TikTok.
© 2022 PBR Inc. All rights reserved.