Koby Radley Takes Home Dodge City Title
By Kacee Willbanks Colletti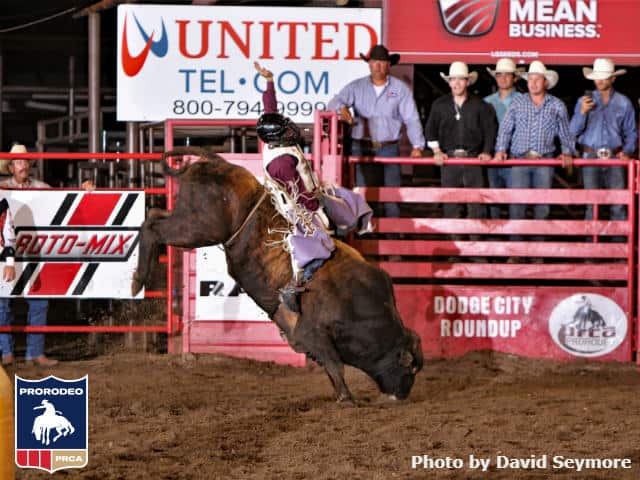 DODGE CITY, Kan. – Bull rider Koby Radley didn't waste his opportunity Sunday night at the 43rd Dodge City Roundup.
With only one bull covered in the short round, he had to be 81 points to unseat Jesse Petri from defending his title.
"There was some pressure on me," said Radley. "They had only ridden one bull and I was the last man out. All I had to do was be over 80 points and I knew if I rode my bull, I'd be more than 80."
Radley had an 86.5-point ride on Frontier Rodeo's Tiger Twister to win the average with 173.5 points on two head.
"I didn't really know the bull, but Trey Benton III was here, and he told me he rode him in Lawton, Okla., last year for 87 points," Radley said. "I knew if I was able to ride him, I'd probably win first or definitely second."
Radley wasn't going to let the Dodge City Round Up title slip through his hands this year. Looking back at the short round in 2017 it may seem somewhat like déjà vu –except the tables turned this time.
"Two years ago, I won the short round here and was winning the average until the last guy – Shane Proctor. I was just a rookie then and I was pretty pumped I was going to win it and I got beat," Radley laughed. "He beat me by a couple points, but I came back this year and won something."
Radley's win was not the first Dodge City Roundup title in the family.
"My brother-in-law, Jacob O'Mara, won this rodeo in 2011," said Radley. "I was just a kid then. I saw the buckle and it is definitely one of the coolest buckles of the year to win and I had this on the list of rodeos to win."
Even though this was the only weekend Radley's family wasn't there to watch him, he had another familiar face in the arena with him at Dodge City. Bullfighter Nate Jestes returned to play this week after sustaining a severe injury during the first round of the 2018 Wrangler NFR.
"In the short round tonight on the fourth or fifth bull rider out, Nate got busted in the face," Radley said. "For a few bulls he wasn't in the arena, but the Justin Sportsmedicine Team wrapped his head up and he came back out before I rode. It was pretty cool to see him come back after that. Nate's tough, he's has my respect for sure."
Radley, who made his Wrangler NFR debut a year ago, finishing 10th in the PRCA | RAM World Standings, had a solid week.
"I split the win in the first round here on a good bull that I was 84 points on last year in Arcadia, Fla.," said Radley about his ride aboard Frontier Rodeo's Master Charge. "They haven't bucked him for a couple months and he was freshened up and a little better than I expected. I went to a lot of rodeos this week and won third at both Abilene and Phillipsburg."
Before he entered the short round, Radley was sitting 13th in the world standings. His performance should help him stay off the bubble – the No. 15 spot in the standings. Radley earned $7,978 in Dodge City.
"Last year I was on the bubble during the entire end of the rodeo season," said Radley "It was pretty tough, and I was rodeoing really hard. I told myself that I didn't want to be in the same spot this year, so the next few weeks I'm going try to get up in that Top 10 or in the Top 5 in the standings. This was a big win."
Radley is going to celebrate with a day off before making his way to the Division 1 Xtreme Bulls event Aug. 6 in Lovington.
With only eight weeks left in the 2019 regular season, Radley is not taking his eye off his goal or slowing down.
"I made the NFR last year and I don't want to just make it once or twice – a gold buckle is definitely my plan," Radley said. "With the Finals paying so much now it's anybody's game once you get there. Hopefully I can finish this year out strong."
Other winners at the $328,786 were all-aound cowboy Tuf Cooper ($4,957, tie-down roping, team roping and steer roping); bareback riders Will Lowe (175 points on two head) and Steven Dent (175 points on two head); steer wrestler Dakota Eldridge (12.0 seconds on three head); team ropers Kaleb Driggers and Junior Nogueira (16.3 seconds on three head); saddle bronc rider Rusty Wright (182 points on two head); tie-down roper Adam Gray (29.4 seconds on three head); barrel racer Michelle Darling (51.16 on three runs) and steer roper Tuf Cooper (38.4 seconds on three head).
For more coverage of the Dodge City (Kan.) Roundup Rodeo, check out the Aug. 23 edition of ProRodeo Sports News.
Courtesy of PRCA