KY Hamilton Captures First Division 1 Xtreme Bulls Win in San Angelo (Texas)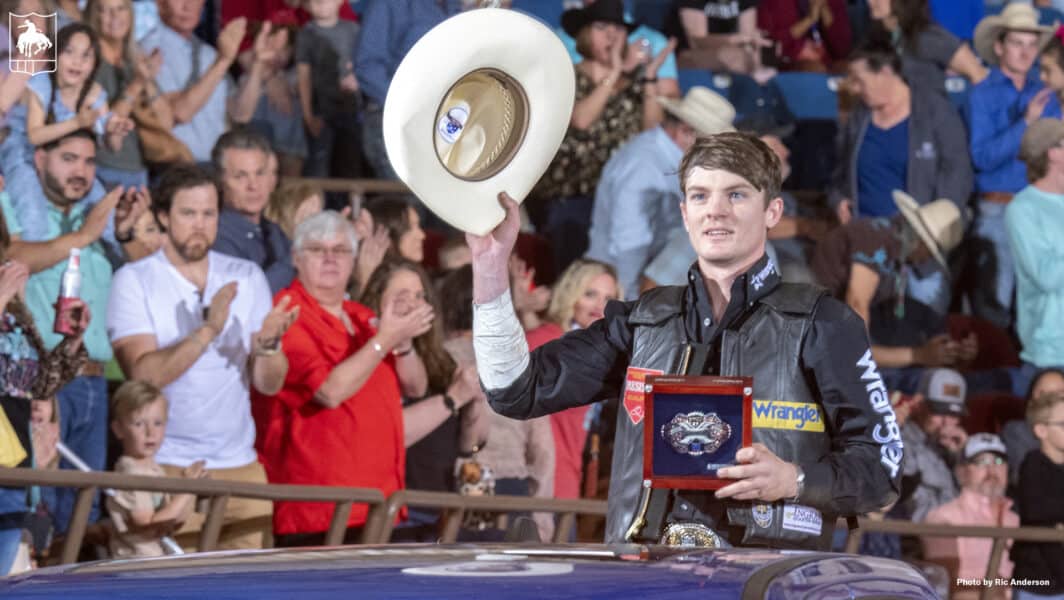 In 2020, Australia native Ky Hamilton burst onto the PRCA bull riding scene as a rookie, finishing fourth in the PRCA | RAM World Standings.
Hamilton proved he was no fluke as he made a return trip to the 2021 Wrangler National Finals Rodeo presented by Teton Ridge, placing eighth.
Hamilton's march to a third consecutive NFR took a detour when he suffered a lacerated kidney March 5 at a non-sanctioned PRCA event and was sidelined for a month.
Now, however, he is back on the right track after winning the San Angelo (Texas) Xtreme Bulls event April 10.
Hamilton won the two-head average with 175.5 points and earned $11,757. Parker Breding, the only other cowboy to make two qualified rides, finished second in the average with 170.5 points.
"I'm stoked to win my first (Division 1) Xtreme Bulls buckle," said Hamilton, 22. "It's a cool buckle and these (Division 1) events are hard to win."
Hamilton clinched the victory by winning the short round with a 90.5-point ride on Pete Carr Pro Rodeo's Time Bomb.
"It was a dogfight the whole time," Hamilton said. "That bull had me working the whole time. He never let up. I had never been on him before, and I didn't know what to expect. He was a big scary rodeo-looking bull and those are the kind I like. They look cool and they are cool to ride.
"That bull was kind of mean, but when I looked up at the scoreboard, there's no better feeling than when you go 90-plus."
Hamilton put his Texas triumphant in motion with an 85-point ride on Rafter H Rodeo's Night Prowler in the first round.
"I didn't know what (Night Prowler) would be like," Hamilton said. "I had never been on him, but he was great to ride as well. When you get the first one knocked out then you're feeling good for the second one."
This was the third 2022 Division 1 Xtreme Bulls event and Hamilton joins fellow winners Stetson Wright (Fort Worth, Texas, Jan. 19) and Josh Frost (San Antonio, Feb. 22).
Speaking of Wright, that's Hamilton traveling partner.
"We went together last year, and we are going together again this season," Hamilton said. "As the old saying goes, iron sharpens iron. You are only as good as the guys who you run with. It dang sure is good to run with a guy like (Stetson) because we're always trying to outdo each other, and you expect a lot of each other. It also definitely helps each of us be better."
Hamilton returns to action Friday for the San Angelo Rodeo short round.
"It might sound a little cocky, but I have no worries about trying to make the NFR," Hamilton said. "I know what kind of competitor I am, and I know I can do that (make the NFR again).
There's no point at looking at the standings. It's just go ride everything they run in under you and the rest will take care of itself."
At the last two NFRs, Hamilton earned a combined $188,571 and placed in eight rounds. He split the Round 1 win at the 2021 NFR with an 87.5-point ride on Hurst & TNT Pro Rodeo's Rip in Las Vegas.
Courtesy of PRCA