Landon McClaugherty Back Atop Leaderboard at National Circuit Finals Steer Roping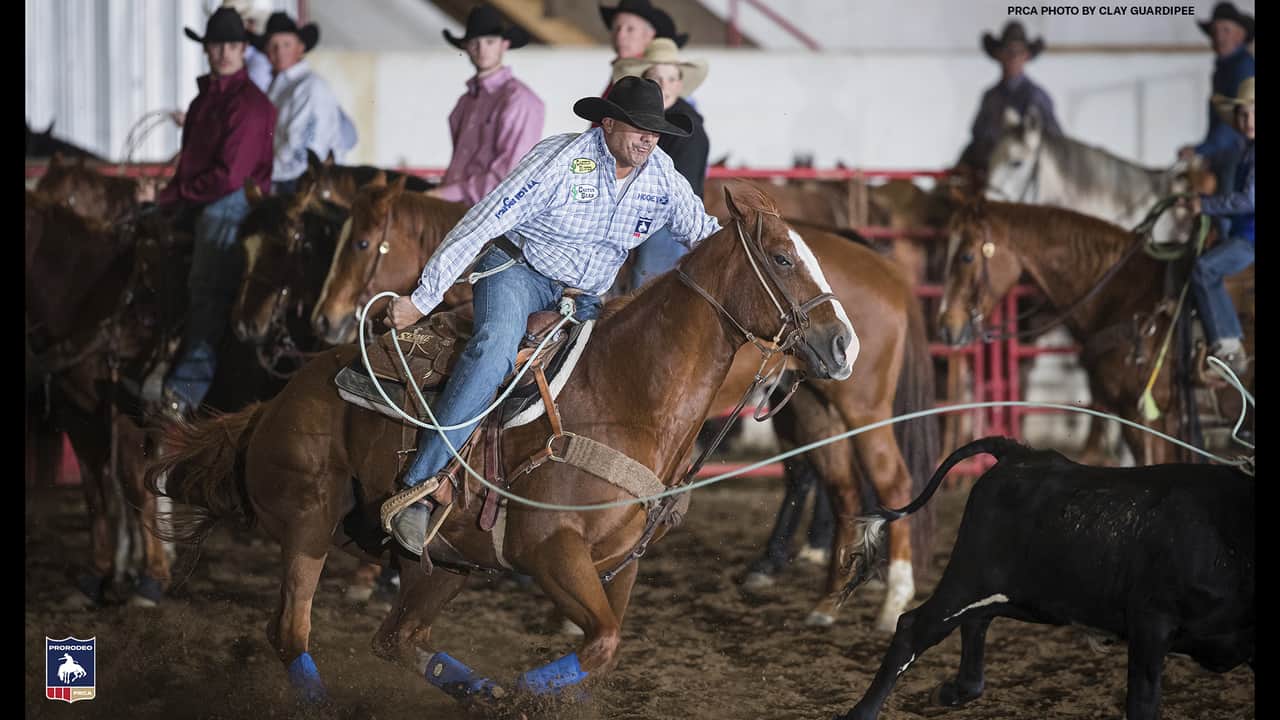 TORRINGTON, Wyo. – It was a repeat performance for Landon McClaugherty in Day 1 of the National Circuit Finals Steer Roping.
For the second year in a row the Texas cowboy is leading the average at the NCFSR.
McClaugherty's latest accomplishment came Saturday when he stopped the clock in 47.5 seconds on four head at the in Goshen County Pavilion
"I drew good and roped good today and hopefully I can keep it going (Sunday)," said McClaugherty, 41. "This is an awesome roping. These guys here do a great job of putting it on and we are thankful for them having and I'm glad to be here."
McClaugherty split the Round 1 win with Jess Tierney as each had 11.9-second times. He then placed fourth in Round 2 (11.8 seconds) and won Round 4 with a 9.9-second run.
McClaugherty earned $3,427 Saturday aboard his horse, Joey, 17.
"I have been riding him for the last year and a half," McClaugherty said. "Joey did really good today and he was right on the money on that last one."
The 2022 National Circuit Finals Steer Roping concludes at noon (MT) Sunday.
On Day 1, cowboys competed in four rounds and Sunday competitors will run two more rounds. After the six rounds are complete the top eight cowboys will advance to an eight-man semifinal.
The top four competitors from the semis will move on to a four-man, sudden death finals. A year ago, McClaugherty won the six-head average at the NCFSR, but failed to make it out of the semifinals.
"I'm just going to keep tying them down (Sunday) and see what happens," McClaugherty said.
McClaugherty, a five-time qualifier for the National Finals Steer Roping, including last year, has yet to win the NCFSR, which began in 2010.
Close in the hunt after the first day is Vin Fisher Jr. (56.3 seconds); Jess Tierney (59.1 seconds) and Roger Nonella (62.0) all who roped all four of their steers. Fisher Jr. won the NCFSR in 2016.
"I was really happy with my roping and my horse (Saturday)," said Fisher, an 18-time qualifier for the NFSR. "That was only my horse's third ProRodeo. That's a new horse, he is 8 and I call him Big Blue. He's the youngest horse I have every rode at a rodeo. He's just a really good horse. My dad (Dan) gave me that horse because that horse was too tall for my dad. He has really come along great. I won Purcell (Okla.) on him last week and hopefully he's going to be really good.
"I have some great older horses, but when I went to Purcell, I told my brother (J. Tom) that horse is either going to be No. 1, because he's my favorite horse by far, or I'm turning him out, and I had to stick to my word. I was super happy with how he worked today. My game plan is go tie two steers (Sunday) and keep my horse free and have him ready for those last two."
Tierney, who took second at the 2021 NCFSR, also was happy with how things unfolded Saturday.
"It is really nice set-up and nice cattle to rope," said Tierney, a nine-time qualifier for the NFSR. "As far as (Saturday) went I was just trying to make my loops and trips go where I needed to go and have plenty of drag on my steers to try and keep them down. I was pretty satisfied with how things went and the way my horses worked. I'm excited to be in Torrington. This has turned into my favorite rodeo of the year because they treat us so good."
Tierney rode his horse Elvis, 15, for Rounds 1 and 2 and his horse Dr Pepper, 18, for Rounds 3 and 4. He plans to ride Dr Pepper on Sunday.
"Elvis is a little easier to rope fresh, slow cattle on," Tierney said. "Now, that their (the steers) are running I will be on Dr Pepper."
Slade Wood, 19, won Round 2 (10.5 seconds) and Round 3 (9.7 seconds), but failed to record a time in Rounds 1 and 4.
Courtesy of PRCA