Lefty Holman Wins Reno's 100th Rodeo
By Matt Naber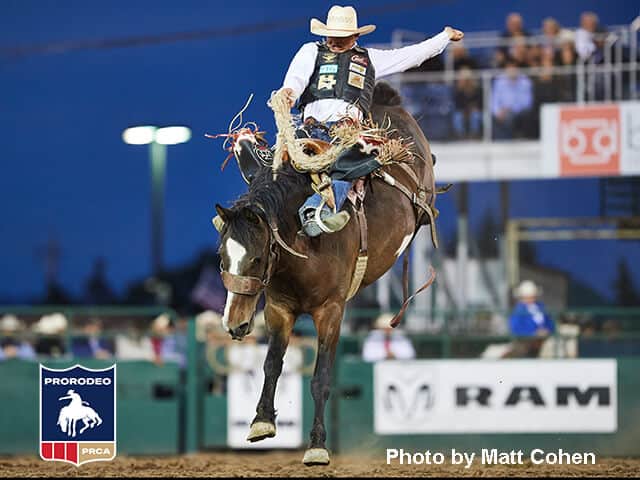 RENO, Nev. – By a half-point margin, saddle bronc rider Lefty Holman won the 100th edition of the Reno (Nev.) Rodeo on his first trip to one of the biggest ProRodeo competitions of the regular season, June 29.
"I was in Pecos (Texas) last night and stayed with my aunt Liz last night, she lives in Reno," said Holman, 20. "I had my whole family in the stands, which was really good since I didn't know they would be here. It gave me extra ambition to give it all I have."
Although Holman didn't place in the first round, he tied for fourth with Allen Boore in the second round with 85.5 points and placed second in the final round with 89.5 points on Big Bend Rodeo's Kool Toddy to claim the top spot with 255.5 points on three head.
"I've known that horse (Kool Toddy) for a long time, and I bet he's older than me," Holman laughed. "I knew if I did my part, that my horse would do his."
Holman's Reno rides were worth $7,280, a pair of Reno's signature Silver Spurs and a big confidence boost just in time for Cowboy Christmas, not to mention a number of ProRodeo Tour points.
"This will be a big kick-start to my summer run," Holman said.
Before winning Reno, the Visalia, Calif., cowboy was sitting at 20th in the 2019 PRCA | RAM World Standings with $32,371 and 20th in the ProRodeo Tour standings.
"I'm on the bubble, and I needed a good win to get the ball rolling," Holman said.
The significance of winning Reno his first time competing there wasn't lost on Holman. He ended the 2018 season ranked 12th in the PRCA | Resistol Rookie Standings with $11,574.
"It's pretty special to me," Holman said. "I grew up watching this rodeo on TV and I can't explain how special it is."
Up next, Holman is spending Sunday with his family before diving into the Cowboy Christmas run.
"I'm going to get a good mindset for the rest of the Fourth because it will be hectic and crazy," Holman said.
Other winners at the $490,103 rodeo were all-around cowboy Daylon Swearingen ($2,187, bareback riding and bull riding); bareback rider Leighton Berry (252 points on three head); steer wrestler J.D. Struxness (14.3 seconds on three head); team ropers Chad Masters/Joseph Harrison (17.3 seconds on three head); tie-down roper Ty Harris (27.5 seconds on three head); barrel racer Ivy Hurst (51.58 seconds on three runs); and bull rider Sage Kimzey (176 points on two head).
For more coverage of the Reno Rodeo, check out the July 12 issue of ProRodeo Sports News.
Courtesy of PRCA