Leighton Berry Gets Key Victory in Walla Walla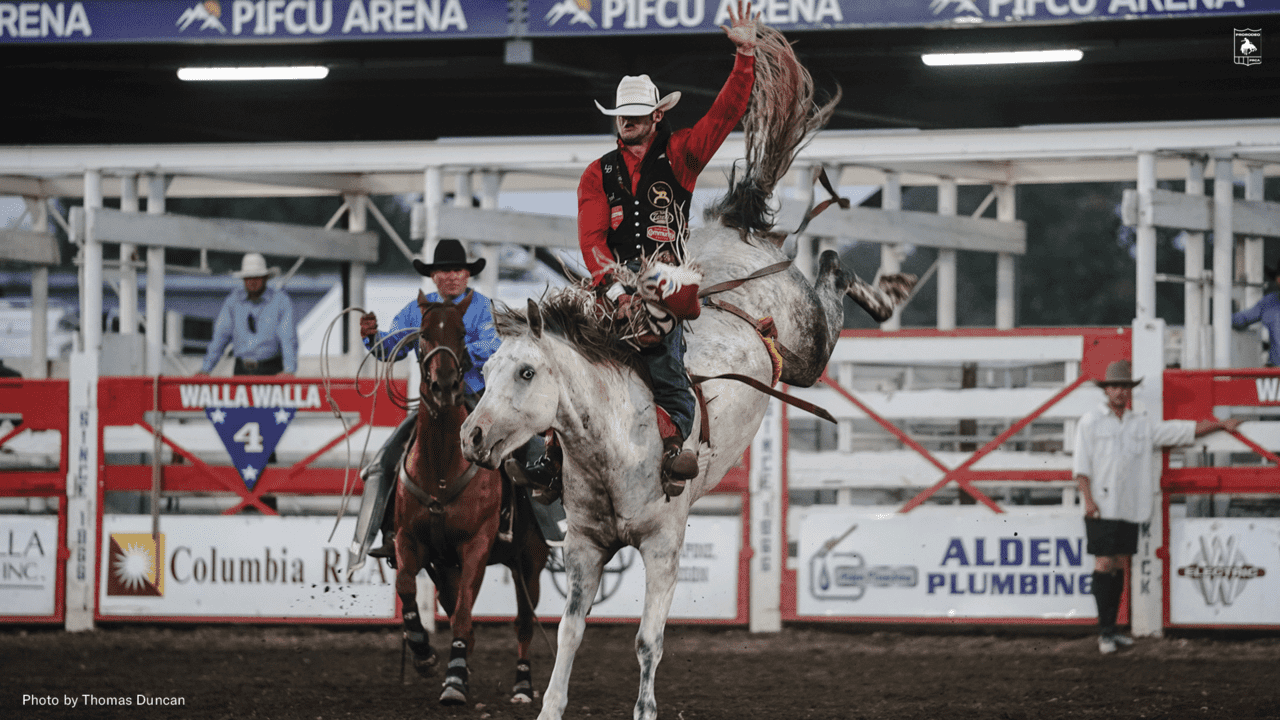 As the final month of the ProRodeo regular season kicked off on Labor Day weekend, Leighton Berry was looking for some help as he battles for his second qualification to the Wrangler National Finals Rodeo.
Turns out, he just needed SOS. Not the Morse code distress signal but the up-and-coming bucking horse from Brookman Rodeo Company. The horse carried Berry to a share of the win at the Walla Walla (Wash.) Frontier Days on Sept. 4, one of the final stops of the 2022 NFR Playoff Series presented by Pendleton Whisky.
Berry, 23, had an 87-point ride aboard the horse to tie RC Landingham for the win. Landingham registered an equal score on Big Stone Rodeo Inc.'s Fired Up.
The win, worth $3,176, was huge for Berry who was 13th in the PRCA | RAM World Standings and 20th in the NFR Playoff Series standings. Twenty-three competitors plus the NFR Open Champion from July advance to the Cinch Playoffs in Puyallup, Sept. 8-11.
Only the top 15 in the world standings on Sept. 30 will advance to the Wrangler NFR.
"I'm not super happy with my position in the standings but there's a pretty good gap between me and 15th," he said. "But I don't really consider myself on the bubble."
Thanks to hauling partner Caleb Bennett, Berry tried his hand north of the border this year, and, after competing in Armstrong, British Columbia on Labor Day, clinched his first trip to the Canadian Finals Rodeo, one of several goals for this season. Despite missing the bulk of the season due to an injury, Berry finished 23rd in the world standings a year after making his first Wrangler NFR in 2020.
"My goal is to reach the Top 10 and I've got big plans for this last month," he said, noting that he's got plenty of rodeos left under the 100-limit allowed for bareback riders thanks to a slow and easy winter.
"I've set myself up pretty good to have plenty of rodeos at the end," he said. "I've entered quite a few and I'll go to as many as I draw good. As healthy as I am, I plan to finish the season strong and by the time Oct. 1 rolls around and the standings are solidified, I believe I'll be in there."
Drawing the right dance partner is key for the bareback riding and Berry was happy with the performance of SOS in Walla Walla.
"That's a six-year-old, he's brand new," Berry said. "He's had about three ProRodeo trips prior to mine and Sam Peterson had him twice. He said he was really good and even better the second time."
"I have a lot of trust in the Brookman Rodeo Company and the way they handle their young horses," he continued. "If they bring one to a big rodeo like Walla Walla, then they think he's one you can win on."
"He was outstanding," Berry said. "I've been on the weaker end of drawing here lately. But it's funny how things can work out, you go get on a colt and that's the one you win."
Other winners at the $206,595 rodeo were all-around cowboy Cooper Mills ($725, tie down roping and steer roping); steer wrestler Timmy Sparing (8.0 seconds on two head); team ropers Erich Rogers/Paden Bray and Kaleb Driggers/Junior Nogueira (9.3 seconds each on two head); saddle bronc rider Dawson Hay (89.5 points on Big Stone Rodeo Inc.'s Rubels); tie-down roper Haven Meged (17.3 seconds on two head); breakaway ropers Jackie Crawford and Beau Peterson (2.9 seconds each); barrel racer Shelley Morgan (17.17 seconds); steer roper Bryce Davis (57.7 seconds on four head); and bull rider Brody Yeary (87 points on Brookman Rodeo's Stir Crazy).
Courtesy of PRCA