Logan Hay Keeps WNFR Hopes Alive with Win in Filer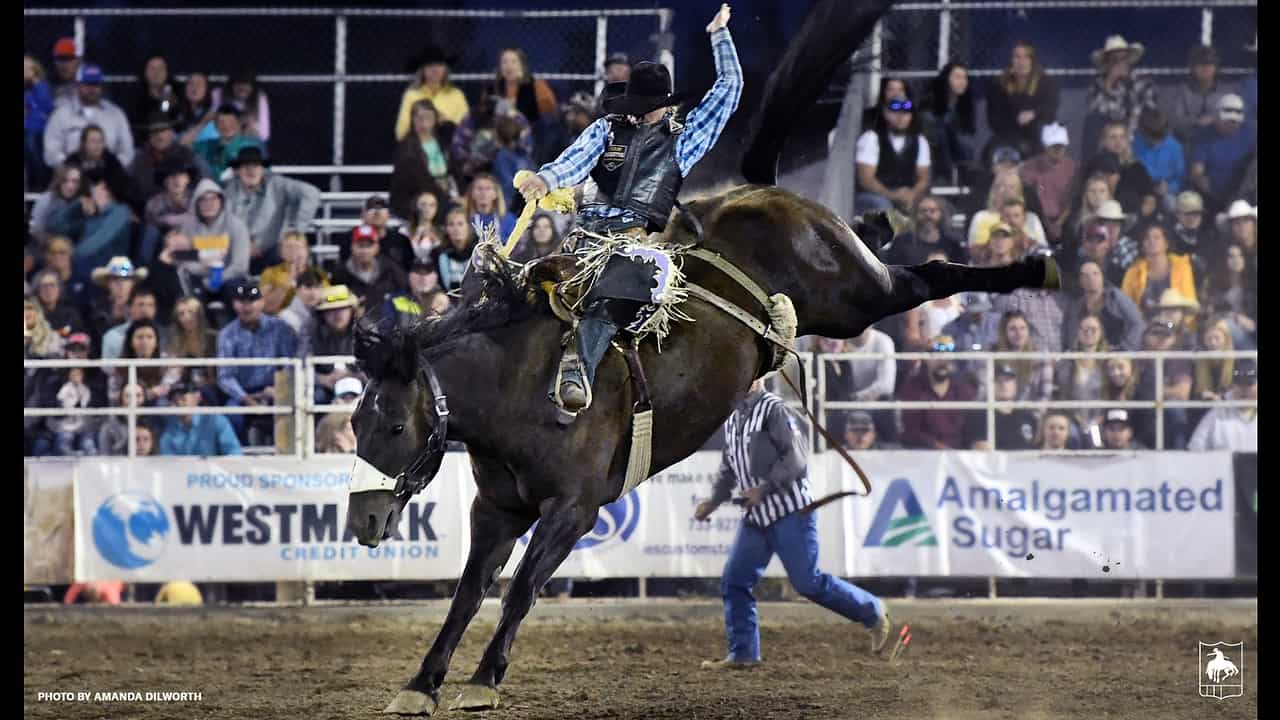 Logan Hay is in the midst of his best season in ProRodeo, and his performance has him in the hunt to qualify for his first Wrangler National Finals Rodeo.
He helped his own cause this weekend, winning the saddle bronc riding title at the Magic Valley Stampede in Filer, Idaho. Hay went for 88 points on Sankey Pro Rodeo & Phenom Genetics' Magilla. It's the highest-scored ride on that horse this season.
"My brother (Dawson) was the last person I saw get on that horse, I helped him get on him actually, so I knew a little bit about the horse going in," said Hay, 24. "He's a big horse and actually one that's not a ton of fun to get on. He had a really good day when I got on him, it sure felt good. He probably had his best day this season with me."
The win in Filer earned the Wildwood, Alberta, cowboy $3,779, but that wasn't his only payday this week. Hay won a round at the Cinch World's Toughest Rodeo in Raleigh, N.C., and finished third at the Dukes of Chutes Xtreme Broncs Match in Pueblo, Colo.
"It's been a really good stretch of rodeo for me," Hay said. "I've been drawing good here the last couple weeks and I feel like I've been riding probably the best I ever have. I just hope I can keep it rolling."
Logan will have to keep it rolling if he wants to make the push to qualify for his first NFR in the final month of the season. He is sitting 20th in the PRCA | RAM World Standings, $12,017 behind Spencer Wright for the 15th spot.
"I like to take things one horse at a time, and that's about all you can do in this sport," Hay said. "I don't even like looking at the standings honestly. I love riding bucking horses, and as long as I get to do that every day, I'm happy. Then whatever happens at the end of the year it is what it is. If I'm at the NFR I'm going to be happy, and if not, I know I'll be there one day."
Other winners at the $158,965 rodeo were all-around cowboy Stetson Wright, $6,017 (saddle bronc riding and bull riding); bareback rider Orin Larsen (88 points on Sankey Pro Rodeo & Phenom Genetics' Mlw's Irish Eyes); steer wrestler Dirk Tavenner (3.6 seconds); Quinn Kesler/Caleb Hendrix and Coy Rahlmann/Douglas Rich (4.0 seconds each); tie-down ropers Marty Yates, Bo Pickett and Riley Pruitt (7.9 seconds each); breakaway roper JJ Hampton (2.3 seconds); barrel racer Lisa Lockhart (17.03 seconds); and bull rider Stetson Wright (88.5 points on Sankey Pro Rodeo & Phenom Genetics' Life Flight).
Courtesy of PRCA