Macza Pro Rodeo's OLS Tubs Spilled Perfume Passes Away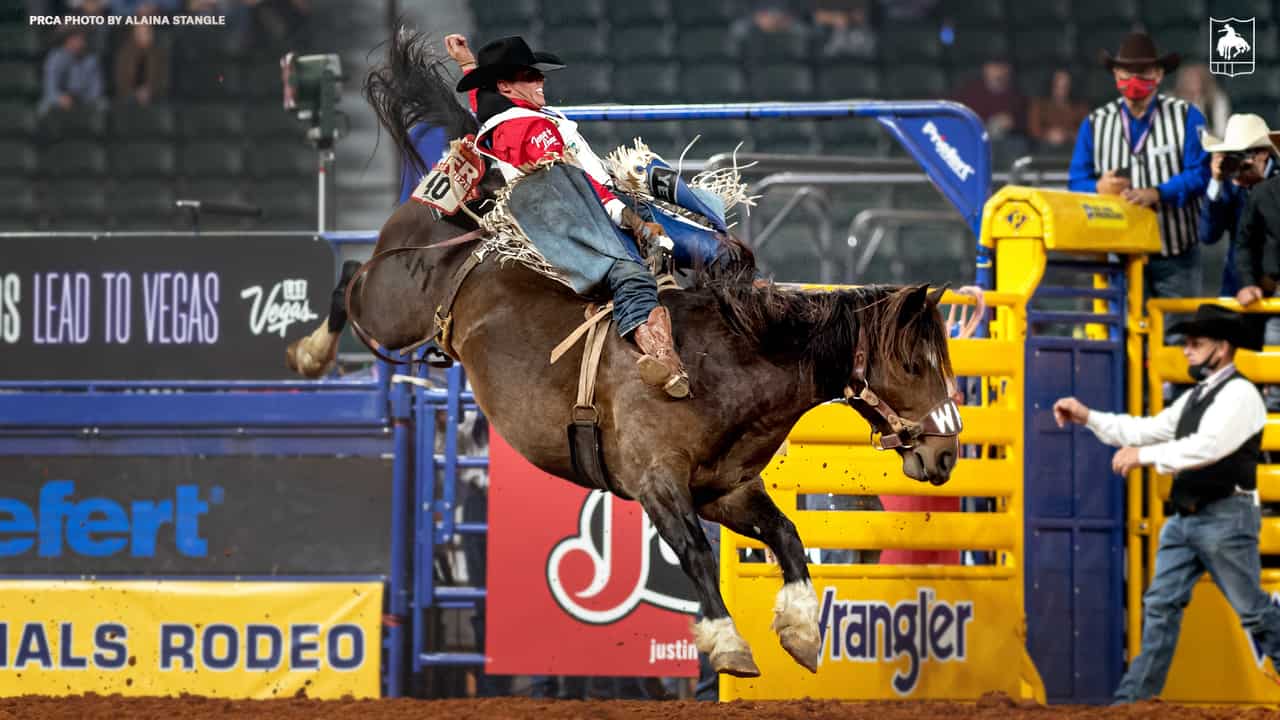 OLS Tubs Spilled Perfume, an award-winning bareback horse from the Macza Pro Rodeo stable, passed away Aug. 24 as a result of complications from colic. She was 13.
"She was down at Cullen Pickett's (in Fairfield, Texas)," Ward Macza said. "I bred her to Night Jacket's son. A month and half ago, on grass, it's impossible, but she coliced. Mandy Pickett rushed to her to a specialty vet by Houston, and they did surgery and saved her life, and she was doing good. With big horses like her, they are susceptible to founder because of all the anesthesia they have to give them to knock them down (for surgery). She was getting better, (but) she was favoring a foot, and the founder got so bad her foot fell off. She was in pain so I put her down."
Laminitis (also termed founder) is inflammation of the laminae of the foot – the soft tissue structures that attach the coffin or pedal bone of the foot to the hoof wall. The inflammation and damage to the laminae causes extreme pain and leads to instability of the coffin bone in the hoof.
"She was at Pickett's ranch for a year and a half getting bred with Night Jacket's studs," Macza said. "I want to give a great thanks to Mandy and Cullen Pickett because they went above and beyond to do the best they could and give her the best care."
Spilled Perfume has a 2-month-old colt. Spilled Perfume weighed 1,400 pounds and was 15.3 hands.
Spilled Perfume competed at the Wrangler National Finals Rodeo from 2015-20. At the 2020 Wrangler NFR at Globe Life Field in Arlington, Texas, Spilled Perfume bucked off Jamie Howlett (Round 3) and Richmond Champion (Round 8).
She finished second in the Bareback Horse of the Year voting at the 2018 and 2019 NFRs and was third in the voting at the 2017 NFR.
Spilled Perfume also was the Bareback Horse of the Rodeo at the 2018 Ponoka Stampede.
"She was good from the first time we bucked her," Macza said. "She's out of Major League and Juice Newton, and she was good right from the get-go. Even until the end, she wasn't one of those quiet horses. My favorite saying on her was she was for the advanced rider. There was nothing easy about her."
Macza recalled two memorable outs for Spilled Perfume, both in 2019 – Caleb Bennett's 93-point ride on her in the finals of the San Angelo (Texas) Rodeo and Kaycee Feild's 91-point trip on her in the short round of the Caldwell (Idaho) Night Rodeo.
"That was the only two times they rode her that year," Macza said. "Cowboys were either a bunch of points on her or they were eating dirt. Cowboys did not ride her very much.
"This is a super tough loss to have her pass away. She helped my rodeo career. She was the first horse I had ranch-raised of that level. She was nice to be around, but once you started sorting her and getting her in the chutes her mane didn't lay on the proper side all the time."
Courtesy of PRCA