Madsen 'keeping things simple' During Hot Streak for Oklahoma Freedom
By: Justin Felisko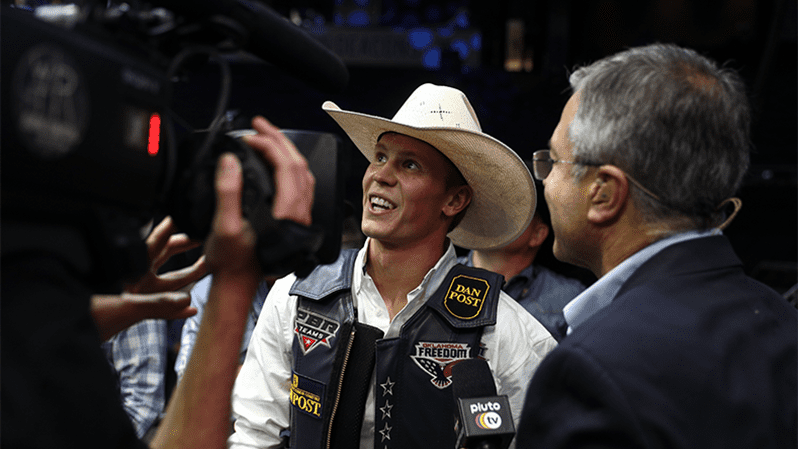 WINSTON-SALEM, N.C. – Briggs Madsen was out at dinner a few weeks ago with members of the Oklahoma Freedom when the group turned the discussion to that of two-time PRCA champion Jim Sharp.
It was in 1988 when Sharp became the first bull rider to ride all 10 bulls at the National Finals Rodeo to win his first world title, and it was just another example of how the moment was never too enormous for the Razor.
That calmness under pressure is something Madsen has been trying to adapt during his rookie season in the PBR Team Series as the Freedom have tasked the 22-year-old with being one of its main starters this season.
"We were talking about how Jim Sharp never talks about bull riding before he rides," Madsen said. "He'd be eating a hot dog right before getting on at the NFR, so I figured I work hard enough during the week and I know how much work I put in, so when I get here, I don't have to think about it because my body is just going to react because of the work I've put in.
"That's just what I've been doing, blocking everything out and pretending like I'm back in the practice pen and it's been working."
Madsen has been red-hot for the surging Oklahoma Freedom and the Utah High School Rodeo Association state champion notched his fourth-consecutive ride to help the Freedom (7-8, Cowboy Days 2-0) sneak past the Austin Gamblers (9-6, Cowboy Days 0-3) 86.75-83.25 on Saturday night.
The Freedom are 2-0 at Cowboy Days and will look for their first event win of the season Sunday at LJVM Coliseum (2 p.m. ET CBS Sports Network) when they take on the Kansas City Outlaws in a battle of undefeated teams in Winston-Salem. If the Freedom can get the win over the Outlaws, they could potentially have the event win locked up if the Carolina Cowboys are defeated by the Nashville Stampede. Otherwise, the Cowboy Days championship will come down to the Bonus Round.
The Freedom began the season 3-7 but are 4-1 since to rise to No. 6 in the PBR Team Series standings.
Oklahoma head coach Cord McCoy said the team's early season struggles when they were without veterans Chase Outlaw, Derek Kolbaba and Eli Vastbinder have helped the team grow, including Madsen.
"A little bit of momentum is great," McCoy said. "It's hard to say that ever hitting rock-bottom is a good thing, but we know what it feels like to lose, and we know what it feels like to win. You know how much better it feels to go in there and win as a team."
McCoy said that ruining the Cowboys' homestand Sunday and winning the event title would be a tremendous boost for the team as they are set to host their own Freedom Fest in less than a week in Oklahoma City (Sept. 16-18).
"Hopefully that momentum carries through this weekend, and if we get some home court advantage, get the crowd behind us, it always makes a difference. We watched Carolina tonight and every time one of their players were up, the place was on their feet. It makes a difference, but no matter what town you're going into, you want that momentum and when you get a hold of it, you definitely don't want to lose it."
Speaking of momentum.
Madsen has a ton of it heading into Championship Sunday in the Tar Heel State after beginning the season 0-for-6.
Part of the Tremonton, Utah, native's turnaround came with spending some time at assistant coach Kody Lostroh's ranch in upstate Colorado last month.
Madsen spoke at good length with Lostroh – the 2009 PBR World Champion – about learning how to not only compartmentalize the moment, but also some physical mistakes he was making that were preventing him from getting to the front of bulls.
"The kid has a lot of talent and really doesn't realize how well he rides yet," Lostroh said. "He will. He just does not have enough experience at this level, but it will come. Sometimes guys know how to ride bulls, they're just making small fundamental mistakes that they don't see from their perspectives, so it's easier for a guy like me to see it looking from an outsider's perspective.
"It wasn't the right way to do it on these high-level bulls. You can get away with improper fundamentals on some of the lower-level bulls, but on these high-level bulls, you have to do it right. That's what we fixed. We have to go to the front end the right way on these buckers, we have to do it right."
Madsen has accepted the advice and coaching of Lostroh and McCoy, and he believes there is no better time than Sunday for the Freedom to get that first event win and gain a huge momentum boost before their homestand next week at Paycom Center.
"This is the turning point," Madsen concluded. "We have to get on the gas, there's not much time left, and we didn't do as good as we would've liked in the first half, so we can't give in at all."
SUNDAY GAME SCHEDULE (2 p.m. ET CBS Sports Network)
Texas Rattlers (4-11, Cowboy Days 0-2) @ Missouri Thunder (8-7, Cowboy Days 1-1)
Arizona Ridge Riders (10-5, Cowboy Days 1-1) @ Austin Gamblers (9-6, Cowboy Days 0-2)
Oklahoma Freedom (7-8, Cowboy Days 2-0) @ Kansas City Outlaws (7-8, Cowboy Days 2-0)
Nashville Stampede (3-12, Cowboy Days 0-2) @ Carolina Cowboys (10-5, Cowboy Days 2-0)
Follow Justin Felisko on Twitter @jfelisko
Photo courtesy of Andy Watson
© 2022 PBR Inc. All rights reserved.