Marcilio Calls 2018 Iron Cowboy Shortcoming Worst Loss Of Career
By: Justin Felisko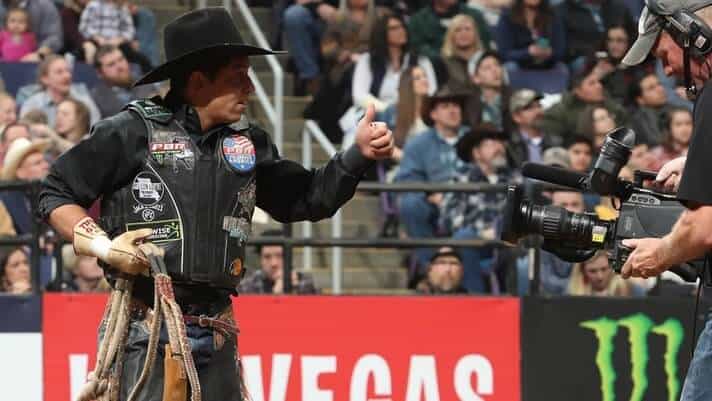 ST. LOUIS – Alex Marcilio knows he left a massive payday on the table last season inside AT&T Stadium during the 2018 Iron Cowboy competition.
Marcilio was one bull ride away from winning more than $100,000 and earning a prestigious PBR Major title.
The Macaubal, Brazil, bull rider had advanced to Round 3 of the Last Cowboy Standing-formatted event with Ramon de Lima after he rode Chocolate Shake for 87.25 points in Round 1 and Night Sweats for 88.75 points in Round 2.
However, Marcilio would buck off Carrot Top in 2.04 seconds in Round 3 and then Gangster's Wildside in 1.77 seconds in Round 4.
"It was one of the biggest losses I ever had because that was a rank set of bulls, and I rode so good at it, and I never rode for so much money and got so close to get it," Marcilio said Saturday night at the Mason Lowe Memorial with the help of Paulo Crimber translating.
Marcilio still earned a career-high $42,100 with his 88.75 points on Night Sweats earning him the $26,000 high-marked ride bonus – an award Mason Lowe won in 2017 when he rode Smooth Operator for 90.75 points.
"I was really happy with the performance (because) I put out the effort to ride all them good bulls," Marcilio added. "On the other side, I was sad because I lost and I was so close to winning."
On Saturday night, Marcilio did his best to honor Lowe by riding Black Rose for a season-high 87.25 points.
"I kind of studied him a lot before I got on him," Marcilio said. "I studied him going away from my hand to the left, and then Silvano (Alves) gave me a heads up and talked how I need to ride him into my hand and everything.
"Then he came into my hand and it turned out to be easier and it worked out great."
Marcilio was unable to convert aboard Bad Beagle in the championship round and was bucked off in 2.47 seconds.
The 30-year-old finished 1-for-3, but his 120 world points propelled him to a season's-best fourth-place showing.
Marcilio began the weekend ranked 82nd in the world standings, and he heads into Los Angeles for next weekend's Iron Cowboy, presented by Ariat, ranked 40th.
"It's amazing tonight because this is one of my last events (before being cut) and I was behind, and to be able to come up with big points kind of set me up to be guaranteed further events," Marcilio said.
Iron Cowboy is the second PBR Major of 2019.
It is one of the most iconic events a PBR bull rider can win in his career, and the title comes with a payday of at least $100,000 and potentially 1,250 points toward the world standings.
Riders have to reach the 8-second mark to advance in the competition.
Iron Cowboy is a minimum of two rounds and a maximum of five. At least 25 riders will advance to Round 2, with any draw spots being filled by the current world standings heading into Iron Cowboy if there are less than 25 rides in Round 1.
If all riders buck off in Rounds 2, 3 or 4, all riders that attempted a bull advance to the next round.
If there is more than one ride in the final round (Round 5), then the Iron Cowboy will be the rider with the highest ride score in Round 5. If there are no rides in Round 5, then the Iron Cowboy will be the rider with the most round points that had competed in Round 5.
"I'm really inspired, but my big inspiration is my family," Marcilio concluded. "I have a new baby boy (5 months old) over there and everything I do over here is for them, for my boy and my family.
"I'll be good next week."
Follow Justin Felisko on Twitter @jfelisko
© 2019 PBR Inc. All rights reserved.