Marty Yates Swings his Way to Wrangler WNFR Round 4 Victory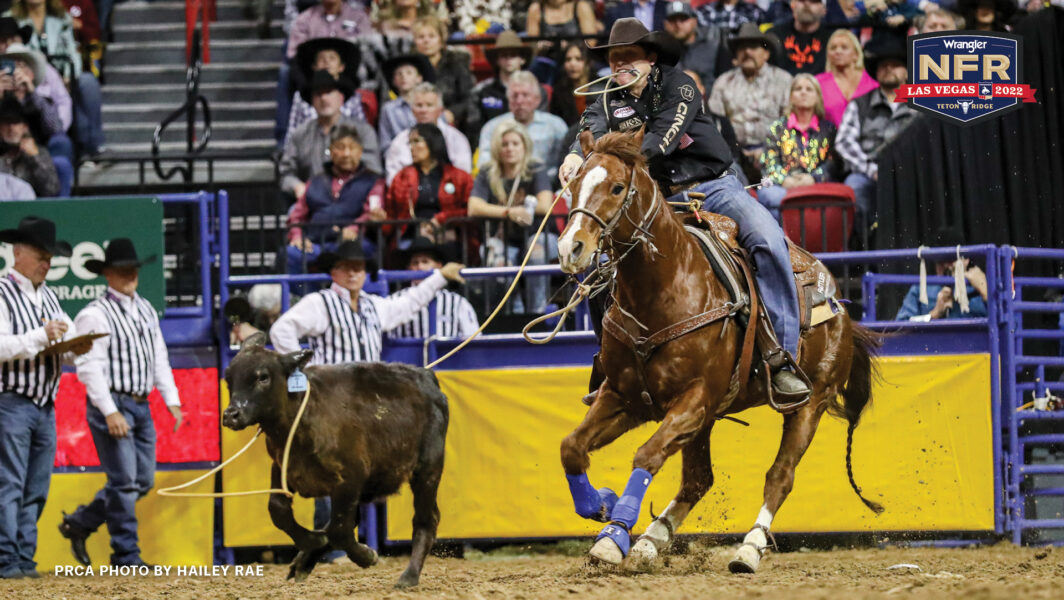 Round 4 Winners Interviews Round 4 Photo Gallery
LAS VEGAS – Marty Yates had a rough start to the 2022 Wrangler National Finals Rodeo presented by Teton Ridge failing to place in the first three rounds.
He made up for those lost opportunities in Round 4 Sunday night.
The Stephenville, Texas, cowboy made a slick 7.4-second run to take the Round 4 victory before 17,112 spectators at the Thomas & Mack Center.
"Oh, it's nice to finally get the monkey off my back," said Yates, who is making his ninth consecutive appearance at the NFR. "I didn't have much luck in the first few nights, but made a good run tonight, I drew a good calf, I went out there and did my job and it worked."
Although things didn't go his way in the first three rounds, Yates stayed upbeat.
"Oh man, they've kind of settled down quite a bit, you know the first few nights didn't go as good as you'd like them too. You know I had a really good calf tonight, so it made my job easy, you know I've rode two different horses so far, so hopefully it's headed back in my direction."
Yates was guided to victory by his horse Jag.
"That's the horse that I've owned for a couple of years now. I've actually won all my money throughout the regular season on it. So, I sure know every move he's going to make, so I have a lot of confidence in him."
Yates, who finished second in the 2020 world standings, has a simple plan for the remainder of the NFR.
"One swing, one wrap and a victory lap, every night that's what we're after," Yates said.
Bull rider Stetson Wright wins another round in bull riding
Stetson Wright continues to bask in the spotlight at the Wrangler NFR.
The Utah cowboy had a 92-point ride on Salt River Rodeo's Belly Dump to take the Round 4 win. Wright also won Round 2 with an 88-point trip on Dakota Rodeo's Pookie Holler.
"He was a really good bull," Wright said. "He had me rocked back there because he bucked up so high. I just kept trying to fight it, there was a lot going on."
Getting bucked off in Round 3 did give Wright a jolt before Round 4.
"I was more focused on letting myself know that I can't let off the gas," Wright said. "(Saturday night), I let it slip away so tonight I wanted to come back and redeem myself."
Some might think competing in saddle bronc riding and bull riding at the NFR would be a grind, but Wright does not view things that way.
"I actually like it more at the NFR than any other rodeo because it's such a fast-paced rodeo," Wright said about competing in two events. "You don't have time to think, and you don't have time to get tired. You're just going, going, going. That's one thing I like about it and wish every rodeo was like that."
Wright leads the all-around standings with ($505,834) and bull riding ($413,842) and second in saddle bronc riding with $248,123.
Cole Reiner nabs first career round win in Vegas
Bareback rider Cole Reiner won Round 6 and Round 9 at the 2020 Wrangler NFR in Arlington, Texas. He had never captured glory at the Thomas & Mack Center in Las Vegas – until Sunday night.
Reiner won Round 4 with an 89-point ride on Sankey ProRodeo & Phenom Genetics' Southlands Shoutin' Shoes.
"I was on that horse before, and I was 88 points a few years ago on that horse in Rapid City, S.D.," said Reiner, 23. "Wade Sankey is a great stock contractor and he put a halter on him and if that was probably his best trip he has ever had right there so I was very thankful."
And he was thrilled to celebrate in Las Vegas.
"I'm very excited to get my first round win here (at the Thomas & Mack)," Reiner said. "Moving forward, I need to mark my horse out (Monday night) it is as simple as that. This is nothing to get ahead of myself about. I don't know what I have (Monday), and it doesn't matter. I need a strong mark out first jump and spur and that is the same goal every time out and hopefully I will have the same outcome."
Steer wrestler Hunter Cure strikes again
Hunter Cure, a two-time PRCA Steer Wrestling World Champion in 2013 and 2015, is displaying his championship form at the 2022 NFR.
The Texas cowboy won Round 2 with a 3.7-second run and added a Round 4 win in 3.9 seconds on Sunday.
"I feel like I have been amped up like at my first NFR, then I tried to calm down, but it's just finding the balance of being up and down and making it work!," said Cure, 39.
Cure has moved up from fifth to second in the world standings with $177,357 and he has earned $67,827 at the NFR.
"That steer Stetson Jorgensen won second earlier, that steer handled exceptionally, I felt like I broke out honestly, but this is the only rodeo in the world where if you think you broke out, kick two more times and get down on your steer," Cure said. "Ringo is not as seasoned here in Las Vegas, but I really feel that he'll develop into a great horse in years to come"
Team ropers Tyler Wade/Trey Yates are veterans of the Wrangler NFR and they used their experience to their benefit on Sunday.
Wade and Yates clocked a 3.9-second run to claim the Round 4 title.
"It was a good steer. I saw him handle it well so I knew I was going to give Trey a chance to go fast and he did," Wade said. "He cleaned up and it came together."
Yates concurred with his partner.
"Well, we've roped so many steers together and practiced for many scenarios," Yates said. "I have full confidence (in him) no matter where we go. With a setup like this, he's studied it so much. He's been so in tune the last month that I knew he had a good chance to turn all ten. I messed up in Round 1 but I knew with him we would be able to bounce back and have a chance to win a lot of rounds together."
Wade, like so many of the team ropers, spends plenty of time studying to help make the perfect run.
"Anybody that gets here knows the game really well, I'm going to bet," Wade said. "But, I continue to be a student of the game. This is my fifth year here and being able to learn from my own mistakes is the biggest thing for me to bounce back faster."
Saddle bronc rider Zeke Thurston takes Round 4 crown
Zeke Thurston knows how to win at the Thomas & Mack Center in Las Vegas – he won PRCA Saddle Bronc Riding World Championships in 2016 and 2019.
Thurston was back to his winning ways on Sunday, grabbing the Round 4 crown with an 88.5-point ride on Championship Pro Rodeo's Heaven on Earth.
"It was unridden, but I figured, you know, they are all going to get ridden at some point so why not be the guy," Thurston said. "Really big, strong stud horse that bucked hard. I was able to get ahead of her and luckily, I stayed on."
Thurston is fourth in the world standings with $222,547 and has won an event-best $78,709 so far at the NFR.
"It's good. You just have to go at every one and do the best that you can. Some days you're going to have the horse and some days you're not. But if you go at them all the same, it usually works out.
"For me, my biggest confidence comes from my spur outs, and I was really confident in them. On a horse like that, that's where you're going to thrive. I always go with that and win, lose, or draw, we're going to start the process all over again the next day. So, you might as well lay it all out there and see what you get."
Barrel racer Emily Beisel takes victory lap after Round 4
Barrel racer Emily Beisel was doing anything to change her luck in Round 4 after back-to-back runs north of 18 seconds.
Beisel's luck changed in a big way as she won Round 4 with a 13.60-second time.
"It's amazing. Anytime you get to come down here and see (the media) it is always a huge blessing because it's tough," Beisel said. "Every night in barrel racing is a knife fight. But I'm so thankful for my horse. He's been working so hard for me. I felt like the first couple of nights I was trying to cut corners a little too fast. Tonight, I gave him a little more room and he made it happen."
Then Beisel talked about how she tried to change her fortunes in Round 4.
"We brought out all the good luck tonight," Beisel said. "My husband is here and usually when he shows up things get better for me. My friend, Jimmie Smith, sent me an NFR goodie package before we left, and they included the socks that she wore when she won the round in Arlington, so I had those on tonight as well."
Courtesy of PRCA