Marty Yates Teams with Pockets to Split Lawton Win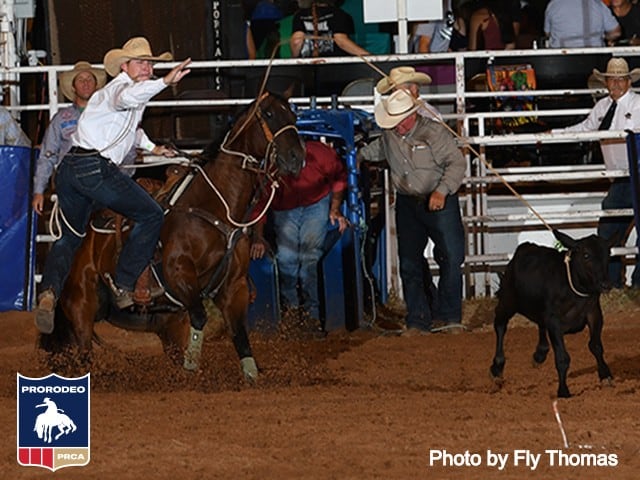 Tie-down roper Marty Yates knows all too well how important it is to have friends on the ProRodeo trail.
Yates, who has qualified for six consecutive Wrangler National Finals Rodeos, needed a horse to ride Saturday night at the Lawton (Okla.) Rangers Rodeo.
His friend and two-time world champion Caleb Smidt was glad to oblige and let Yates climb aboard Pockets, Smidt's standout horse.
Yates teamed with Pockets to record an 8.6-second time to tie for the win with Kyle Lucas and Timber Moore.
"I've been to Lawton about every year, and it feels really good to get this win," said Yates, 26. "It's been really rough (before this week). I won Yuma (Colo.) this week, but both my good horses Buster and Big Time are crippled and are at home. I've been riding around, mounting out and getting on the best one I can get on at the rodeos. I was lucky enough to get on Caleb's good horse, Pockets, in Lawton, and it sure worked out for me.
Yates was no stranger to Pockets.
"I've ridden Pockets quite a bit," Yates said. "Caleb and I have always traded rides out. He's ridden Buster a lot. He's a good buddy of mine, and we try and take care of each other. You have to have friends in the rodeo world, especially in (tie-down roping) because great horses are hard to come by."
Yates said Buster was hurt midway through the winter, so he turned to Big Time.
"We had a couple of days off recently and went home (to Stephenville, Texas), and he (Big Time) was sore, so I took him to get things checked out," Yates said. "It turns out he has a pretty good injury that's going to sideline him for a while. We're hoping in the next two or three weeks to start getting Buster back in the groove."
Yates earned $4,666 in Lawton, which couldn't have come at a better time. Yates was No. 17 in the Aug. 8 PRCA | RAM World Standings with $33,374.
"Lawton was great timing," Yates said. "To get this win gives me confidence and should help me get back in the Top 15 so I can make the Finals."
As talented as Yates is, he didn't hesitate when asked the key to his Lawton performance.
"All I can say is Pockets," Yates said. "The calf I had we didn't know a whole lot about. I got a great start and great go, and Pockets is the reason I won Lawton."
In the marquee bareback riding matchup Saturday, Tim O'Connell, a three-time PRCA bareback riding world champion, climbed aboard renowned Beutler & Son Rodeo's Killer Bee for the first time.
The showdown lived up to the hype.
O'Connell won the rodeo with a 90-point trip on the 2019 PRCA Bareback Horse of the Year.
Other winners at the $178,963 rodeo were steer wrestlers Cade Goodman and Reed Kraeger (3.8 seconds); team ropers Bubba Buckaloo/Cole Davison (4.0 seconds); saddle bronc rider Jacobs Crawley (86 points on Beutler & Son Rodeo's Nutrena's Rage); barrel racer Hailey Kinsel (16.90 seconds); and bull rider Trevor Kastner (88 points on Beutler & Son Rodeo's Muley Madness).
Courtesy of PRCA