Matt Reeves' Standout Horse, Rattle, Passes Away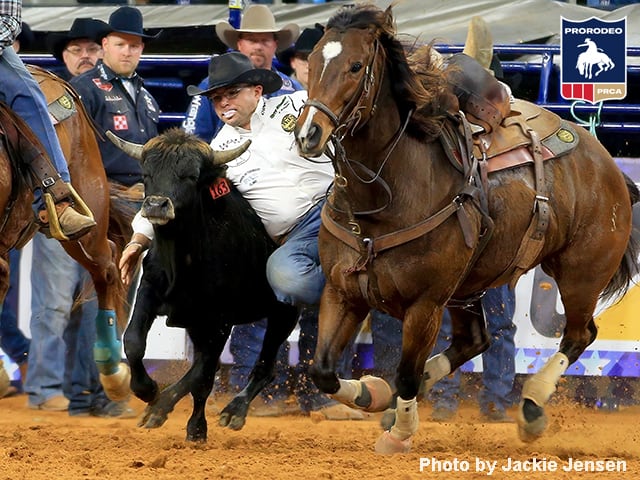 Matt Reeves' horse, Do Get Famous "Rattle," the 2019 Steer Wrestling Purina Horse of the Year presented by AQHA, passed away April 17 of a ruptured stomach. She was 8.
"It was just a freak deal," said Reeves, 41. "Words don't really describe (Rattle passing). There's not really a way to say it. It's one of those things. I have had some really good horses and this one was the horse of the year. This is extremely hard and sad. The hazing horse that stayed with her every day for the past two years, he didn't eat for two days (out of grief)."
Reeves bought Rattle in August 2016 and started rodeoing on her Jan. 24, 2018.
In a short amount of time, Rattle was a superstar. She helped Reeves, a seven-time Wrangler NFR qualifier, win the NFR average for the first time in 2019 with a 48.4-second time on 10 head.
In the 2020 PRCA season, every rodeo Rattle attended she won a check at. Reeves won the RAM Texas Circuit Finals Rodeo on her in January in Waco, the San Angelo (Texas) Rodeo on her in February and RFD-TV's The American on her in March. Reeves clocked a 4.05-second run in the Shoot-Out at The American in Arlington, Texas, and earned $100,000 – $50,000 of which counted for the PRCA | RAM World Standings.
Reeves is leading the world standings with $77,580, and he earned all that money aboard Rattle. There were nine cowboys who rode Rattle in the 2020 season and placed on her.
Rattle stood more than 14 hands tall and weighed 1,000 pounds.
"She had a lot of heart, she had a lot of try, she had an incredible go and was really, really fast," Reeves said. "I think what made her good is she loved it. She liked winning, and she liked being in front."
Courtesy of PRCA