Maverick Potter Rides into Fort Worth Semifinals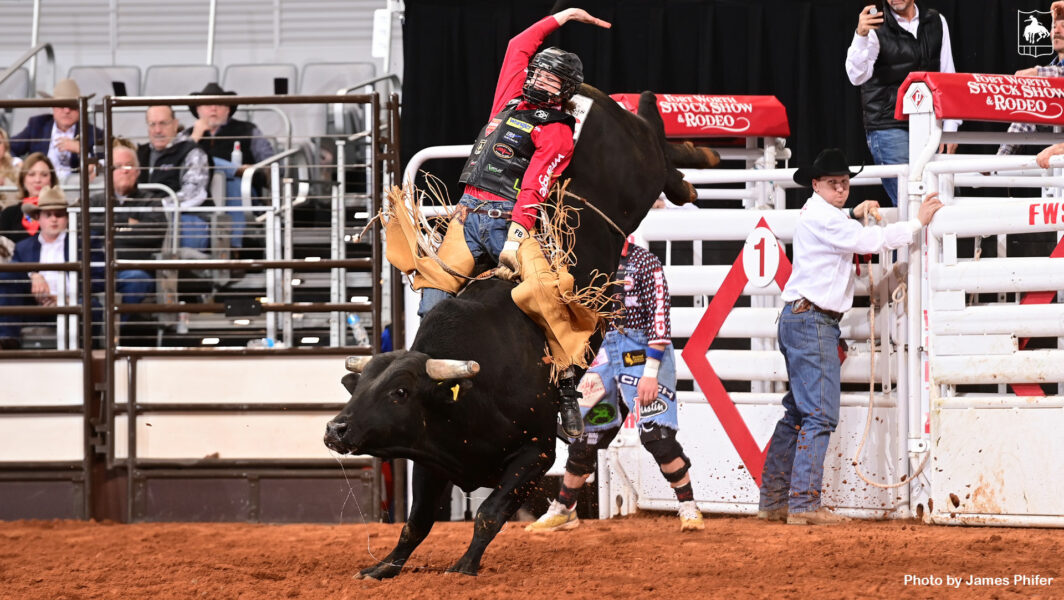 Some home cookin' was a perfect recipe for bull rider Maverick Potter at the Fort Worth (Texas) Stock Show & Rodeo Tuesday night.
Potter, who lives in Waxahachie, Texas, 45 minutes from Fort Worth, had his family and friends cheering him on as he won Bracket 7 by earning $3,227 to advance into the semifinals at Dickies Arena.
Potter moved on thanks to his 88-point ride on Rafter G Rodeo's Thor on Monday and then his 89-point trip on 4L & Diamond S Rodeo's Lawless Frontier on Tuesday.
"I have never had a lot of luck in Fort Worth, so it was great to get a couple of strong rides," said Potter, 23. "Being this close to the house and to get rides like that I really couldn't beat it. I got to go home and sleep in my own bed every night and wake up and get to hang out around the house. I'm not stuck in a hotel room or anything like that. Then, I drive 45 minutes to Fort Worth and get on a bull."
The Wildcard round gets underway at 8:30 p.m. (ET) Wednesday with the top money earners in each event advancing to the semifinals.
The 16-contestant semifinal rounds take place Thursday and Friday at 8:30 p.m. (ET). The field will be trimmed in half for the finals, which will take place at 8:30 p.m. Saturday. All the action will be broadcast live on The Cowboy Channel and the Cowboy Channel Plus App for this Playoff Series rodeo.
"It would dang sure help if I could win some big money in Fort Worth," Potter said. "It would help me get a jump on the year and to do good in Fort Worth would mean even more because all my family and friends will be there watching. It would be a blessing."
Potter made his debut at the 2022 Wrangler National Final Rodeo presented by Teton Ridge, but things didn't go as planned as he was unable to make the whistle on any of his bulls during the 10 rounds at the Thomas & Mack Center in Vegas. He finished 12th in the final PRCA | RAM World Standings with $126,065.
"I got bucked off on all of them, and that lit a flame under me," Potter said. "I used it as a learning experience. Everybody is there to help you, but it is you vs. the bull. Nobody else can help you after you nod your head. I feel that experience at the NFR has made me a better bull rider and my No. 1 priority is to get back to the NFR."
Courtesy of PRCA