Aaron Mercer Wins His Second BFO World Championship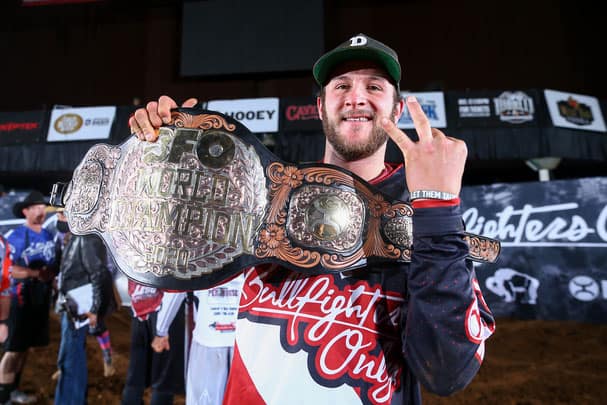 FORT WORTH, TX – The venue changed. The world changed. Aaron Mercer didn't.
When the dust had settled at Cowtown Coliseum after the final day of the 2020 BFO World Championship, everyone lingering inside the historic building had the feeling they had witnessed something truly special.
The previous three nights had seen each contending bullfighter compete in a late-night post-NFR performance to determine placement for Sunday's Championship. The BFO Gladiators were the toast of Cowtown, as they put on an electric show each night.
On Sunday, for the first time in freestyle bullfighting history, the event was broadcast LIVE on national television. Each man knew his chance for a World Championship was potentially two bulls away.
Mercer's fight in the Championship Round versus Manuel Costa's "Big Nasty" was what BFO color commentator Andy Burelle described as "possibly the best I have ever seen." The massive red bull made pass after pass only to scream by the reigning champ and miss by inches. Mercer finished the fight with his trademark "Mercy Roll" as the crowd erupted. Everyone knew a score in the 90's was coming, so when 90.5 was announced it was no surprise.
When asked by Elise Wade how he felt about winning consecutive BFO world championships, Mercer fought for the words: "I'm just really honored to be around these guys. They're my heroes and they're my brothers. That's why we do this." When asked what the plan is for 2021, Mercer just smiled and said, "Let's go for three."
Mercer leaves Fort Worth with $22,500 in cash, BFO's coveted Title Belt made by RB Buckles and Stidham Leather, along with a $15,000 Whitetail hunt provided by Kryptek.
The 2021 Quest for the Belt begins in a month and there's no reason to believe Mercer is slowing down anytime soon.
BFO WORLD CHAMPIONSHIP EARNINGS
FORT WORTH TX DEC 10-13
| | | |
| --- | --- | --- |
| 1. Aaron Mercer | Calgary, AB | $22,500 |
| 2. Beau Schueth | O'Neill, NE | $9,500 |
| 3. Toby Inman* | Davis Junction, IL | $7,125 |
| 4. Dylan Idleman* | Madill, OK | $4,675 |
| 5. Weston Rutkowski | Haskell, TX | $3,500 |
| 6. Dayton Spiel* | Parade, SD | $3,200 |

* includes Hooey "Best Trick" Bonus
About Bullfighters Only: BFO was founded by bullfighters and is Freestyle Bullfighting's Premier Professional League. BFO features an international roster of elite athletes competing against the meanest fighting bulls for the largest purses in the history of the sport.
BFO Partners: Cavender's, Pendleton Whisky, Hooey Brands, Flexfit, Rock and Roll Denim, Kryptek and Gold Buckle Beer.
Read more at www.bullfightersonly.com/news/