Mercer Ready to Roll his Way to $50,000 Top Prize at UBF Fort Worth Freestyle
By: Ted Stovin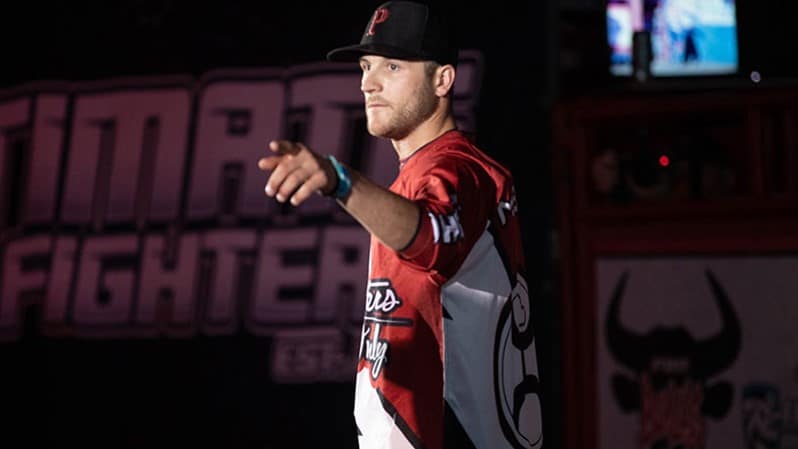 FORT WORTH, Texas — The richest bullfight ever is just one day away. A total of 18 bullfighters have earned their way in through qualification in the Wildcard Rounds this past weekend and the Ultimate Bullfighters' (UBF) and PBR's Bulls Gone Wild events at Cowtown Coliseum this spring.
One man who has stood at the top of another bullfighting organization on two separate occasions looks to make his mark in UBF competition.
That man?
Calgary, Alberta's Aaron Mercer.
With a qualification from one of the aforementioned Bulls Gone Wild events on April 21 and a new knee, Mercer is back in a big way.
"That was my first one back since my knee surgery, since June 25, 2021," Mercer said. "I broke my tibia plateau and split my shin. I got thrown into a set of metal chutes in Reno. I went straight into it with my leg and jammed my femur. They had to bone graph a bunch of shit onto my knee, and I've got a whole new metal bracket on the outside of my right knee."
For a bullfighter during the pandemic, it wasn't the easiest of times. Neither was the physical therapy needed to return to competition.
"I came home and I healed up for six weeks, and then I just started physio," Mercer said. "I kept on doing physio, and I'm still doing it and I'm healthy, but now it's pretty much just building on what I fixed. Just maintaining what I was able to do with my knee.
"Physio wasn't the easiest. The hardest part was to get my leg to full extension. It was probably four months before it was completely straight."
As most know, in Western sports, the doctors we sometimes see who maybe aren't privy to the rodeo and Western world often offer up suggestions on career changes a little more prematurely than we may appreciate.
"When I had my surgery, the doctor said I would probably never fight again," Mercer said. "But I feel like it's almost their job to say, 'You might want to think about a different career at this point.'
"But, being a hard-head, I went to my physiotherapist, my sports therapist, and they were like, 'No, we're going to get you back to 100%.' I think I'm even better than 100% at this point. I feel like I have done the work, put it in. I've fought six bulls since I've been back, since the 21st of April. and it's just been getting better and better."
Since he's been back, things have been going well.
"I've placed at every bullfight that I have been to," Mercer said. "I ended up with a second-place finish in Swainsboro, Georgia, half a point behind Chance Moorman, which, if I was going to lose to anybody, it would be that guy."
Having spent his entire bullfighting career thus far mostly in other organizations, seeing the large added purses at the UBF piqued the interest of the Canadian athlete.
"I can't make a living as a freestyle bullfighter just sticking to one organization," Mercer said. "We're at the place in our business now, in bullfighting, that we can be choosy about where we go. There's enough events going around where you can make really good money, so limiting yourself to one organization to me doesn't make sense.
"It was a bit of a fight for a while, but they definitely came around. I gave an ultimatum. I said, 'You can either allow me to represent you inside the arena or you can not. Either way, I am making this decision.'"
With $140,000 in total prize money and the top check being worth $50,000, the Fort Worth Freestyle will award the most money ever at a single freestyle bullfight ever.
"Every time I fight another bull, I feel better and better about it," Mercer said. "My confidence is through the roof. I feel great, I feel healthy, and for $50,000, it's going to be a good show."
With that much money up to win, there may be a new move or two in the works as well.
"I do have a couple in my arsenal that I haven't pulled out yet," Mercer said. "But, I am going to leave that to you guys and let your brains spin a little bit. I want it to be a surprise."
With the ability to earn at UBF events now available, Mercer is already looking at the No. 1 spot, currently ranked No. 6.
"We've got the best guys going right now, and Chance Moorman is the guy I'm chasing, so I expect to see him and I in the short round battling it out," Mercer said. "He's really far ahead right now, and I'm finally back in action, so this is when the battle starts."
Having already paid out $20,000 on the first weekend in the wildcard rounds, Day 1 of the second weekend, May 20, all 18 qualifiers will fight one bull with the top 12 advancing to Saturday night. After a first round of head-to-head matches, the top six will fight one more bull for the remaining share of the $140,000 total purse.
On the final Saturday night, $100,000 will be paid out to the top six bullfighters in the richest night in freestyle bullfighting history with $50,000 doled out for first place, $25,000 for second, and $10,000 for third, with fourth to sixth also paying over $3,000 each.
Qualifiers – UBF Fort Worth Freestyle Semi-Final Rounds – May 20-21
May 20 at Will Rogers Tent. May 21 at 10:30 p.m. at Cowtown Coliseum
1. Colton Orcutt – Kersey, CO
2. Alex McWilliams – Paso Robles, CA
3. Trenton Ross – Jackson Hole, WY
4. Chance Moorman – Lytle, TX
5. Dakota West – Weatherford, TX
6. Wagner Miqueline – Zacarias, Sao Paulo
7. Justin Martin – El Paso, TX
8. Roper Rich – Eaton, CO
9. Tyler Mansell – Caldwell, ID
10. Clay Moore – Belen, NM
11. Noah Krepps – Jasper, AR
12. Aaron Mercer – Calgary, Alberta
13. Trent King – Mineral Wells, TX
14. Dekevis Jordan – Madill, OK
15. Ely Sharkey – Ainsworth, NE
16. Jacorey Golden – Houston, MS, Qualified via Wildcard Round
17. Rico Mathis – Madill, OK, Qualified via Wildcard Round
18. Dylan Idleman – Hillard, FL, Qualified via Wildcard Round
For tickets, merchandise, standings and more information, visit UltimateBullfighters.com.
© 2022 PBR Inc. All rights reserved.