Missouri Native Hevalow Signed to Kansas City Outlaws Protected Roster Prior to the Launch of the PBR Team Series Season in Cheyenne, Wyoming
By: Kacie Albert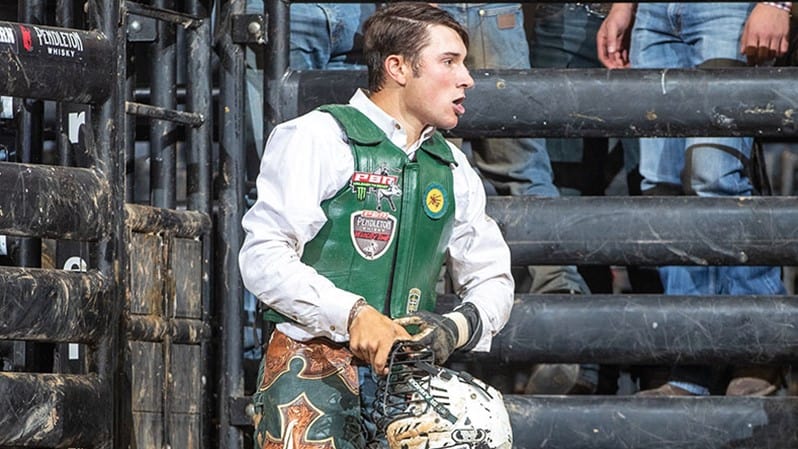 The Kansas City Outlaws, one of Missouri's first-ever professional bull riding teams, today signed Show Me State native Koltin Hevalow (Smithville, Missouri) to the team's protected roster, prior to the launch of the PBR (Professional Bull Riders) Team Series in Cheyenne, Wyoming, on July 25-26.
Hevalow joins the Kansas City Outlaws after initially being signed as a free agent to the Arizona Ridge Riders' practice squad.
"I am excited to be close to home," Hevalow said after the transaction. "Now that I am on the Kansas City Outlaws it is pretty crazy and I am ready."
The PBR Team Series revolutionizes the sport of bull riding, transforming an individual sport into one in which riders join teams to compete in five-on-five bull riding games for a national championship. In the inaugural 2022 season, eight founding teams will compete: the Arizona Ridge Riders, Austin Gamblers, Carolina Cowboys, Missouri Thunder, Nashville Stampede, Oklahoma Freedom, Texas Rattlers, and Kansas City's own Outlaws.
The 19-year-old young gun, who grew up mere miles from the Kansas City Outlaws' home venue T-Mobile Center, made his PBR debut in 2022 in commanding fashion.
In his debut event, competing at the Pendleton Whisky Velocity Tour stop in mid-February in Youngstown, Ohio, Hevalow went a flawless 3-for-3 to win the expansion series event.
Courtesy of the victory, Hevalow debuted on the elite Unleash The Beast the very next weekend in St. Louis, Missouri.
As the individual season continued to unfurl, Hevalow logged an additional Top 10 finish before qualifying for his first Velocity Tour Finals where he finished eighth. Hevalow concluded his rookie season ranked No. 78 in the world.
During his brief tenure as a member of the Arizona Ridge Riders, Hevalow rode at both preseason events held in Bismarck, North Dakota, and Tryon, North Carolina. During the Arizona team's 255.5-86 victory against Oklahoma while in North Carolina, Hevalow added a key, 86.25-point score on Feeling Dangerous to cement the win.
The Kansas City Outlaws made two additional changes to the contingent's roster. In addition to signing Bill Henry (Manila, Utah) to the practice squad, the team opted to drop Colton Dougherty (Woodburn, Oregon).
Hevalow, and Henry, join a talent-packed Kansas City Outlaws roster, including fellow Missouri native and reigning PBR Rookie of the Year Bob Mitchell (Steelville). The team is rounded out by Dalton Kasel (Muleshoe, Texas), Rafael Henrique dos Santos (Sebastianopolis, Brazil), Tate Pollmeier (Fort Scott, Kansas), Marcus Mast (Middlebury, Indiana), Cole Melancon (Sour Lake, Texas), Dustin Martinez (Canjilon, New Mexico), Sam Woodall (Heywood, Victoria, Australia), Clancy Hart (Valley View, Texas), and Kyler Oliver (Roy, Utah).
Throughout the regular season for the PBR Team Series, each team will compete in 28 head-to-head, five-on-five bull riding games¸ held across 10 events. The team with the highest aggregate score will be the game winner, and ties will be allowed.
Each team will host a three-day homestand, welcoming the seven other teams, while also competing in two neutral site events, beginning with the season-launch event in Cheyenne, Wyoming. The season will conclude in Las Vegas on Nov. 4-6 when the teams will go head-to-head in the PBR Team Series Championship, vying to be crowned the Team Series Champions.
When the 2022 season gets underway July 25-26 in Cheyenne, Wyoming, the Kansas City Outlaws will compete against the Oklahoma Freedom and Texas Rattlers.
Following the event in Cheyenne, the Outlaws will host their inaugural homestand Aug. 5-7 in Kansas City, Missouri, at T-Mobile Center, the second event of the 2022 PBR Team Series season.
During their first-ever home event, the Outlaws will play the Arizona Ridge Riders on Aug. 5, Nashville Stampede on Aug. 6, and Missouri Thunder on Aug. 7.
The bull riding action for the 2022 PBR Team Series' Outlaws Days at T-Mobile Center begins at 7:45 p.m. CT on Friday, August 5, 6:45 p.m. CT on Saturday, August 6, and 11:00 a.m. CT on Sunday, August 7, times subject to change.
Tickets for the Kansas City Outlaws' three-day homestand Aug. 5-7 are on-sale now, and start at $20, taxes and fees not included. Tickets can be purchased online at AXS.com, T-MobileCenter.com and PBR.com, or by calling PBR customer service at 1-800-732-1727.
Held alongside the bull riding event, the team will also host the Outlaw Days Concert on Aug. 6 at KC Live! in the Power & Light District to be headlined by Josh Abbott Band, with special performances by David Lee Murphy and David Nail. The Outlaw Days Concert will begin on Saturday, August 6 at 1:30 p.m. David Nail will first take the stage, followed by David Lee Murphy at 3 p.m. and Josh Abbott Band at 4:45 p.m.
Tickets for the Outlaw Days Concert are on sale now and can be purchased at AXS.com. General Admission tickets are available for $20, and VIP Packages start at $50.
For more information on the Kansas City Outlaws visit https://pbr.com/teams/outlaws/, and connect with the team on social media at @KCOutlawsPBR on Facebook, @KCOutlawsPBR on Twitter, @KCOutlawsPBR on Instagram, and @KCOutlawsPBR on TikTok.
© 2022 PBR Inc. All rights reserved.