Missouri Thunder Continuing to Evolve in Year Two of 5-on-5 Competition
By: James Youness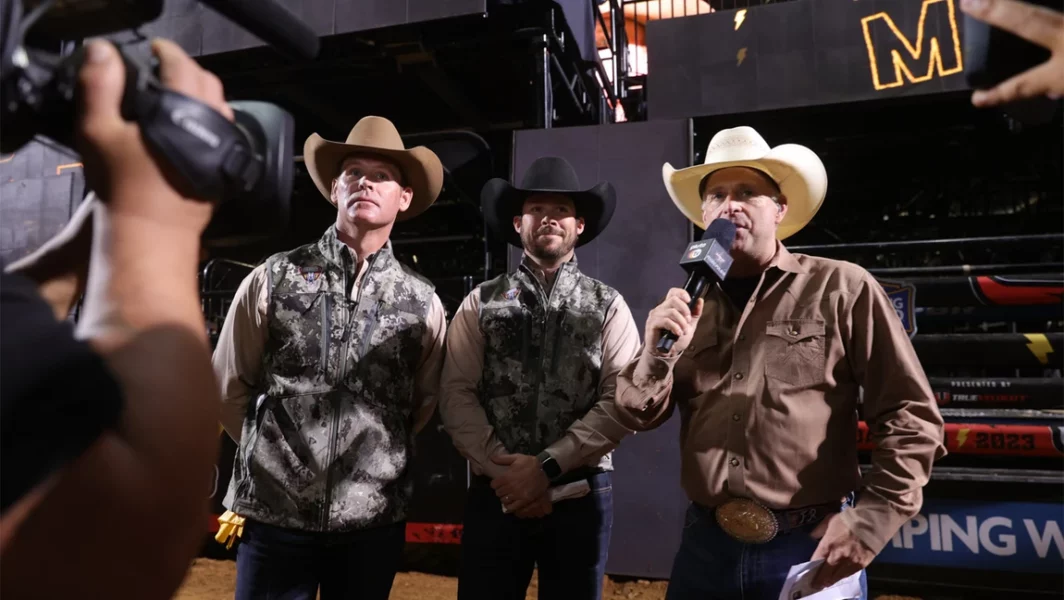 PUEBLO, Colo. – In the Western world, there's something to be said about doing things the right way.
Avoiding shortcuts, rolling up the sleeves, staying dedicated to the plan and doing everything imaginable to improve with one shared end goal in mind.
While the 5-on-5 circuit very much rewards teams and its riders for success, including bonus payouts for 90-point rides, game wins and beyond in year two of the team-based format, the Missouri Thunder aren't necessarily destined to capture the trophy-raising honors in Las Vegas, Nevada, this season.
They have plans to be competitive for the long run.
Some would even say a potential "dynasty in the making."
But when the future knocks at your door, providing a glimpse of what the productive yellow and red organization could look like when firing on all cylinders, well, Thunder Head Coach Luke Snyder was happy to peek through the eye hole and see what all the commotion was about.
"We have a very young team and we're looking at the long-term goals here, but when they put up rides like that tonight, it just reinforces that the plan is coming together," Snyder shared.
"We just trust in the process and we've never given up on these boys once. So, it was great to not just win one, but dominate a game."
Part of that process involved making the No. 3 and No. 4 overall selections during the 2023 PBR Teams Draft, where the organization welcomed a pair of budding stars in Joao Lucas Campos (No. 3) and Kade Madsen (No. 4).
The next step involves seeing the youngsters develop into consistent, everyday riders.
Seeing both of their first-round talents team up with 20-year-old Qynn Andersen to convert with flying colors Saturday night during the team's hometown Thunder Days, things are starting to come together for the Missouri contingent.
Wasting no time in getting things started, Campos wowed the crowd during Missouri's first attempt of the night, courtesy of an 87.5-point ride atop Wilson 2.0.
Naturally, accompanied by a celebratory backflip after his score was confirmed, Campos had the energy flowing in the chutes and throughout the crowd and he improved to a perfect 2-0 on the weekend.
But perhaps it wasn't just the ride he was celebrating.
"Yeah JC went and got engaged," Snyder shared with a smile.
"He's been making some money here to pay off his wedding ring, but we're all very happy for him."
Enjoying the sights, sounds and homefield advantages of performing within the illustrious Thunder Ridge Nature Arena, all was right in southwest Missouri.
And the bull riding? Even better.
"It's great. Being outdoors kind of takes us all back to our roots," Snyder added.
"Johnny has built such an amazing amphitheater here in the Ozarks, so it's great to be able to ride in this beautiful arena and call it home."
With Andersen continuing the momentum via a PBR Teams career-best 87-point dance aboard Battered & Bruised, Snyder and company watched on as the youngest team in the league continued to flex for its hometown crowd.
"We take a lot of input from our guys too here lately. We want them to give us input on how they feel about certain bulls too, and then me and Ross, we kind of make a sheet and compare it to that," Snyder said.
"It doesn't necessarily matter if that bull has bucked a guy off. We're not afraid to put him right back on and get some revenge."
The organization may have taken a collective step in competing and finishing the deal in good fashion, but with Madsen providing some late-game sparks via an impressive finale, it was abundantly clear who will lead this team to greatness when the time comes.
"Kade is a little superstar in the making, you know? He's got all of the tools to be a great World Champion and he's just 18 years old," Snyder concluded.
"We have to keep reminding ourselves that he's just a young buck, but he made a big boy ride tonight."
Solidifying the 264.5-89 final over the Texas Rattlers, Missouri improved to 1-1 on Saturday night.
Much more importantly, they made an impression on their fans and instilled the confidence within themselves needed to continue to ascend the PBR Camping World Team Series rankings.
Photo courtesy of Andy Watson/Bull Stock Media 
© 2023 PBR Inc. All rights reserved.