Mitchell Embracing Rookie of the Year Race
By: Justin Felisko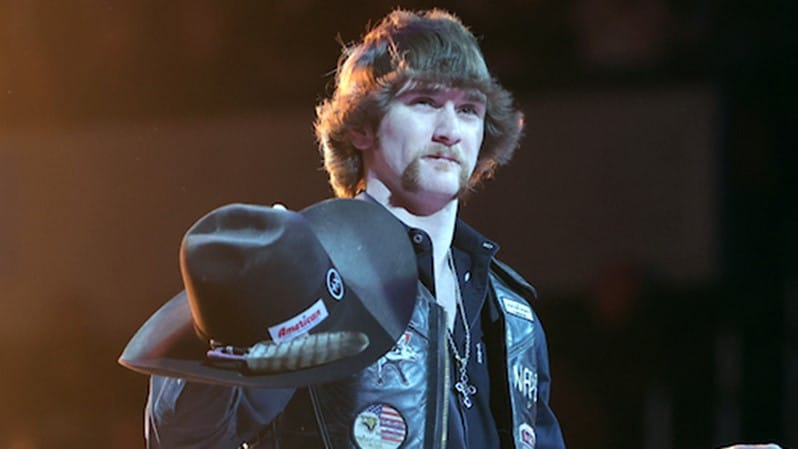 LITTLE ROCK, Ark. – Bob Mitchell walked into the locker room at Simmons Bank Arena and he wide-eyed looked at some friends before laughing, "Well, that was scary!"
Mitchell had just converted on his re-ride bull, Bullseye, for 82.25 points in Round 1 of the PBR Bad Boy Mowers Mowdown, but it was his earlier 72-point ride on Copper that had him hollering "Hang on boys!" as Copper took off down the chute lines at Simmons Bank Arena.
The PBR Rookie of the Year leader said learning how to approach younger ABBI bulls, such as Copper, is something he is continuing to work on. Mitchell is embracing the unpredictability and learning how to use his taller body against smaller bovine opponents.
"I am such a tall guy. I am finally starting to overcome how I can ride some of those smaller bulls and make it work," Mitchell said. "I have to be really loose, and I can't be holding on. Like when I rode Pickle Moonshine (85.5 points) in Oklahoma City, it looked like I was flopping around, but I had to. Them ABBI bulls are really wild, and they are scary."
Mitchell heads into Round 2 in Little Rock in last place among the 12 riders who posted a qualified ride in Round 1.
The Steelville, Missouri, bull rider has drawn Skirt Chaser (7-1, UTB) for Round 2 (8 p.m. ET CBS Sports Network on Sunday).
Mitchell is 8-for-16 in six UTB events and has risen to No. 13 in the world standings, and he is firmly entrenched on the Unleash The Beast for the first time in his career. He leads No. 2 rookie Clayton Sellars by 90.25 points.
"It is kind of unreal," Mitchell said. "I try to not really think about it too much. It don't really feel real. I see it, but it hasn't really sunk in. If I look at it too much, then I psyche myself out. I am trying to not pay attention to any of that right now, but it is pretty crazy right now. Somedays I still feel like I am 15 years old."
Sellars officially entered the Rookie of the Year race following his fifth-place finish at the Pluto TV Invitational in Los Angeles on Tuesday.
The 2018 PRCA bull riding Rookie of the Year is excited to have a chance to chase a rookie title in the PBR against riders such as Mitchell, Dawson Branton and Sam Woodall.
"Shoot, those guys, Bobby Mitchell, ride good too," Sellars said. "It is awesome to be in contention. Not only that, but it is a one-time thing. You get one shot. When you accomplish something like that it is reassurance you are that good. I just need to keep my head on straight."
Mitchell remembers how difficult it was early on last year to try and get himself even entered into PBR events, whereas now he has a guaranteed seat alongside the greatest bull riders in the world.
"Last year was the first year I bought my card and I was calling in to every single thing I could, and I could not get into anything," Mitchell recalled. "I would be the 60th alternate. This year, I don't even have to call in anymore. It's pretty crazy."
Follow Justin Felisko on Twitter @jfelisko
Photo courtesy of Andy Watson/Bull Stock Media
© 2022 PBR Inc. All rights reserved.