Mitchell: 'These rookies are too good for me to miss time'
By: Justin Felisko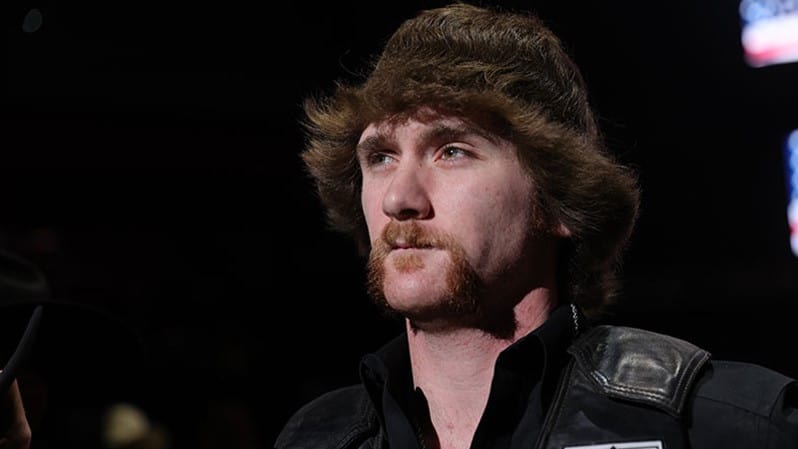 SIOUX FALLS, S.D. – Bob Mitchell was not surprised to see fellow rookies Sam Woodall (92 points on High Tide Blues) and Clayton Sellars (2-for-3) making some noise at the PBR Ty Murray Invitational, presented by The Downs Racetrack and Casino, one week ago.
Mitchell was at home resting his right shoulder after dislocating it in a practice pen session just days before Murray's event in Albuquerque, New Mexico.
The 19-year-old knew that if he tried to grit things out inside The Pit, he would only do greater harm than good.
However, Mitchell also knows he can't afford to stay home too long if he wants to hold off his challengers in the 2022 Rookie of the Year race.
Therefore, Mitchell was once again back at it this past weekend, grinding his way to a ninth-place finish at the PBR First PREMIER Bank PREMIER Bankcard Invitational, presented by Cooper Tires.
Mitchell was the only rider in this year's rookie race to notch a qualified ride inside the Denny Sanford PREMIER Center.
"You only get one shot at Rookie of the Year, and these guys are too good to take off very long," Mitchell said. "I gave it a week because last weekend, all I would have done was get myself hurt. I figured this was the time to come back and ride."
Mitchell went 1-for-3 in Sioux Falls, riding Yellow Tail for 86.75 points in Round 2 on Sunday afternoon.

The Steelville, Missouri, native earned 18.5 world points to push 91.75 points ahead of No. 2 rookie Sellars. Mitchell is 134 points ahead of No. 3 Woodall and 157.5 points ahead of No. 4 Dawson Branton.
Mitchell leads all rookies with 11 qualified rides on the Unleash The Beast. In fact, he has more rides than Sellars (5), Woodall (1) and Branton (3) combined.
There are five regular-season Unleash The Beast events remaining until the 2022 PBR World Finals on May 13-22 in Fort Worth, Texas. The UTB heads to Everett, Washington, Wednesday night (11 p.m. ET on CBS Sports Network) for the PBR Everett Invitational.
Mitchell said the injury is not serious enough to need surgery, but his doctor at home mentioned it could be a possibility if he wanted it.
"I could get surgery and get it fixed, but the only time it will bother me is if I am rolling over in bed and pinch it or, say, if I am doing deadlifts or bench press, but I am not doing that so I don't have to worry about that," he said. "It will take three or four months to heal on its own."
Woodall had to be helped off the dirt by the PBR Sports Medicine Team Sunday when Look Alive bucked him off in 5.06 seconds.
The 23-year-old spoke earlier in the weekend about this season's rookie race during the Tractor Supply Inside the PBR Pre-Show on Pluto TV.
"You take all the good with the bad, and it was a good weekend last weekend, and hopefully, I can just keep piling scores on top of each other and see where that leads," Woodall said. "It would be really special. You get one chance at winning and against great competitors. Clayton and Bob both ride exceptional. I expect them to ride all their bulls, and I expect to ride all of mine. Whatever it folds, it folds. They are great competitors regardless of what happens."
Follow Justin Felisko on Twitter @jfelisko
Photo courtesy of Andy Watson/Bull Stock Media
© 2022 PBR Inc. All rights reserved.