Moreira Looking to Build off Strong Finals With 2022 World Championship Run
By: Justin Felisko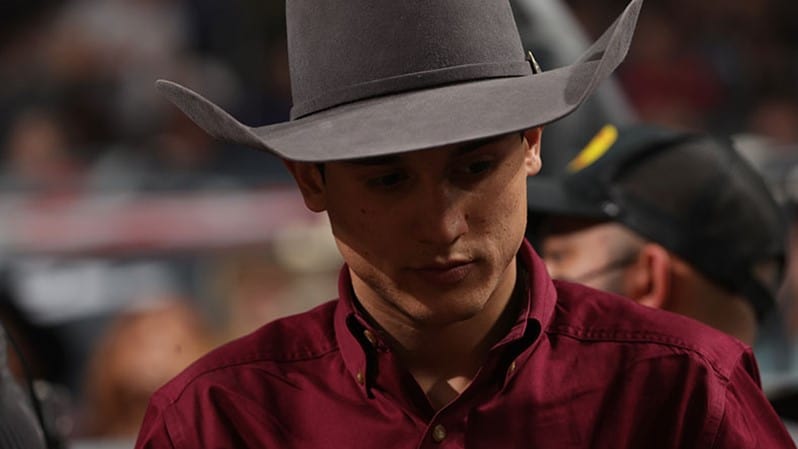 PUEBLO, Colo. – It has only been two weeks since the end of the 2021 PBR World Finals, but rising talent Mauricio Moreira says he has had enough of an offseason.
Moreira has been going to the gym ever since he returned to Decatur, Texas, following his sixth-place finish (4-for-6) at the five-day competition in Las Vegas, and he is deciding to scratch the itch he has to get back to riding bulls.
The third-year pro was a late addition to the draw for this coming weekend's Navajo Nations Queen Creek PBR – the first Touring Pro Division event in the United States on the 2022 season calendar – in Queen Creek, Arizona, and Moreira could not be happier to get back to competing.
"My body feels good, and I miss riding," Moreira said before adding with a laugh, "I miss Flint (Rasmussen). So I think about it, and I decided, 'Let's go rodeo.' I am ready to start my season. Let's ride. We are here to ride bulls, so let's go ride bulls. It is time to go rodeo and make some money."
The 22-year-old will likely begin 2022 as one of the dark-horse contenders who can potentially challenge reigning World Champion Jose Vitor Leme following a career-best fifth-place finish in the world standings.
View this post on Instagram
Moreira was the youngest rider to finish inside the final Top 10 of the world standings this past season after going 30-for-89 (33%) with five 90-point rides, two 15/15 Bucking Battle victories and an event win in his first full season on the Unleash The Beast. Moreira finished inside the Top 5 at four of the final nine regular-season UTB events.
"I really think I have a chance to stay in the Top 5 this year," Moreira said. "I think I am better now that I know about the Finals. My (confidence) is still good after going to my first Finals, and riding four bulls is really good for me. Everybody tell me I have a really good Finals and I finished really good. I want to stay like this and continue riding. I think I have a really good chance to compete with Jose and the other guys in the Top 5."
Moreira finished 1,921.5 points behind Leme in the world standings. He ranked sixth in qualified rides (30), 90-point rides (5) and average ride score (87.85 points).
The Gaviao Peixoto, Brazil, native will certainly need to improve upon his 33% riding average and win more than two rounds on the premier series to be a true world title contender. Still, Moreira's 4-for-6 showing at the World Finals is a reminder of the young rider's rising potential.
In Las Vegas, Moreira set a career-high with a 92.25-point ride on County Jail in Round 4, which came during his streak of four consecutive rides inside T-Mobile Arena.

What made Moreira's ride on County Jail that much more impressive was that the ride came away from his hand, a key area of improvement that he will need to build on during his upcoming season.
"That is a great ride, away from his hand," two-time World Champion Justin McBride said during the CBS Sports Network broadcast. "J.W. (Hart) and I have been really high on this guy all season long. You could see the potential in him. He is putting it together at the right time."
Moreira bounced back from a 1.99-second buckoff in Round 1 against Fiji to ride CopperPoint Swagger (88.25 points), Homegrown (89 points), County Jail (92.25 points) and Happy Camper (88.25 points).
Chiseled bucked Moreira off in 5.41 seconds in the championship round, dashing his outside chance at winning the World Finals event average.
There was initially concern that Moreira would have to miss time in 2022 because of torn cartilage in his right hip, but he is opting to hold off on undergoing the recommended surgery.
Moreira first wants to get through the 2022 season, which ends in May with the first World Finals at Dickies Arena in Fort Worth, Texas. He is also hopeful he will be healthy for the inaugural PBR Team Series this summer.
"I don't really want to have surgery yet," Moreira said. "Sometimes I feel it, and other times I feel really good. I don't know. Tandy said I need surgery and that it is not bad now, but it will get worse. Next year is just six months. I don't want to miss out on a PBR championship, but if I need surgery, then maybe I will have to miss some of the team stuff (in the second half, too)."
SELLARS ALSO COMPETING IN QUEEN CREEK
PRCA world No. 3 Clayton Sellars is also expected to compete in Arizona this weekend as he continues his preparation for the upcoming Wrangler National Finals Rodeo, presented by Teton Ridge, on Dec. 2-11.
Sellars is $117,717.84 behind No. 1 bull rider Sage Kimzey in the PRCA standings.
Other riders tentatively slated to ride at the Horseshoe Park & Equestrian Center are Dakota Louis, Cody Jesus, Manoelito de Souza Jr., Lucas Divino, Kyler Oliver and Dalton Rudman.
Follow Justin Felisko on Twitter @jfelisko
Photo courtesy of Andy Watson/Bull Stock Media
© 2021 PBR Inc. All rights reserved.