Moreira Wins Second Career 15/15 Bucking Battle with 90.75-Point Ride in Greensboro
By: Justin Felisko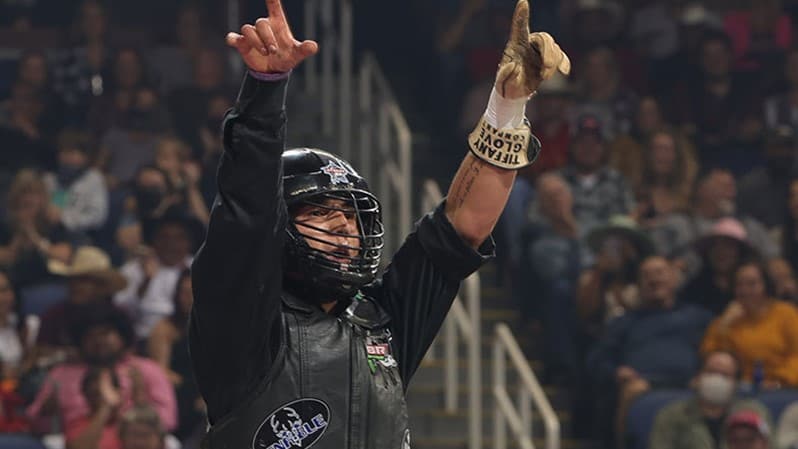 PUEBLO, Colo. – Mauricio Moreira was 0-2 against I'm Legit Too heading into this weekend's PBR Union Home Mortgage Invitational, presented by Bass Pro Shops, but his father told him it was time to rodeo and finally conquer the Hart Cattle Company bovine athlete.
Moreira took his father's encouragement to heart and rode I'm Legit Too for a season-high 90.75 points to win his second career 15/15 Bucking Battle this weekend at Greensboro Coliseum.
"I think I was ready to ride him today because last two times he bucked so hard, like 46 points, and today my dad say for me, 'Third time you ride him, you need to rodeo him tonight,'" Moreira told CBS Sports' Kate Harrison. "I ride him like I know how to ride him tonight."
Moreira earned 59 world points with the 15/15 Bucking Battle victory. He will head into next weekend's PBR Monster Energy Invitational in Manchester, New Hampshire, ranked seventh in the world standings. However, Moreira is listed as questionable by Dr. Tandy Freeman with a right hip injury after he was bucked off by Mr. Nasty in 4.75 seconds Sunday in Round 2.
"I just want to ride bull for bull because it is less than 30 days before Finals," Moreira said on Saturday night. "My head is so good to ride bulls. I want to go there riding like this and have fun riding bulls."
Moreira was one of three riders to post a qualified ride in the 15/15 Bucking Battle.
Also reaching the 8-second mark in the final 15/15 of 2021 were Silvano Alves (90.5 points on Detroit Lean) and Derek Kolbaba (89.5 points on Dixieland Delight).
Alves also got vengeance as Detroit Lean has previously bucked him off in two prior meetings.
Professional Bull Riders – PBR UNION HOME MORTGAGE INVITATIONAL PRESENTED BY BASS PRO SHOPS 15/15 BUCKING BATTLE
Greensboro, NC, 2021 – Event Leaders (Round 1-Event Aggregate-Event Points)
1. Mauricio Gulla Moreira, 90.75-90.75-59 Points.
2. Silvano Alves, 90.5-90.50-49 Points.
3. Derek Kolbaba, 89.5-89.50-43 Points.
Kaique Pacheco, 0-0.00
Cooper Davis, 0-0.00
João Ricardo Vieira, 0-0.00
Boudreaux Campbell, 0-0.00
Dalton Kasel, 0-0.00
Keyshawn Whitehorse, 0-0.00
Junior Patrik Souza, 0-0.00
Chase Dougherty, 0-0.00
Marco Eguchi, 0-0.00
Cody Teel, 0-0.00
Jesse Petri, 0-0.00
João Henrique Lucas, 0-0.00
Follow Justin Felisko on Twitter @jfelisko
Photo courtesy of Andy Watson/Bull Stock Media
© 2021 PBR Inc. All rights reserved.