Mutton Bustin' Sign-ups Open Feb. 1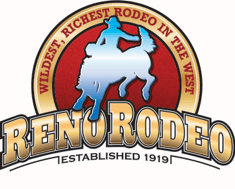 RENO, Nev. — Each year on Feb. 1 the Reno Rodeo opens applications for mutton bustin', the wildly popular event where aspiring cowboys and cowgirls mount their sheep, hold on tight and ride out across the grand arena for as long as they can hold on. In previous years the slots have been first-come-first-served and were all filled in under five minutes.
This year, the association is employing a new method. Applications for 2023 Reno Rodeo mutton bustin' will open on Feb. 1 at 8 a.m. and will remain open until Feb. 5. Eighty applicants will be randomly selected through a computer program and announced on Feb. 6. Those not selected will be added to a waitlist.
Eligible contestants must be no less than five years of age, no more than seven years of age and may not weigh more than 65 pounds as of June 15, 2023.
They may be small, but they are not faint of heart! Each night during the Reno Rodeo, eight young cowboy and cowgirl wanna-be's will get their chance in the arena as they mount their trusty sheep and head for the thrill of their young lives.
Applications are available at https://renorodeo.com/event/mutton-bustin/.
The "Wildest, Richest Rodeo in the West" returns to the Biggest Little City for the 104th year June 15–24. In addition to Mutton Bustin', attendees can expect to see bronc riding, barrel racing, bull riding and more. With 10 exciting nights of rodeo competition, the Reno Rodeo is one of the premier stops on the Pro Rodeo Tour. The action isn't just in the competition, however. There's also a full carnival, the Double R Marketplace, day events (many are free), a food court, the Jack tent and much more.
Tickets are on sale now and are available online at RenoRodeo.com/tickets or in person at the Reno Rodeo Association office located at the Livestock Events Center on Sutro St. through Gate 6. Ticket office hours are 9 a.m.-3 p.m. Monday through Friday.