Nashville Stampede Gather in New York City to Receive 2022 PBR Team Series Championship Buckles
By: Darci Miller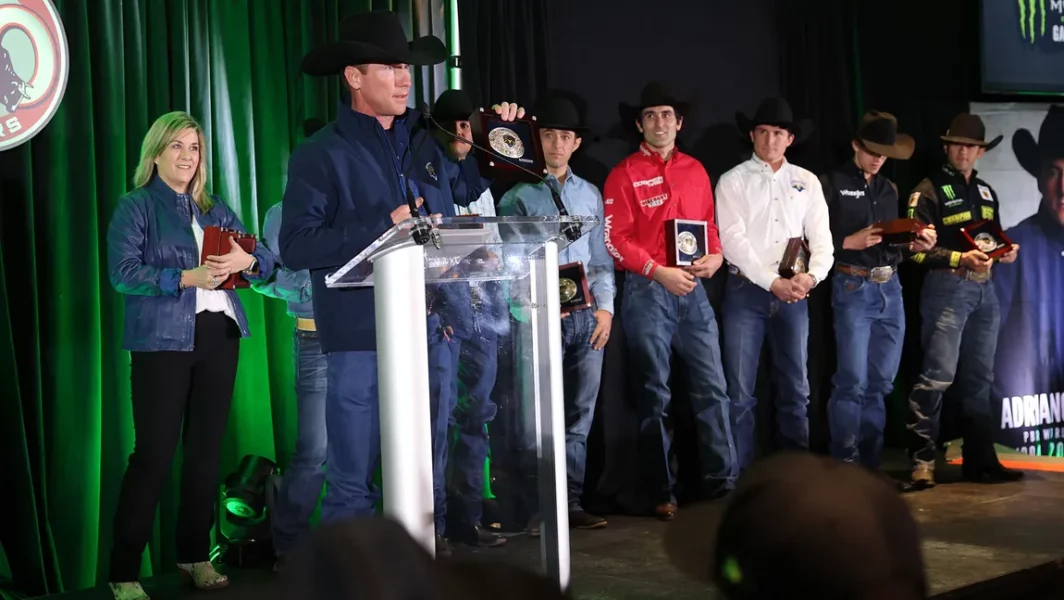 PUEBLO, Colo. – Just about one year ago, PBR Commissioner and CEO Sean Gleason stood at the podium at the Garden Party ahead of the Monster Energy Buck Off at the Garden in New York City to announce the launch of the PBR Team Series.
This past weekend, the world's best bull riders were back in the Big Apple, and PBR Team Series Championship buckles were on tap to be awarded.
By now, the story is well-known: after finishing the regular season in a distant last place, the Nashville Stampede blitzed through the competition at the PBR Team Series Championship in Las Vegas to take the inaugural title.
The whole squad was on hand Friday night in Madison Square Garden – even Ryan Dirteater, who returned to retirement following the team's championship run – and took the stage one by one to receive their championship buckles.
"It was very special for us," Silvano Alves said. "It's more special for all the Teams season because the season before the Championship was like waves – it went up and down. Sometimes happy, some days not happy. But this happened. God had a plan, and we finished the plan. Everybody was happy for those buckles."
An additional note of history in the Stampede's win is that Alves is the first bull rider in PBR history to win four World Championships – three individually, one with a team.
"I've got four, and I'm glad about this," Alves said. "Very glad in my career, because every time, God realize my dream. I come here to follow my dream, for the titles. Every bull rider comes here for this. But now, I've got all this in my career."
Also further etching his name in PBR history is head coach Justin McBride, who won two World Championships as a rider. McBride is perhaps the most decorated coach in PBR history, leading the Team USA Eagles to two PBR Global Cup titles in 2017 and 2020.
McBride's guidance of the Stampede earned him the first-ever PBR Team Series Coach of the Year award.
"This was the one that we came for," McBride said during the ceremony, indicating the Team Series Championship buckle. "The other one's a big surprise, and I think there's seven other coaches just as deserving of it. A lot of them are great friends of mine, and I've learned something from every one of them about my career. So I appreciate all the coaches because this thing was a grind, and we all had to learn along the way, and every single one of them helped me."
McBride was joined onstage by General Manager Tina Battock, who took home General Manager of the Year honors.
"I have to collect myself for a second," Battock said. "I struggle taking all the credit for what was the work of a whole bunch of people, but I just want to say thank you, first and foremost, to the guys who lay it all on the line every weekend, literally put their lives on the line, and do their job and make us look really good. I appreciate them, and it begins and ends with these riders. They're amazing, and we have the best group, the best family of riders.
"It's been the ride, literally, of my life, and the best year."
In a sport where things are constantly changing, that may have been the last moment in the sun for this iteration of the Nashville Stampede. Some riders returned to the Velocity Tour. One returned to retirement. Others, like Alves, 2018 World Champion Kaique Pacheco, Dener Barbosa, Thiago Salgado, Joao Henrique Lucas and Manoelito de Souza Jr., competed this weekend at the Buck Off at the Garden. (Salgado, Barbosa and Alves each finished in the Top 10.) Contracts for 2023 still need to be offered and signed.
The Stampede has the No. 1 pick in the 2023 PBR Team Series Draft, so the outlook for the future is promising.
But McBride says there'll always be a special place in his heart for his first group of champions.
"These guys. Special group, man," McBride said. "I've got to be a part of teams with different guys that are on different teams now in the Global Cup, and every single team has been special to me in some way, and it's because of the individuals that make up that team. And these guys, I'll never forget.
"There's going to be a lot more years, and there's going to be more championships and things for different guys and different teams, but I'll never forget this set of guys."
Photo courtesy of Andy Watson/Bull Stock Media
© 2022 PBR Inc. All rights reserved.